Insights From Gartner: Retail Success Through IoT
IoT is already improving retail operations and creating better customer experiences. This blog explains why now is the time to adopt.
Retail in 2020 was… complicated.
As Gartner phrased it in their report Retail Insight: IoT Will Transform the Store for Unified Commerce Success, "...the COVID-19 pandemic has uncovered vulnerabilities across retail ecosystems, accelerating digital transformation. Significant changes in consumer behavior, purchase patterns, and lifestyle priorities have exposed retailers' siloed functions and disjointed physical and digital channels."
In this blog, we've outlined some of the findings of this recent Gartner report, highlighting areas where IoT technologies like RAIN RFID are driving digital transformation and helping some retailers navigate this challenging time.
Inventory visibility: why IoT in retail leads to success
RAIN RFID is a wireless IoT technology that connects billions of everyday things to the internet, enabling people and businesses to identify, locate, authenticate, and engage every item. For a retailer, these things include every single item—from clothing to pharmaceuticals, cases to pallets—in their supply chain and stores.
When all retail inventory is connected with IoT technology, retailers gain visibility not only into their available inventory, but also of the movement of goods within their supply chains. This visibility reveals the source of supply disruptions, identifies human or machine capacity constraints, and can reveal other factors that may undermine the productivity of the entire system. It also helps retailers know an accurate inventory ATP (available to promise) so that they can keep their customers happy. When a retailer has accurate real-time data about everything in their inventory, they know where to add, move, and promote that inventory, so that that inventory can be sold, and that more of it can be sold at full price instead of markdown. According to Gartner, "item-level RFID has been shown to improve accuracy of inventory tracking from 65% to over 95%", we believe, this is giving retailers the inventory insights that drive business operations and complete a picture of the efficacy and productivity of the system as a whole.
With improved visibility, a retailer can gain an improved understanding of the productivity of overall operations, as well as maintain agility during times of uneven demand. This level of item visibility is also foundational to key agility maneuvers, like omnichannel fulfillment.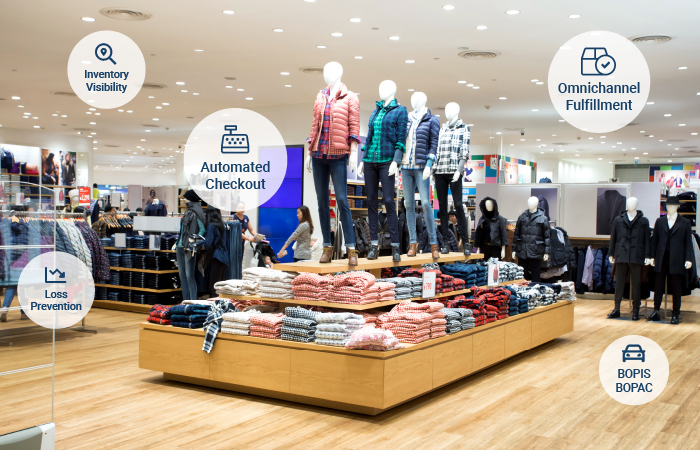 The potential of RAIN RFID and IoT technologies for omnichannel fulfillment
As the pandemic wears on, the popularity of BOPIS (buy online, pickup in-store) and BOPAC (buy online, pickup at curb) is sustained. Gartner states, "Real-time visibility of stock availability across channels to support BOPIS, BOPAC and store returns of online orders will be crucial for sustaining operations." Inventory visibility is the crucial first step in enabling omnichannel fulfillment. One of the IoT technologies making inventory visible in stores and in the supply chain is RAIN RFID.
Gartner reports, "Transformational shifts in consumer behavior have caused huge upticks in store fulfillment of online orders through ship from store, click and collect, and curbside delivery." For shoppers who are more comfortable picking up their online purchases curbside, RAIN RFID enables the real-time inventory accuracy necessary for stores to respond to these preferences and fulfill these orders.
RAIN RFID is also integral to fulfilling online orders in "dark stores" or in open brick-and-mortar locations. As Gartner phrases it, "Physical stores are increasingly getting reformatted to take on a distribution center role, serving as the means for ship from store, BOPIS or BOPAC transactions." Alongside BOPIS/BOPAC, shipping directly from the store is growing in popularity. Providing an accurate, real-time ATP inventory with on-hand quantity and location, to shoppers online and associates in-store, is key to this fulfillment.
---
Whatever the future of a retailer's store locations, unified commerce and flexible fulfillment options will be at the heart of meeting consumer expectations.
---
At the end of March, Lululemon stated that existing investments in RAIN RFID enable a flexible e-commerce fulfillment model that allows them to flexibly manage inventory and remain competitive. Successfully pivoting stores to fulfilling online orders, BOPIS, and curbside pickup has helped keep stores open during lockdowns, and can continue making retailers competitive when lockdowns end.
"Regardless of the duration of the pandemic, it is more important than ever for retailers to invest in online/offline integration to support unified commerce, particularly as the store plays a major role in preparing orders for online fulfillment." Gartner, Retail Insight: IoT Will Transform the Store for Unified Commerce Success
The potential of RAIN RFID and IoT technologies for COVID-19 retail solutions
IoT technologies like RAIN RFID not only improve inventory management and align online and in-store experiences: they can also keep shoppers safer during the pandemic.
To enable safe in-store shopping, some retailers are utilizing RAIN RFID to support social distancing measures by automating people flow. RAIN RFID enables retailers to track current occupancy against capacity without employee interaction, allowing these spaces to comply with local guidelines and remain at a safe level.
---
Requirements to comply with social distancing guidelines have also led to new use cases to track customer traffic into and inside stores, and enforce adequate distancing and queue management.
---
With RAIN RFID, hands-free inventory management reduces the need for some common shared touchpoints, reducing the number of surfaces that can be contaminated. RAIN RFID enables counting inventory from a distance without direct line of sight—or even without opening a box—reducing the number of interactions that products have and similarly reducing the risk of contamination.
RAIN RFID-based automated checkout allows customers to ring up multiple items simultaneously, without the need to scan each individual product, reducing the time spent at checkout and in the store. Not only does this make the experience more convenient overall, but getting customers in and out of stores faster can also help with social distancing measures and cutting down on contamination.
Benefits continue, even after COVID-19
New advances in RAIN RFID tag chip technology protect consumer privacy and enable tags to be made invisible to readers, allowing the tags to be deactivated at automated self-checkouts. They can be made 'visible' to readers again with a secure PIN, allowing for easy returns.
In addition to making inventory visible in stores and in the supply chain, RAIN RFID can also make it easier for retailers to both detect and prevent internal and external theft. With RAIN RFID-tagged inventory, retailers can identify items individually and know which specific item has left the premises. This provides new insights into the causes and occurrences of theft as they happen, allowing the retailer to prevent future losses.
Accurate inventory visibility is foundational to retail success. By laying a foundation today for an IoT solution, retailers will reap the benefits for the long-term. Technology advancements like RAIN RFID can help businesses analyze, optimize, and virtualize their operations—for a system that drives efficiency, increases profit, and delights the customers that they serve.
Want to know different ways that RAIN RFID is already being used in retail for compelling results? Join us for Insights from Gartner Retail Success through IoT Part II.
Read Part II, How Impinj Customers Are Using IoT Technologies in Retail Now, here.
Gartner, Retail Insight: IoT Will Transform the Store for Unified Commerce Success, 23 September 2020, Sandeep Unni
---
Article tagged as:
---
---
Monday, January 11, 2021
Sign Up for the latest news
Looking for more content? We've got you covered
Learn more about Impinj and RAIN RFID in our resource library
Visit Library
Get the latest industry happenings delivered straight to your inbox