Challenges & Opportunities in Yard Management
Gartner Market Guide explores some of the growing challenges facing supply chain companies in one specific space: the yard.
Market Guide for Yard Management 2020
Challenge provides opportunity: right now, disruptions and increased costs are bringing focus to operations in the yard, presenting leaders in the supply chain a chance to improve efficiencies in yard management by increasing visibility and strengthening processes. A recent Gartner Market Guide helps clarify the current state of the market, key vendors for yard management, and recommendations for solutions. Below, we've highlighted our findings from the report— and how they apply to IoT and RAIN RFID technology.
Setbacks leading to new solutions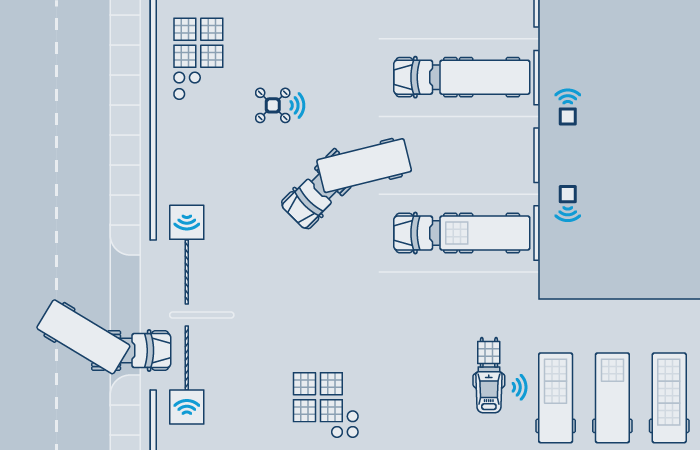 Warehouses and transportation have been the focus for companies looking to optimize their processes. This has left a technology and efficiency gap for yard management. 2020 changed that focus, with disruptions like COVID-19 causing longer dwell times for carriers, leading to a renewed interest in yard improvement. As Gartner phrased it, "Often, the yard operations operate in a very manual and non-technology-driven way. The need for more automation and digitization caused by the recent disruptions and concerns around social distancing has created more visibility of the gaps that exist in many yard operations."
This growing appetite for yard management system (YMS) solutions has led to an increase in developments from both warehouse management systems (WMS) vendors and niche providers: "Shorter transportation lead times and increasing transportation costs push companies to increase their efficiencies in the yard, as time spent on a yard can be unproductive and costly. More regulated hours of service and an increasing driver shortage have a negative impact on the total number of hours trucks are on the road at any given point. Consequently, it becomes even more critical for shippers to find time savings elsewhere in their supply chains. Boosting throughput by using YMS means trucks spend more minutes with their wheels turning." Gartner, Market Guide for Yard Management
Why IoT and RAIN RFID in yard management?
Companies within different industries will have different priorities when choosing a YMS to fit their needs. However, whether it's for the purposes of speed or spoilage, almost all companies can benefit from additional visibility into their yard inventory. That's where RAIN RFID technology comes in. When supply chain and logistics companies have accurate, real-time information about the assets that move through their supply chain, they can operate with greater efficiency and accuracy. Closing the gap between items and their data provides the just-in-time information essential to supply chain intelligence. "In modern, large, high-volume logistics operations, the yard has now become an extension of the warehouse in terms of synchronizing with dock doors for shipping and receiving. In many cases, companies are now using the yard as supplementary storage. Coordinating and managing the flow and movement of vehicles and trailers throughout the yard (including the alignment of cross-docking activities) have become important activities for logistics operations."
---
The value of the YMS often varies by industry vertical. For internet retailers, velocity is everything, while a manufacturer values knowing where its inventory is in the yard to feed the production line. Retail distribution values on-time deliveries that drive customer satisfaction. Additionally, when delivery schedules are disrupted causing increased waiting times, specific industries such as food service distribution may heavily value support for niche capabilities such as refrigerated container temperature and fuel monitoring to reduce spoilage costs.
---
RAIN RFID not only helps with real-time visibility. It can also help with automation. Automating yard management can help to reduce inefficiencies, decrease costs, increase accuracy, optimize asset utilization, and empower shippers and 3PLs to provide on time performance. And automation in the supply chain has received more attention due to another factor: COVID-19.
Yard management in the time of social distancing
This past year has caused many organizations to rethink their operations. One common conclusion has been the importance of visibility into the systems that drive business, and the agility to respond quickly to disruption. Increased visibility and operational efficiency are only going to grow in importance, as businesses prepare to better respond to changes in the future. With that, the focus and importance of automation within the supply chain will be amplified.
---
It's likely that the risk of constraints on (and the understandable aversion of workers to) close social interactions will continue. Given this, users should also investigate options provided by some vendors to further automate gate check-in, verification, messaging and digitization of documentation and approval to reduce the need for drivers to queue in cramped warehouse offices and directly exchange paperwork.
---
RAIN RFID is a technology that is well-suited to driving visibility and automations that helps to increase operational efficiencies. Additionally, reading items without direct line of sight— and crucially, without touch— from a distance allows for more social distancing protocols, making it particularly appropriate at this time. For example, automating gates at the entrance to the yard can speed up the check-in process and allow drivers to socially distance. "Some systems support both manned and unmanned environments, and can act as the communication point with the driver, provide on-site instructions and register the load as on-campus or within the yard."
Real-world yard successes
Here are how some Impinj partners and customers are creating solutions using RAIN RFID and IoT technology to solve challenges in the yard:
Chemours reduces demurrage by $1.5 million with a smart, scalable solution
Transportation delays cost money no matter where they take place.They can be especially punitive in the yard: here, delays also result in demurrage, or charges for when inventory is parked in the yard over deadline, backing up the line and causing holdups for other products. In addition to unhappy customers and potential ripple effects,delays in the yard add up quickly.
The Kaleris Yard Management System, built on the Impinj platform, is recognized in the Gartner Market Guide as a Representative Vendor. This solution features RAIN RFID, cloud computing, and IoT sensors to gain visibility and control over the gate, dock, and yard assets. The yard management system from Kaleris manages network operations automatically and more efficiently and facilitates effective collaboration with trading partners.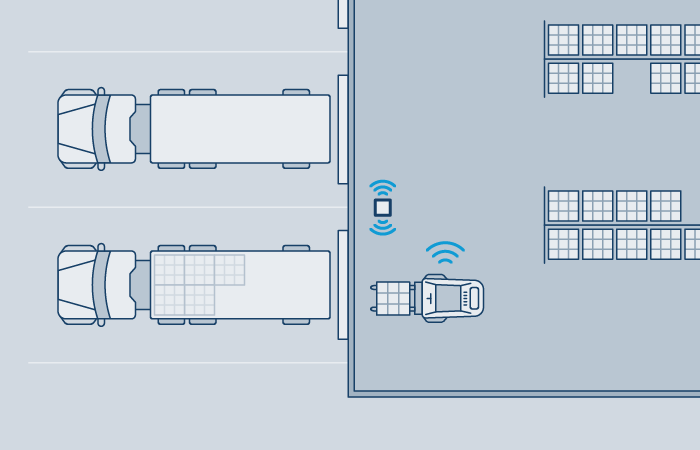 The Chemours Company selected the Kaleris Yard Management System using RAIN RFID to help overcome yard and transportation challenges within their high-volume operations. This system has helped Chemours:
Reduced detention and demurrage charges by $1.5 million
Provided 100% visibility of all yard activities with electronic record—no more manual spreadsheets
Eliminated gate and yard congestion and gained real-time asset location data
Gave Chemours the necessary data to improve throughput across six yards
Delivered ROI with cost savings, elimination of waste, and fewer redundancies
---
Additionally, vendors use technologies, such as the Internet of Things (IoT) and sensor-based frameworks, to have a real-time view of logistics operations. Some vendors even use drones to track assets in the yard. YMS vendors also create partnerships and integrations with other technologies to link sensor-based data collection devices to the YMS applications.
---
SAIC Anji Logistics halves inventory time in their yard using drones
SAIC Anji Logistics manages millions of cars each year to ship around China. A subsidiary of one of China's largest car manufacturers, they conduct regular stock checks of the yards where finished vehicles wait for shipment. Their vehicle lots must maintain data on thousands of cars for status, quantity, and location with periodic stock checks.
This task is greatly simplified with drones. A solution from Impinj Gold Partner, Beijing Silion, allows workers with drones to complete the task much faster than workers on foot, transmitting the correct data to servers in real-time, all without closing the vehicle yard.
This solution from Beijing Silion:
Reduced inventory tracking time by 50%
Improved inventory accuracy to nearly 100% without shutting down the lot
Reduced labor needed by 50%
Conclusions
For companies looking to optimize operations in their supply chain, the yard is the next frontier.
"Companies have put a great deal of effort into optimizing their transportation and warehousing processes, including implementing technologies such as a WMS and/or TMS. The transportation and warehouse functions meet in the yard, and the yard is often a "black hole" where companies lack visibility to activities, inventory and equipment." - Gartner
Gartner, Market Guide for Yard Management, Simon Tunstall, Bart De Muynck, 25 June 2020
Gartner does not endorse any vendor, product or service depicted in its research publications, and does not advise technology users to select only those vendors with the highest ratings or other designation. Gartner research publications consist of the opinions of Gartner's research organization and should not be construed as statements of fact. Gartner disclaims all warranties, expressed or implied, with respect to this research, including any warranties of merchantability or fitness for a particular purpose.
---
Article tagged as:
---
---
Thursday, May 6, 2021
Sign Up for the latest news
Looking for more content? We've got you covered
Learn more about Impinj and RAIN RFID in our resource library
Visit Library
Get the latest industry happenings delivered straight to your inbox