Nedap iD Top RAIN RFID Reader Brings Top Security to Under Armour
Sports retailer Under Armour turned to Impinj partner Nedap for a loss prevention solution and found iD Top, a powerful, adaptable RAIN RFID reader that met all of their criteria.
In recent years, retailers worldwide have seen a spike in shrink or loss due to theft. While there are many methods to curtail these losses, in practice, implementing them can be something of a high-wire act, and things like locked cabinets, product tie-downs, and security staff can be frustrating for customers.
The Nedap iD Top integrated RFID reader removes those frustrations and clears the way for an uninterrupted shopping experience.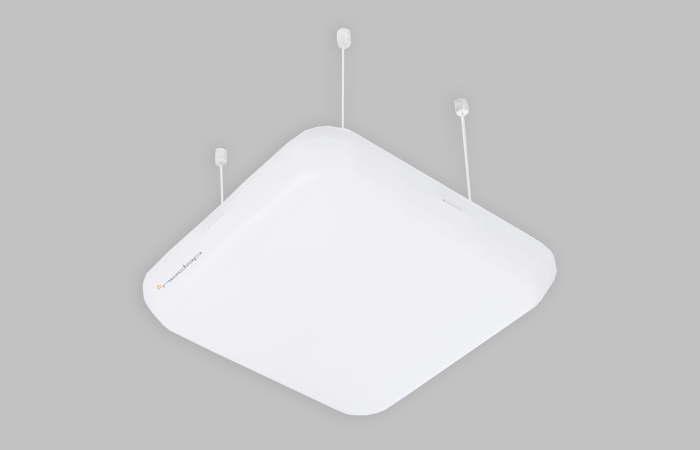 iD Top is an easily installed, state-of-the-art, ceiling-mounted RFID reader powered by the Impinj Indy R2000 RAIN RFID reader chip, and upgrading soon to the Impinj E710 reader chip. At a little more than 1 foot square and 3 inches deep, the iD Top reader is roughly the size of a laptop and can be mounted high enough above customers that it goes mostly unnoticed.
American sports retailer Under Armour liked what they saw in iD Top, and the company decided to test it in a store in Ontario, California, installing the reader over the store's entrance. The iD Top reader automatically read RAIN RFID tags attached to products as they exited the store, and gave Under Armour management access to real-time and historical item-level data about losses, patterns, and trends. Under Armour was pleased with the results, citing the accuracy, performance, and intelligence of the system as being especially impressive.
Store designers at the corporate level agreed that the iD Top, with its low profile and high installation flexibility, was everything they had hoped to find. The unit's relatively small size and light weight meant the designers were free to create welcoming store entryways that could incorporate loss prevention measures and yet be pleasing to the eye.
"The store design team at corporate was absolutely ecstatic over the aesthetics of the iD Top," said Sean Donnelly, then director of global retail asset protection at Under Armour. "Something so small mounted 10 feet high was just perfect."
[ Want to read more content like this? Subscribe to the Impinj blog. ]
iD Top features Dynamic Beam Steering, which allows for directional detection of RFID tags and helps filter out readings from stray tags in the reader's vicinity. The device also boasts Automatic Tag Muting, a feature that assists tag filtering in locations that have large numbers of tagged items.
iD Top is highly adaptable and can be implemented for other business use cases beyond loss prevention, such as receiving deliveries of incoming goods, authentication or shipping verification, and back-to-front store replenishment. It can also be combined with overhead customer counting systems, as well as video and other electronic article surveillance systems. The data from these complementary systems can provide additional forensic insights to help recognize and prevent future theft.
The Nedap iD Top also has a notably lower total cost of ownership than competing solutions — more good news for Under Armour, which has 400 global store locations.
Under Armour found iD Top to be very effective. So effective that as the first phase of laying a scalable RFID foundation for their stores, they are adopting the iD Cloud inventory visibility platform, bringing accurate stock visibility that will lead to optimized item availability and efficiency gains in day-to-day processes. The Nedap iD Cloud platform is an integrated suite of SaaS solutions, purposefully built for RFID technology that includes a data loss prevention software solution.
Learn more about Nedap's iD Cloud Loss Prevention solution and Under Armour's success with RAIN RFID. And, find out more about the benefits of RAIN RFID in retail.
---
Article tagged as:
---
---
Friday, September 9, 2022
Sign Up for the latest news
Looking for more content? We've got you covered
Learn more about Impinj and RAIN RFID in our resource library
Visit Library
Get the latest industry happenings delivered straight to your inbox