Chainway Delivers Full RAIN RFID Tracking for Livestock Management
Chainway's RAIN RFID livestock management solution helps ranchers save time and money, and keeps the food supply chain safe.
Tracking and recording livestock health and care
RFID powerhouse Chainway has developed a comprehensive RAIN RFID solution for livestock management. An Impinj gold-level partner, Chainway has made it easier than ever to make sure that the breeding and handling of livestock meet ecological, environmental, and safety standards set by oversight agencies.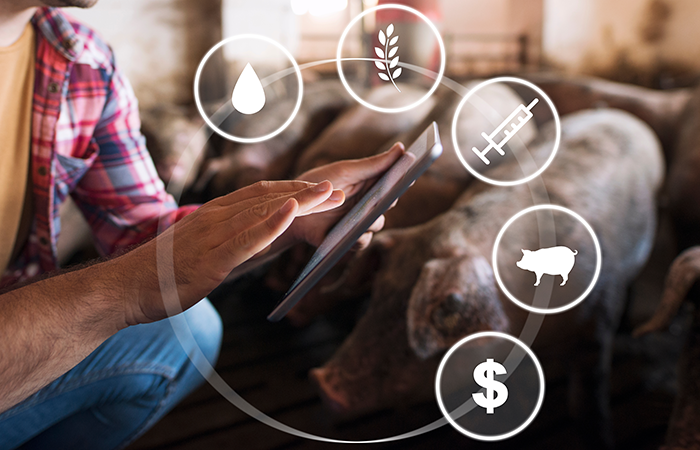 Livestock health directly impacts the safety of meat in our food supply chain. With millions of livestock processed for food each year, ranchers need a powerful solution to track all the individual animals. A mistake can have catastrophic consequences for consumers, meat processing plants, and livestock farms themselves. If just one ailing animal enters the food chain, it can cause food-borne illness, facility closures for inspection, and a loss of revenue and public confidence.
Benefits of livestock management with RAIN RFID
In Chainway's solution, RAIN RFID tags are attached to each animal at the ear or the hoof. Workers can use the Chainway C71 mobile computer to track them throughout their lifecycle. Software stores the information related to their health and care, creating a historical record for each animal.
The C71, featuring the Impinj E310 RAIN RFID reader chip, is one in a suite of Chainway handheld readers that work for any type of livestock in rugged outdoor environments, able to stand heat and cold. These devices scan RAIN RFID tags and display information on screen, allowing the user to edit or record information on-site, and access information such as vaccination, treatment, feeding, and location records.
Each animal is tagged with a RAIN RFID tag, which is associated with data about that animal in a database
Ranchers use RAIN RFID readers, such as the Chainway C71, to access, read, and write data about an animal's health and care
Chainway's solution generates easily accessible health records for each animal
After processing, each animal's records are associated with meat products that are sent to restaurants and supermarkets
This data enables full food traceability from the table back to the farm
Better livestock management with Chainway
Real-time monitoring of animal health
Chainway's solution allows ranchers to record and monitor the health of livestock in real-time, enabling them to take quick action when necessary. With accurate data at their fingertips, farms can increase efficiences and cut costs, helping facilitate large-scale operations.
Sharp increase in inventory accuracy and efficiency
Unlike solutions based on barcodes or QR codes, the functionality of RAIN RFID tags is unaffected by mud, weather, and wear, remaining functional throughout the life of an animal. Tags can be read instantly and accurately, speeding up inventory and improving efficiency.
Easy reading and writing of information
Chainway's handheld RAIN RFID readers can scan a tag and instantly display the data associated with it on the device's screen. These mobile computers range in size, including as large as tablets, allowing for easy reading and writing of data for each animal.
Complete records for each animal
Chainway's software allows ranchers to track the health and care of each animal, and creates a historical record of data. This data can be used for food traceability in the event of a recall, for instance, helping ensure the safety of the meat supply chain.
Full livestock management from breeding to supermarket
The same Chainway solution can be used along every step of the process, from breeding to processing to marketing. Learn more about Chainway's livestock management solution and its range of RAIN RFID devices, along with and the company's partnership with Impinj.
---
Article tagged as:
---
---
Friday, August 5, 2022

Chainway
Chainway is an industry-leading RFID supplier that designs, develops, and manufactures a wide range of high-performance RFID products.
---
Sign Up for the latest news
Impinj products deliver connectivity for this solution

Partner-Built. Impinj-Powered. Designed for You.
Our partners design solutions that are flexible, scalable, and built for your business.
Find a Partner
Get the latest industry happenings delivered straight to your inbox