Tageos Launches RAIN RFID Inlays Powered by Impinj M700 Series
Tageos announced new ARC-certified next generation RAIN RFID inlays, optimized for retail and supply chain & logistics solutions and powered by Impinj M700 series tag chips
Impinj partner Tageos recently announced the launch of four new next-gen RAIN RFID inlays: the EOS-300 M730 and M750, and EOS-430 M730 and M750, powered by Impinj M700 series tag chips. These inlays are optimized for retail and supply chain & logistics use cases and make Tageos one of the first providers worldwide to meet Auburn University RFID Lab ARC specifications for Impinj M700-based tags.
The new EOS-300 M730 and M750 inlays improve on the performance of the original, compact EOS-300 design (finished size 54 x 34 mm / 2.13 x 1.34 in), optimized for retail apparel applications. The new EOS-430 M730 and M750 inlays are based on the proven slim EOS-430 design (74 x 12 mm / 2.913 x 0.472 in). All these inlays are also available with several options from the Impinj Monza R6 IC series.
Tageos' new RAIN RFID inlays and tags feature aluminum antennas, clear plastic substrates and solvent-free permanent acrylic adhesives. Their innovative design supports the capabilities of Impinj M730 and M750 tag chips, providing advanced features such as increased sensitivity and improved readability, which result in fast inventory management capabilities and enable enhanced applications like loss prevention in retail apparel and supply chain environments.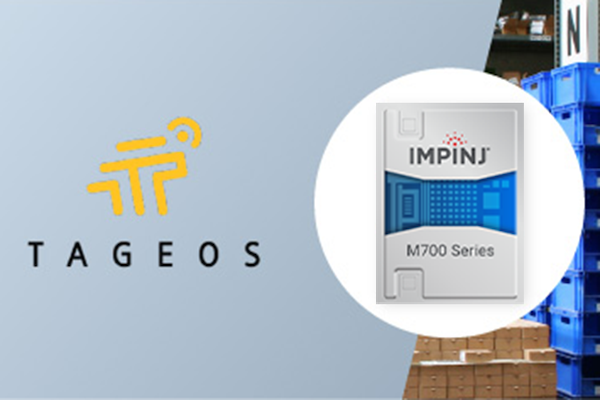 Each new inlay offers state-of-the-art data protection features with Impinj Protected Mode and Access/Kill capability as well as the Gen2v2 short-range mode, which allow customers to take full advantage of the latest RAIN RFID security standards during the omnichannel fulfillment and contactless checkout process. In short, customers can enjoy comprehensive privacy protection during the shopping experience with smooth, receiptless returns.
"By launching some of the world's first ARC-certified products based on the groundbreaking Impinj M700 series chips, in close collaboration with Impinj, we are demonstrating our ability to drive market-leading innovation, and to rapidly develop and deliver high-quality products that meet the latest needs of our customers. Based on our well-established product designs and comprehensively qualified by Auburn University RFID Lab, these products offer maximum quality assurance, guaranteeing that customers will enjoy all the potential benefits of our high-performance RFID inlays and tags," said Chris Reese, Head of Product Management at Tageos.
Implementing RAIN RFID in retail can increase ROI and improve omnichannel operations through real-time inventory visibility, helping retailers identify, locate and sell products from all retail locations through multiple channels. Supply chain automation and IoT solutions enabled by the RAIN RFID connect the goods moving through the supply chain to systems that manage them. Each shipment moving through the supply chain can be identified as it moves enabling smart inventory and agile supply management.
Impinj M700 series tag chips have industry-best read sensitivity and enhanced AutoTune™ adaptive RF tuning. These advancements enable smaller inlay sizes without sacrificing read range. Regardless of the material, label size, or operating frequency, Impinj M700 series products help deliver a higher-performing RAIN RFID inlay.
>>Learn more on Tageos' website
---
Article tagged as:
---
---
Wednesday, November 25, 2020
Sign Up for the latest news
Looking for more content? We've got you covered
Learn more about Impinj and RAIN RFID in our resource library
Visit Library
Get the latest industry happenings delivered straight to your inbox