Impinj Demonstrates New Protected Mode for Retail Loss Prevention
At NRF, Impinj showcased our new Impinj M730 and M750 endpoint ICs, demonstrating breakthrough capabilities in loss prevention with automated self-checkout.
Today at NRF, we showcased our new endpoint ICs, the Impinj M730 and M750 RAIN RFID tag chips, demonstrating breakthrough capabilities in loss prevention with automated self-checkout. Impinj connects items, such as the products in stores, shipments moving through distribution centers, or devices used by store employees, to applications so retailers are equipped with accurate inventory data to improve visibility, increase efficiency, and enhance the shopper experience.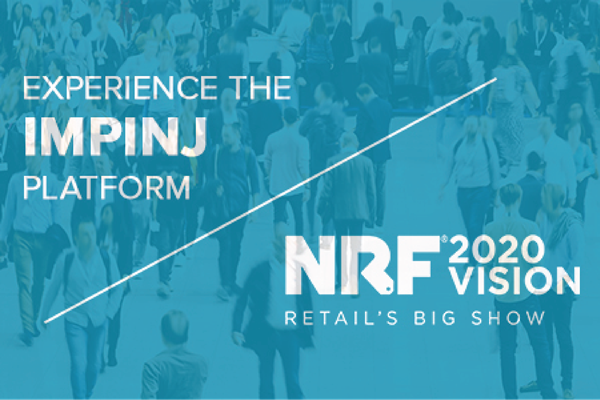 Developed in an advanced semiconductor process node, the Impinj M730 and M750 ICs deliver increased sensitivity to enable the development of small, universal RAIN RFID tags. The new ICs also allow retailers to operate their RAIN RFID readers faster than with other tag chips, reducing inventory time and improving productivity. And the chips' advanced features enable new solutions for privacy, loss prevention with automated self-checkout, and seamless returns.
Protected Mode Enables Loss Prevention while Protecting Consumer Privacy
At NRF, we demonstrated our unique Protected Mode feature of the Impinj M730 and M750 tag chips, which enables loss prevention while protecting consumer privacy by making a RAIN tag invisible to RAIN readers. The tag can be returned to normal operation, and made visible again to RAIN readers, using a secure PIN. This gives retailers opportunities to immediately, and automatically, remove a purchased item from inventory, improve customer experience at store exits while protecting the customers' privacy, and easily return an item to store inventory if it is returned.
Loss Prevention that Identifies Specific Items
Protected Mode makes possible new capabilities for loss prevention with automated checkout. At NRF, we demonstrated loss prevention features that identify items individually, allowing retailers to go beyond an alarm at the door—they now know which specific item has left the premises. The same RAIN RFID tagging system that gives retailers in-depth inventory insight also provides analytics that can reveal critical information to drive loss prevention. By increasing visibility to theft at the item-level including what, when, and where an item exited the store, retailers can make smart decisions to protect inventory and avoid lost sales due to lost inventory. Retailers can also leverage loss data to understand employee versus shopper theft and identify organized crime.
Automated Self-Checkout that Scans Multiple Items Simultaneously
Our automated self-checkout demonstration highlighted capabilities made possible by the new Impinj M730 and M750 chips. RAIN RFID-based automated checkout allows customers to register multiple items simultaneously without the need to scan each one individually. This reduces customer time spent at checkout and the expense of staffing at the point of sale. It also obviates the need for complicated video tracking, while improving speed over barcode scanning.
Impinj connects every thing that matters
When every thing is connected, retailers can replace approximation with certainty and modeling with observation. Each item matters and becomes a visible part of the whole system. When retailers have visibility into every thing in stores and the supply chain–what it is, where it is, and its interactions with shoppers and employees—they can act instead of react.
---
Article tagged as:
---
---
Saturday, January 11, 2020
Sign Up for the latest news
Looking for more content? We've got you covered
Learn more about Impinj and RAIN RFID in our resource library
Visit Library
Get the latest industry happenings delivered straight to your inbox