Report: Why 97% of Supply Chain Professionals are Turning to RFID
Managing labor shortages tops the list of concerns for supply chain organizations. Get your free copy of a new report to learn how RAIN RFID can help.
As the backbone of most industries, supply chains play a pivotal role in ensuring the smooth flow of goods and services. Today's rapidly evolving global and economic landscape, however, has presented supply chain professionals with unanticipated obstacles.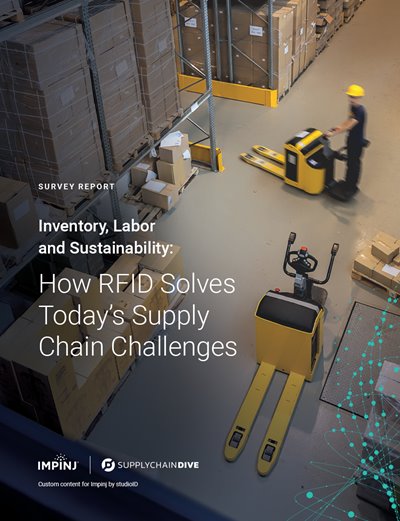 According to a new report, 96% of respondents were worried about ongoing labor shortages. Nearly as many – 86% – said they were concerned about meeting their companies' sustainability or carbon-emission goals. And 40% reported that inventory tracking problems were slowing order picking, as shipping and tracking challenges persist in the aftermath of the COVID-19 pandemic.
The report from Impinj and Supply Chain Dive, "Inventory, Labor, and Sustainability: How RFID Solves Today's Supply Chain Challenges," surveyed supply chain professionals from a range of industries including warehousing, automobile manufacturing, and retail. The findings revealed common issues and struggles across the supply chain industry, and how organizations are embracing IoT technology such as RAIN RFID for help.
"Things we're experiencing today will continue to be a challenge as fewer people come back to the workforce," said Hunter Abbey, an account executive at global enterprise technology solutions provider Velociti. "It'll improve, but it may not ever be the same as it was before 2019."
Indeed, trying to get more done with the same or fewer resources is a persistent core challenge that shows no sign of abating.
Fortunately, many supply chain professionals are turning to the wider implementation of Internet of Things (IoT) technologies such as radio-frequency identification (RFID), which provides organizations with better end-to-end supply chain visibility than ever before. As a result, they're well-positioned to optimize their processes and get more done with the same or fewer resources.
More supply chain professionals are using RFID
RAIN RFID, a type of ultra-high frequency RFID, is a low-cost, battery-free, wireless technology that extends the IoT to include every thing that supply chain and logistics organizations need to track and manage. It is a highly effective way of helping companies improve supply chain visibility, optimize labor resources, and enable current systems to perform more efficiently.
According to the Impinj and Supply Chain Dive report, organizations are turning to RFID more and more:
97% of those surveyed said their organization had already adopted or planned to adopt RFID, compared to 83% who answered the same question in the 2022 report.
75% of respondents from organizations that had already implemented RFID said they were very or extremely confident in their ability to meet supply chain pressures in the next two years, given their current tech toolkit.
48% of survey respondents expected their organizations to reach mature RFID implementation within two years, a 140% jump from the number of those who said they currently realize full implementation.
[ Want to read more content like this? Subscribe to the Impinj blog. ]
How RFID helps solve supply chain challenges
RAIN RFID solutions provide organizations with exceptional end-to-end supply chain visibility. As a result, companies that use RFID are well-positioned to face labor scarcity, supply uncertainty, and other lingering post-pandemic challenges.
According to the 2023 report, RFID can address industry professionals' most pressing concerns by helping them:
Automate operations for data collection, eliminating the need for manual data entry. Organizations can accomplish more with fewer employees, and free up the workers they do have for other tasks. Simpler tasks also mean simpler employee training. When you use IoT [or] RFID solutions, you shorten the training cycle. New employees learn faster how to intelligently do the job.
Gain visibility into things across the supply chain. Lack of visibility prevents companies from planning ahead. The earlier an organization is able to gain visibility into parcel or pallet shipment in the supply chain, the better an operations manager can plan delivery vehicles' transportation routes to exit the facilities more efficiently and travel on better-optimized routes. This approach cuts carbon emissions by decreasing the overall distance driven and shortens shipping time to better meet or exceed customer expectations.
Boost sustainability efforts within an organization. Real-time visibility into the location and status of items across a supply chain helps companies identify which items need to be used or sold before they expire, saving companies money and keeping food and other perishables out of landfills.
Download your complimentary copy of the Impinj and Supply Chain Dive report to learn how RAIN RFID helps companies bolster supply chain resiliency, enables them to thrive through labor shortages, and sets them up for success into the future.
---
Article tagged as:
---
---
Friday, August 4, 2023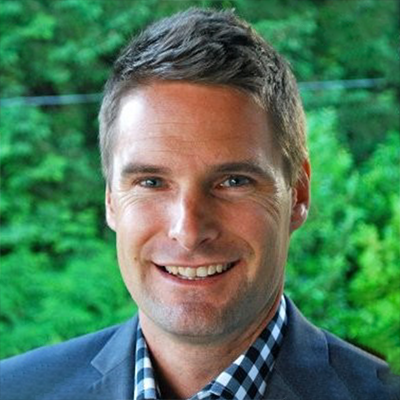 Todd Farley
Senior Vice President, Global Sales
Todd Farley leads the Impinj global connectivity sales team and works with partners and end-customers to increase adoption of the Impinj platform.
Sign Up for the latest news
Looking for more content? We've got you covered
Learn more about Impinj and RAIN RFID in our resource library
Visit Library
Get the latest industry happenings delivered straight to your inbox