PSBJ Names Impinj One of Washington's Best Workplaces
Impinj ranked #2 among extra-large companies in Puget Sound Business Journal's annual top workplaces roundup.
Impinj has placed #2 among extra-large companies on the Puget Sound Business Journal's 2023 "100 Best Workplaces, an annual ranking based on surveys of nominated companies' employees. The ranking underscores what our employees have long known to be true: that Impinj not only elevates its employees' day-to-day with fair compensation and generous benefits but gives them the tools and support they need to thrive outside of work as well.
"It's truly our employees that deserve the credit for this recognition," said Christina Balam, Impinj's vice president of human resources. "From the products we create all the way down to the oat milk in the company kitchen, Impinjineers have led the discussions and initiated the efforts that make Impinj what it is."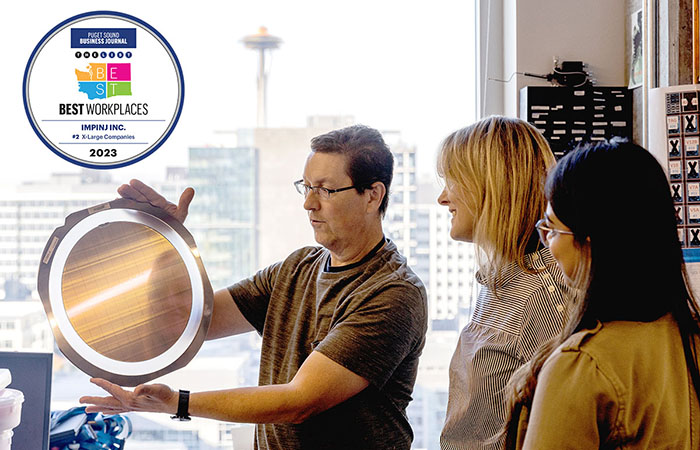 To be considered for the PSBJ's 100 Best Workplaces list, a minimum percentage of a company's Washington State-based employees must respond to the survey, administered by a third-party research firm. About 150 Impinj employees anonymously answered dozens of questions about pay, benefits, and work culture – and weighed in with comments and observations about their jobs at Impinj.
"Not only does Impinj design and implement great products that are changing the world, it has developed strong programs for sustainability and DEI," read one comment. "We are encouraged and given time to volunteer in our communities. We have been given the opportunity to participate in several successful giving campaigns to help those in crisis."
"I've never felt so secure in any job I've had in my career, and I know I am appreciated," read another comment. "The morale is high here and we're motivated. This is an amazing place to work."
Microchips and Mighty People
Founded more than 20 years ago, Impinj connects everyday items to the Internet – and connects its employees to an amazing culture as well. Our Diversity Action Team, made up of passionate employees and senior leaders, crafts and oversees an annual diversity, equity, and inclusion plan to engage employees and improve the collective understanding of the diverse identities across our workplace and communities. We've further deepened our DEI efforts by introducing monthly Culture Connection employee talk sessions designed to strengthen cross-company relationships and trust. Our hybrid work committee explores ways to ensure employees both in the office and working remotely are heard and valued.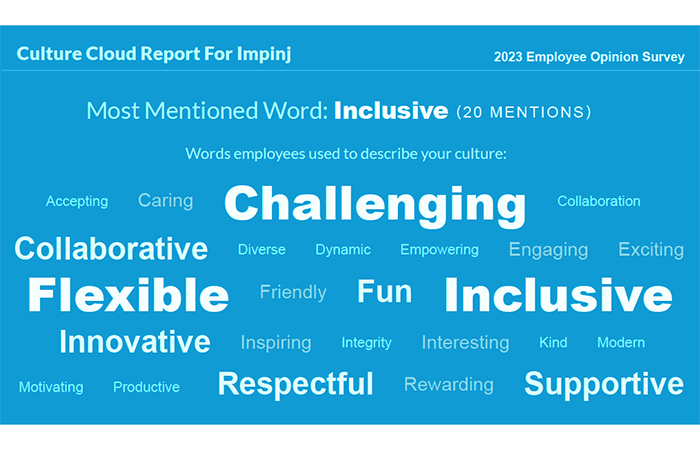 And our Impinj Cares corporate giving program promotes and supports corporate and employee-led philanthropic activities​, including financial contributions and 16 hours of paid time off to volunteer each year to give back to the people and causes that are important to them.
Principles Keep Us Connected
In every department and role at Impinj, our 16 principles are the foundation for how we champion each other and the work we do while guiding our drive to make the world a better place. Employees are celebrated when they model our values in a spirited way that is inspiring to their colleagues, our stakeholders, and the public.
As another comment stated, "From the top down, I feel that the principles and values of the organization are not just lip-service, but ingrained in our everyday activities and interactions. I'm proud of the professional work that my organization delivers, but more importantly I'm impressed by our overall commitment to our community, DEI efforts, and trying to make the world a better place and helping those in need."
Interested in working for Impinj? Check out our current openings! As one of our employees commented: "If you want a job that challenges you with freedom to be the best version of yourself...look no further than here."
---
Article tagged as:
---
---
Thursday, August 24, 2023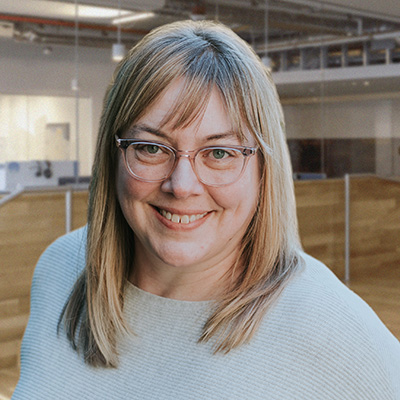 Jill West
Vice President, Strategic Communications
Jill West leads Impinj IoT technology adoption marketing initiatives across numerous markets including retail, healthcare, and supply chain and logistics.
Sign Up for the latest news
Looking for more content? We've got you covered
Learn more about Impinj and RAIN RFID in our resource library
Visit Library
Get the latest industry happenings delivered straight to your inbox