Chainway Launches Devices Built on Impinj E310 For Livestock Management
Chainway is using the Impinj platform to make the farm-to-table process for livestock management easier and safer for everyone.
Breeding and maintaining livestock is difficult, expensive, and vulnerable to illnesses that can quickly spread from one animal to the next. Unless sick animals can be identified and quarantined in time, there is a danger of losing all of the animals before they can be brought to market. Monitoring and addressing the health needs of each animal can mean saving the entire herd.
Ailing or otherwise unhealthy animals entering the market food chain can also have catastrophic consequences, costing millions of dollars in recalls, lost revenue, loss of consumer confidence, and, in a worst-case scenario, leading to serious food-borne illnesses. The importance of keeping close tabs on farm livestock cannot be overstated.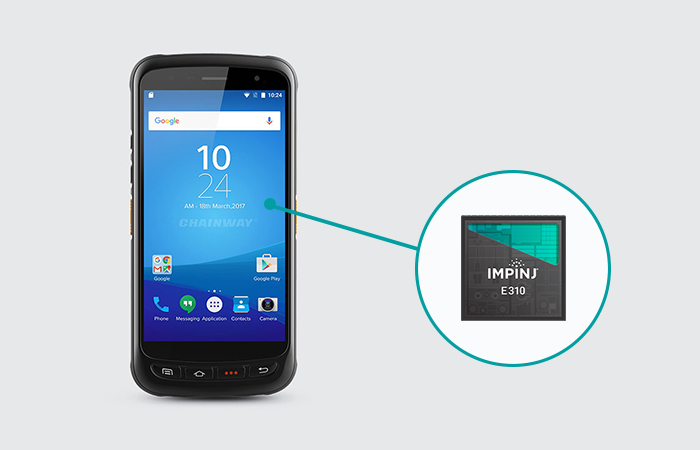 Chainway, an Impinj gold-level partner, has developed RAIN RFID solutions for managing livestock and addressing these challenges. Real-time monitoring of the animals' physical health allows farms to more effectively meet livestock needs and collect data to more easily comply with government regulations.
Individual animals are fitted with RAIN RFID tags when they are born or as they arrive on the farm. Throughout each day, ranchers can use Chainway's C71 Mobile Computers to scan and track the animals as they're moved for feeding and exercise. With Chainway's system, tracking begins in the earliest hours of an animal's life and continues through the harvesting of livestock and transportation of products, enabling reliable food traceability in supermarkets and butcher shops.
RAIN RFID tracking means greater accuracy and speed
Using Chainway's RAIN RFID readers to track livestock has benefits for both farm productivity and animal welfare:
Ranchers can identify and locate up to 250 tags per second and increase the speed and accuracy of keeping livestock inventory.
Tags can be read from as far away as 4 meters (12 feet), and RAIN RFID readers do not require line of sight.
Tracking data throughout the process provides a record that can be used for food traceability and regulatory compliance.
Real-time visibility into livestock — from farm to dining table —helps ensure end-product safety.
A state-of-the-art handheld reader that can handle anything
Chainway's C71 Mobile Computer, including a RAIN RFID reader powered by the Impinj E310 RAIN RFID reader chip, provides a wealth of data management in a phone-sized, handheld device, as well as a number of other useful and rugged features, including wireless connectivity, a high-definition camera, advanced data capture, and barcode-scanning capability. For added security, the Chainway C71 has biometric authentication to prevent unauthorized usage.
Chainway's handheld reader puts the work of a team into the hands of one
Using the Chainway C71 Mobile Computer, a single rancher can track any number of animals, collecting information necessary for keeping individuals healthy and protecting herds from contamination or infection. Real-time tracking enabled by RAIN RFID can help ranchers keep tabs on the health of the animal and stay on top of things like vaccinations and veterinary health history. With one scan, ranchers can access information about the animal's age, ownership, migration and movement history, and other special care instructions.
Learn more about Chainway and the C71 Mobile Computer.
---
Article tagged as:
---
---
Friday, September 2, 2022
Sign Up for the latest news
Looking for more content? We've got you covered
Learn more about Impinj and RAIN RFID in our resource library
Visit Library
Get the latest industry happenings delivered straight to your inbox