Bridging the Supply Chain IoT Gap with RAIN RFID
RAIN RFID technology is in a unique position to accelerate changes in the supply chain and logistics world, helping bridge the IoT gap.
These days, it doesn't take much for a company to start trailing behind the competition.
Manual processes can result in errors, delays, and inefficiencies. Disconnected systems can require duplicate work. And without the productivity boosts provided by real-time visibility, even businesses with spotless accuracy records can lose ground.
That's why adopting new technologies is so imperative to success in the supply chain.
Digital transformation with the Internet of Things (IoT) can modernize inventory management and asset tracking by seamlessly connecting various operations throughout the supply chain, providing a transparent, automatically updated view into the status and location of products and equipment. Filling the gaps by adopting technologies such as RAIN RFID can help solve inefficiency and human error problems.
Supply chain and logistics experts know just how important efficiency and accuracy are to streamlining operations. With the Impinj platform, using RAIN RFID, supply chain operators can minimize productivity losses while increasing efficiency, visibility, and connectivity.
IoT adoption in the supply chain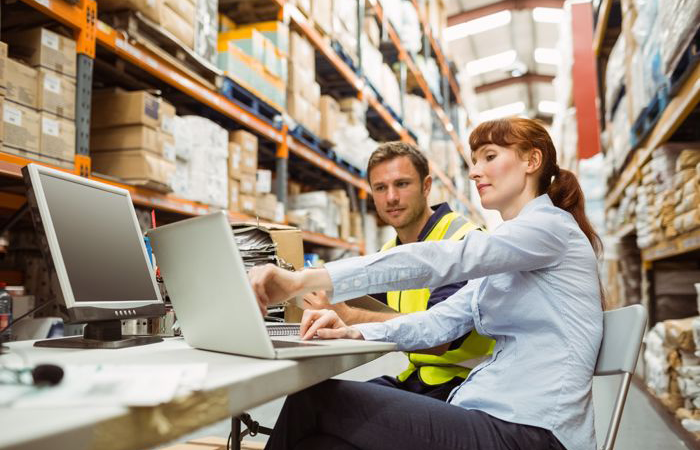 As organizations undertake digital transformation and look to bridge the supply chain IoT gap, they often focus first on introducing IoT technology to a specific use case.
Track-and-trace and inventory management are two possible introductory solutions, as noted by CIO Review. The article noted that the COVID-19 pandemic exposed some of the inherent vulnerabilities in lean supply chain management. One possible solution for building resiliency into supply chains is expanding IoT capabilities to provide greater visibility.
RAIN RFID technology is in a unique position to accelerate improvements and efficiencies in the supply chain. By connecting items to the internet through the Impinj platform, businesses can expand the IoT's reach, ensuring real-time item visibility and effortless authentication.
With totes, boxes, pallets, and individual items connected, supply chain operators can improve productivity while harnessing and sharing data, leading to better-informed decisions and new possibilities for the future.
How RAIN RFID technology works for the supply chain
The Internet of Things is the growing capability to connect millions of items to the internet, unlocking countless new possibilities. When a RAIN RFID tag is attached to every item, data from those tags can be read and analyzed using software applications to harness information associated with each object to drive automation and supply chain innovation.
RAIN RFID tags are inexpensive, wireless, battery-free, and scannable without a line of sight. With RAIN RFID readers and software, the Impinj platform enables tagged objects to be paired with digital twins—virtual representations of physical items—opening up new opportunities for IoT-driven efficiencies and insights.
Supply chain IoT benefits enabled by the Impinj platform include:
Shipment verification: With flexible reader locations, you can automatically scan pallets, cases, or items to confirm that the right items are loaded onto the right truck every time, all without stopping to scan a barcode.
Supply chain automation: By leveraging accurate, automated, high-speed systems, RAIN RFID solutions enable full visibility and control. You can track goods moving across all locations, streamline and simplify distribution centers, and eliminate picking and shipping errors.
These processes lead to automated operations and accurate, streamlined inventory updates.
One industry leader, Euro Pool Systems, employed RAIN RFID to gain greater visibility into its armada of 1 billion circulating crates and pallets. RAIN RFID readers scan the contents of trucks as they arrive at the depot. After being routed to the most efficient unloading dock, inventory items are automatically scanned. These same objects are scanned again when they leave, and inventory records are updated automatically by the system.
Approaching Industry 4.0 by solving the IoT supply chain gap
Businesses can leverage the Impinj platform to expand IoT functionality into a variety of sophisticated, next-generation supply chain management techniques, including analytics, artificial intelligence, and even robotics. While near-term gains are an important reason for adopting RAIN RFID and IoT technology today, the long-term potential for these innovations is even brighter.
Future opportunities for IoT in the supply chain
Businesses can integrate data points harnessed by the Impinj platform with software applications like warehouse management systems (WMS), transportation management systems (TMS), or enterprise resource planning (ERP) solutions. This can lead to a wide range of new possibilities, such as viewing time in transit and customer demand in aggregate and at a granular level. Businesses also can optimize their processes by sharing this data with partners.
The Impinj platform provides the ability to connect every item in the supply chain—from pallets, parcels, and individual inventory items to assets like reusable cartons, trailers, calibrated tools, and more. These improvements empower supply chain professionals to provide first-rate customer experiences in the most cost-effective manner possible.
---
Article tagged as:
---
---
Friday, June 18, 2021
Sign Up for the latest news
Looking for more content? We've got you covered
Learn more about Impinj and RAIN RFID in our resource library
Visit Library
Get the latest industry happenings delivered straight to your inbox