What It's Like to Intern at Impinj: 2023 Summer Spotlight
Students who join the Impinj internship program gain valuable hands-on experience, insights, and connections. Hear about their experiences in their own words.
The Impinj internship program offers a dynamic environment for students to gain hands-on experience, foster professional growth, and contribute to meaningful projects. This summer, we had a team of 14 summer interns from various backgrounds – some current students and others who recently graduated – working in various departments across the company.
Here, they share their experiences, insights, and advice on navigating the world of internships and career development.
What inspired you to apply for an internship at Impinj, and how has your experience met your expectations so far?
Emma Cohanim, B.S. in psychology, Tulane University
Impinj's commitment to sustainability coupled with the company's reputation for hiring good people originally piqued my interest and ultimately drove me to apply for an internship. Since joining Impinj, I have been blown away by my fellow employees' kindness and approachability. My experience so far has been enriching and thought-provoking, and I take great pride in being part of a company that strives for technological innovation without compromising on environmental conservation.
Samin Aayanifard, doctoral student in chemistry and packaging, Michigan State University
I first encountered Impinj during a project on enhancing recycling systems. While the unique projects mentioned in the job description initially piqued my interest, it was the positive employee reviews and subsequent interactions during interviews that truly captivated me. I chose Impinj due to its ideal size – not an overwhelming startup, yet not an impersonal large corporation. My experience thus far confirms my decision: Impinj emphasizes transparency and effective communication, and fosters a knowledgeable, collaborative environment.
Lucas Tian, senior in mechanical engineering, University of California Riverside
I applied to Impinj in hopes that I'd be able to have more experience working with RAIN RFID tags and test myself with skills that I haven't had much opportunity to practice with, such as employing Python. I've had the opportunity to continue to utilize my CAD and 3D printing skills on a project, bringing it from a concept all the way through the process of procuring parts and building it. In addition, the guest speaker sessions organized for the interns have provided welcome insights into how experienced professionals have navigated their careers and provided some ideas and inspiration for what I can do.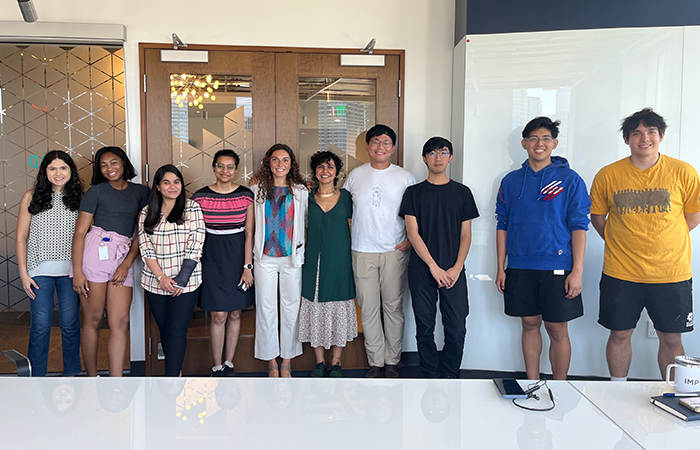 What specific skills or practices have you developed or improved upon during your internship at Impinj, and how do you envision applying them in your future endeavors?
Shifa Somji, doctoral student in artificial intelligence, Purdue University
During my internship, I have developed my skills of communication while working on a small team. I have learned how to be responsible for a large amount of work, and promptly provide data analysis for tests conducted earlier in the day. In my future endeavors, I will use these same skills to create a productive working environment and utilize each team member's strengths.
Alexander Tran, junior in computer science, University of Washington Seattle
One skill that I have developed and improved during my time at Impinj is communication. Coordinating with my team while working in a hybrid situation – as well as working with people working in different states and countries – has greatly improved my ability to communicate and collaborate with members of my team. This experience has shown me just how important it is to be able to effectively work in a group and how beneficial it is to have open communication.
What advice would you give to future interns joining Impinj to make the most of their experience?
Beomjun Ju, doctoral student in fiber and polymer science, North Carolina State University
As I am a Ph.D. candidate, I would like to let you know that the industrial environment is totally different than academia. It is important to set clear goals and discuss them with your manager, because there is a limited timeline to complete the specific projects you'd like to work on during your internship. Secondly, don't hesitate to connect with colleagues across different departments, not just within your immediate team, because collaboration can make your work faster and more creative!
Sushree Subhasmita Jena, master's student in electrical and computer engineering, University of Washington Seattle
During your internship, make it a goal to meet new colleagues and ask about their experience and work at Impinj. Attend the weekly guest speaker sessions and PI Talk (the weekly company all-hands meeting) to delve into company insights. Don't hesitate to ask for help when stuck on tasks. Check out the demo of products for practical understanding.
Christina Johnson, senior in marketing, University of Houston Downtown
My advice to future interns is to fully embrace the company's dynamic environment. Don't hesitate to ask questions and seek guidance from colleagues – I found this to be instrumental in both my learning and building valuable connections. Engage actively, contribute your unique ideas, and don't be afraid to step out of your comfort zone. Blend curiosity with resourcefulness to tackle challenges and showcase your adaptability. This approach helped me unlock the true essence of innovation at Impinj.
What has been your favorite moment or project during your internship at Impinj?
Mahvash Maghrabi, master's student in computer science, Northeastern University
A particularly memorable experience was the successful completion of a full-stack application project. I had the opportunity to work on the database architecture, the back-end processes, and the front-end display. Accompanied by the gratifying recognition and validation of my efforts, receiving positive feedback and mentorship from seasoned professionals was equally rewarding. The camaraderie established with fellow interns and colleagues added a sense of belonging. There was a special thrill in spotting a "looks good to me" comment on my pull-request reviews, symbolizing collaborative success.
Michael Wymore, senior in electrical and computer engineering, University of Washington Seattle
My favorite project involved measuring path loss between Impinj RAIN RFID readers and measurement devices, such as a power meter. Having this path-loss data allows us to adjust our measurements when performing tests so measurements are as accurate as possible. This is important, because the Radio Frequency Regression team performs government regulatory testing to ensure that Impinj readers comply with regulations and can be sold around the world. The device that was used before I came in as an intern required the manual pressing of buttons, and it could take up to a whole day to complete a calibration. With my script using a newer analyzer, this process is fully automated and takes roughly half the time to do the same work.
Can you share an example of a valuable lesson you've learned during your time at Impinj?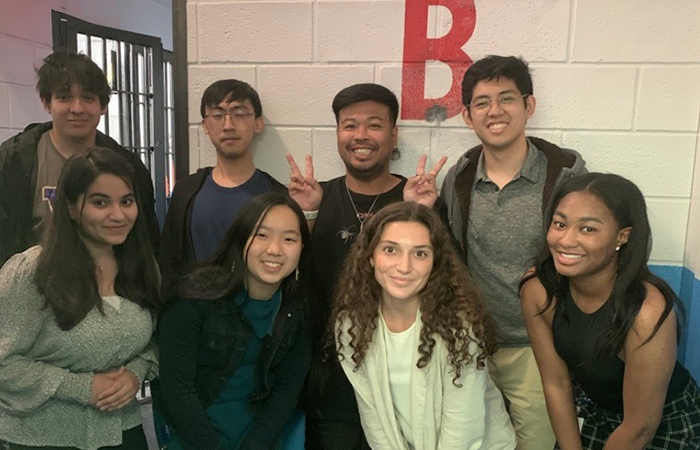 Karena Qian, senior in computer science, Seattle Pacific University
As someone who is very new to stuff like RAIN RFID, there were a lot of concepts and terms I heard but didn't understand. There were times I had loads of questions itching to be asked, but just the thought of bugging my super-smart coworkers/mentors with simple questions was intimidating. However, I soon discovered that my coworkers have just as many questions as I do. One told me that there is always something new for him to learn, and another joked that he bugs another coworker with questions all the time. Now I bombard my coworkers with at least 10 questions every day, and along the way, I learned a lot more than I would have if I didn't have the guts to ask.
Jeremiah Cox, B.S. in computer science, Bob Jones University
I have learned so much from my internship at Impinj! I have had the opportunity to learn new programming languages and build software for a very niche area of silicon engineering. However, the biggest lesson that I have learned from my time here is the importance of time management. Working remotely requires a lot of self-discipline and focus to manage time effectively, and I have been able to tremendously grow these skills during my time at Impinj!
Before starting your internship at Impinj, you likely had certain expectations for what it would be like. How did your initial expectations of the internship at Impinj compare to the reality of your experience?
Michael Mendoza, senior in computer science and software engineering, University of Washington Bothell
Leading up to my first day at Impinj as an intern, I was expecting my work to be small and insignificant because I had yet to gain the level of experience as the rest of my team members. I was blown away on the first day when my manager introduced me to my project that would utilize my personal skills and experience that the team wasn't really exposed to before. I felt unique as an engineer knowing that I was brought in to add new value to my team.
Malena Arduino, B.S. in informatics and minor in data science, University of Washington Seattle
My Impinj internship surpassed my expectations. The collaborative environment and invaluable mentorship enhanced my growth, enabling me to contribute and expand my knowledge beyond my expectations. I'm grateful to the development infrastructure team and eager to carry my Impinj experiences forward.
At Impinj, our commitment to fostering talent and innovation drives our internship program. We believe in providing hands-on opportunities that empower aspiring and talented students to grow, learn, and make meaningful impact.
Our internship program runs year-round. However, most of our opportunities are available for 10-12 weeks in the summer. We offer internships in areas such as software engineering, hardware engineering, marketing, human resources, and more. Visit the Impinj careers page to learn more.
---
Article tagged as:
---
---
Friday, September 15, 2023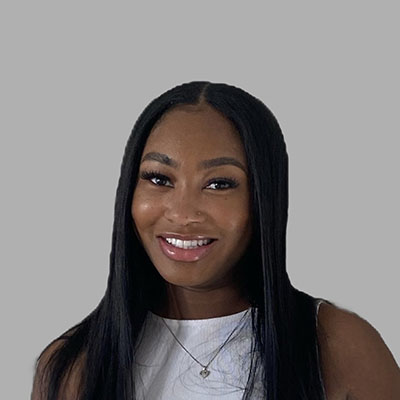 Christina Johnson
Impinj Marketing Intern
Christina Johnson, a senior at the University of Houston Downtown, enhanced her marketing skills as a summer intern at Impinj, gaining practical insights and hands-on experience in a technical setting.
Sign Up for the latest news
Looking for more content? We've got you covered
Learn more about Impinj and RAIN RFID in our resource library
Visit Library
Get the latest industry happenings delivered straight to your inbox