The Future of IoT with RAIN RFID
The RAIN RFID Alliance conference is coming to Europe with talks on the advantages of RAIN RFID and the future of IoT.
The Future is Connected. Are you?
Businesses around the world are seeing increasing value with IoT technology, and the RAIN RFID Alliance wants to help companies continue to take advantage of the benefits of wireless item connectivity. Interested in finding out what's new in IoT and RAIN RFID? Join us at the RAIN RFID Alliance - 2019 European Meeting on June 11-12 in Florence, Italy.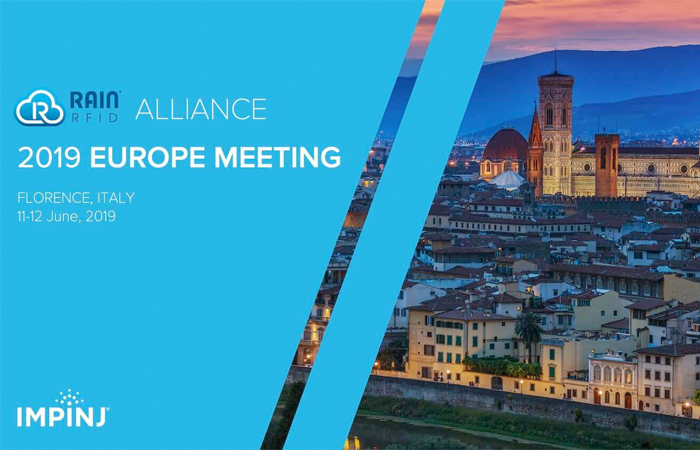 What is the RAIN RFID Alliance?
The RAIN RFID Alliance is similar to other organizations such as the WiFi Alliance, Bluetooth SIG, and NFC Forum. With more than 150 member companies comprised of global brands including Cardinal Health, Decathlon, FedEx Freight, Impinj, Intel, and L'Oreal, the RAIN RFID Alliance's mission is to enable businesses and consumers to identify, locate, authenticate, and engage items in our everyday world with RAIN RFID. As an inaugural member of the RAIN RFID Alliance, we are proud to be part of this innovative, cross-industry group.
Get involved with the RAIN RFID Alliance
On June 11th and 12th, 2019, the Una Hotel Poggio Dei Medici will become the epicenter of all things RAIN RFID in Europe and we are thrilled to be a Gold Sponsor of this exciting event. The two-day meeting will include presentations, workshops, and discussions from industry leaders including SAP, Temera, International Air Transportation Association (IATA), and GS1. Sessions will cover topics such as:
Deploying RAIN RFID in baggage tracking for IATA Resolution 753 compliance
FCC and international authorization and marketing for RAIN RFID equipment
How RAIN RFID is transforming the fashion industry — and how you can leverage this transformation in your own business
Join Chris Diorio's Keynote: The IoT Frontier
In addition to these exciting talks, one of the meeting's keynote speakers is Impinj CEO Chris Diorio. During this keynote, The IoT Frontier, Chris will take a deep dive into ubiquitous connectivity for physical items and cloud-based digital representations of those physical items.
---
Article tagged as:
---
---
Thursday, May 16, 2019
Sign Up for the latest news
Looking for more content? We've got you covered
Learn more about Impinj and RAIN RFID in our resource library
Visit Library
Get the latest industry happenings delivered straight to your inbox