How Primo1D Threads a Path to Textile Recycling with RAIN RFID
Textile and apparel with recyclable E-Thread RFID tags from Impinj partner Primo1D give garments a second chance on the world's runway.
The textile and apparel industry is one of the largest in the world, producing 92 million tons of textile waste every year, with fast fashion generating the most waste. About 5.8 million tons of textiles are discarded every year, according to EU Strategy for Sustainable and Circular Textiles, and every second somewhere in the world a truckload of textiles is landfilled or incinerated.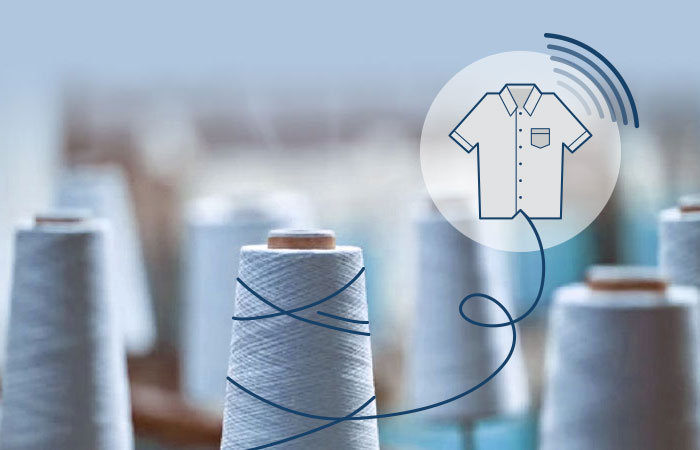 As the industry seeks to build a circular economy and bridge the gap between sustainability and textile waste, RAIN RFID has become a viable option for managing the production, retailing, and recycling of garments. Embedded RAIN RFID tags can transform textiles themselves into connected clothing, helping businesses improve inventory management, offer smarter shopping experiences, and meet sustainability goals.
Impinj partner Primo1D, an IoT solutions provider, has developed a specialty RFID tag for textiles called E-Thread using Impinj M730 RAIN RFID tag chips. This flexible and durable connected thread can be sewn or integrated into textiles, apparel, and even rubber goods and cables.
What's more? The news release shares that Primo1D E-Thread is fully compliant with the European Union's industrial processes for textile recycling. Manufacturers that incorporate E-Thread into their textiles can ensure their products are compatible with large-scale recycling, not to mention countless second-life applications along with strengthened fraud protection.
Primo1D has teamed up with sports apparel retailer Decathlon to showcase the viability of E-Thread and how it enables businesses to track garments over the course of their lifecycles, from source to sale to returns to reuse.
"This major step positions our E-Thread RFID technology as a cornerstone of the circular economy in textile mass distribution," said Emmanuel Arène, CEO and Founder of Primo1D, said in a news release. "We'll keep collaborating with all stakeholders in the textile recycling ecosystem and provide a relevant solution to increase the use of more recycled raw material."
What is Primo1D E-Thread?
E-Thread features a RAIN RFID tag incorporated into a textile thread that can be sewn or embedded into garments and other materials, enabling real-time and high-speed visibility of textile components. The first of its kind, E-Thread is streamlined, simple, and robust enough for a variety of products that benefit from thinner, virtually unnoticeable RAIN tags.
To make this RFID thread, Primo1D uses two conductive strands to form an antenna that connects to an Impinj M730 RAIN RFID tag chip, resulting in a RAIN RFID tag so thin that it can be integrated into a textile thread. Because of its sleek design, the tag is so discreet that it is effectively imperceptible, making retail inventory and automated checkout even more seamless than it already is with more typical RAIN RFID tags.
Primo1D offers multiple options for customizing the E-Thread to meet product needs. Users can customize their RAIN RFID tag chip or antenna type, and can select the packaging treatment: individual segments, pre-cut bobbins, or segmented chains with tags arranged at regular intervals on a continuous textile wire.
[ Want to discover more RAIN RFID applications like this? Subscribe to the Impinj blog. ]
When considering how to develop its product, one of Primo1D's biggest concerns was ensuring E-Thread wouldn't have a negative environmental impact on the textile industry. Multiple studies and surveys have confirmed that E-Thread is free of plastic substrates and has a low carbon footprint, also affirming that fabric tagged with E-Thread retains its quality and complies with industry standards for recycling.
Here's how Primo1D's RFID E-Thread works:
E-Thread is coded and serialized to customer specifications then sewn into a garment.
That garment can be tracked by RAIN RFID readers at various steps of a supply chain and at retail stores.
This deployment enables benefits like improved inventory management, EAS, automated self-checkout, seamless returns, and fraudulent return protection.
Later, when tagged textiles are recycled, they can be more easily sorted and processed.
No relabeling is required — textiles tagged with E-Thread are compliant with industry standards for recycling, helping boost sustainability and reduce waste.
Primo1D E-Thread can also withstand chemical and mechanical processes, such as washing and stretching, as well as extreme temperatures. Companies involved in thrifting, recycling, and upcycling can also benefit from garments getting "smarter" thanks to RAIN RFID.
Benefits of E-Thread and RAIN RFID for textiles
E-Thread helps recycling take center stage in the textiles and apparel industry, as a pivotal solution to a more sustainable future. Here are a few of the ways that RAIN RFID empowers fashion and fabric businesses to champion more eco-friendly practices, maintain product quality and authenticity, and embrace a circular economy.
Inventory management is a breeze
Improve efficiency and accuracy with RAIN RFID at the helm of your inventory tracking system. By tracking tagged assets throughout their journey from supply chain to retail stores and even customer returns, RAIN RFID helps businesses automate formerly manual tasks and digitize processes that tend to be tedious and imprecise.
Protect consumer privacy while increasing flexibility
Impinj Protected Mode, a feature of Impinj M730 and M750 chips, provides a secure, flexible, and easily reversible method to make tag data invisible to RAIN RFID readers. Embedded RAIN RFID tags equipped with Impinj Protected Mode assist companies with loss prevention and retail self-checkout, while complying with consumer privacy regulations.
From retail to reuse to recycle
Primo1D E-Thread is a remarkable product that both offers the benefits of RAIN RFID and meets the requirements of sustainability efforts to support a circular economy. From rental retail and vintage boutiques, to e-commerce and brick-and-mortar shopping, E-Thread increases the possibilities for reuse and recycling in the textile and apparel industry.
Visit Primo1D's website to learn more about E-Thread. For more information about the Impinj platform and Impinj products, view our informational resources or reach out to us to discuss how RAIN RFID can benefit your application.
---
Article tagged as:
---
---
Monday, October 2, 2023
Sign Up for the latest news
Looking for more content? We've got you covered
Learn more about Impinj and RAIN RFID in our resource library
Visit Library
Get the latest industry happenings delivered straight to your inbox