Beijing Silion Q+A: Impinj Partnership & the Future of Smart Tech
How this Gold-level Impinj partner Beijing Silion is building the technology of the future with drones, touchless retail service, smart refrigerators, and more, using RAIN RFID.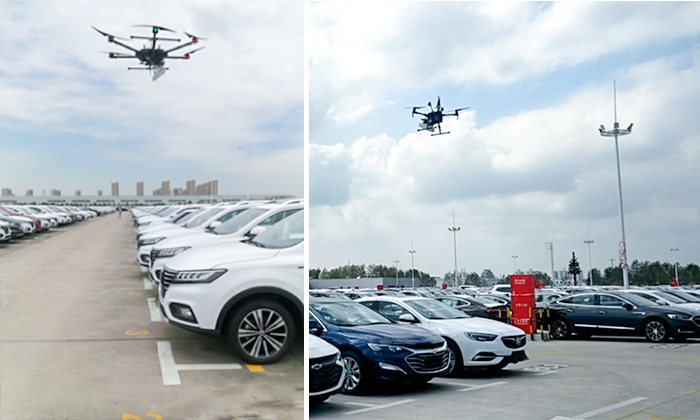 Impinj is lucky to have a diverse network of partners around the world who use the Impinj platform to build creative, groundbreaking solutions. This includes recent Gold-level partner, Beijing Silion Technology Corp., Ltd., a pioneering and cutting-edge RFID hardware solutions provider. We sat down with them to ask about working with Impinj on their popular drone solution and the exciting technology they have in the pipeline.
How long has Beijing Silion been an Impinj partner?
We've been partnered with Impinj since 2009 and became an Impinj Gold partner in 2020. We started in the UHF RFID industry in 2005, and in 2009 we began to do product research and development based on the Impinj Indy R1000 and R2000 chip sets. After 11 years, Impinj is still our main chipset, and about 20 to 30 of our products are based on Impinj.
Please describe your business.
Because of the various application scenarios in the RFID industry, there need to be different RFID antennas, tags, and readers to meet different performance requirements. For instance, in the apparel industry, Readers need to read multiple tags quickly and all at once for inventory, and the power industry requires long distance reading for asset management. Silion works as a hardware solutions provider in such applications: we develop and manufacture all kinds of UHF RFID products, and customized UHF RFID products, to work with system integrators to realize a full application for different industries and different requirements. In the case of some undeveloped industries with potential, RFID application is a kind of exploration. When this happens, Silion will work together with our customers, to explore and build the RFID application from idea to reality.
What do you see as key benefits of RAIN RFID over other technologies?
RAIN RFID technology reduces manual work and labor costs, while digital data collection increases inventory visibility and automates workflows, greatly helping enterprises improve work efficiency and capacity. There are countless benefits to integrating UHF RFID systems into retail, healthcare, production, and logistics markets— including the ability to:
Automate inventory tracking and workflows
Gain real-time visibility of inventory
Prevent the use of expired or recalled products
Remotely monitor temperature and inventory alerts
Reduce shrinkage and prevent inventory stock-outs
Secure access to specified areas or products
Improve overall business operations
Can you share some examples of how your customers benefited from your solutions using Impinj technology?
RFID technology serves as the basis for enterprises or governments to perform digital management of their own business and operations. It begins the process of digitizing systems with the goal of improving efficiency, reducing risks, and optimizing governance capabilities.
Silion has served thousands of customers in different applications with Impinj based RAIN RFID products, such as logistics, retail, smart manufacturing, traffic/vehicle management, food safety, smart medical, etc. Among these applications, food safety and retail have grown in significance: one typical case is that in 2018 we served one of the largest retail operators in China to establish the hardware system of tens of thousands of UHF RFID self-service vending cabinets. This application helped this company greatly improve their market share, company turnover, and brand image. During the COVID-19 pandemic, the self-service vending machine reduced contact between people, which helped to reduce virus infections.
The drone customer story received a lot of positive responses. Are there other innovative applications using your solutions?
Another innovative case is the RFID application for refrigerators. In 2019, Silion worked with one of the top three largest domestic refrigerator factories to study how UHF RFID technology can be applied to smart refrigerators. The goal at the time was to create a refrigerator that knew what kind of foods were in it and which were about to expire. The refrigerator's smart system could remember consumption habits and nutritional information, so consumers are automatically reminded of which kind of foods need to be restocked and can then place orders with one click on the refrigerator's screen's online market. This year, the application has been launched into the market. This application has an important role in food safety and smart home development.
About Beijing Silion Technology Corp., Ltd.
Beijing Silion Technology Corp., Ltd. has been a pioneering and cutting-edge RFID hardware solutions provider since 2005. They design and manufacture a full series of RFID hardware products including UHF RFID reader, integrated reader, UHF RFID module, and related UHF RFID products. They stand for superior quality and creativity, and have been approved as the Gold Partner by RFID Global Brand Impinj Inc. With a senior and experienced RFID technical team, we are devoted to offering customers optimal solutions and outstanding services. With Silion products usage, enterprises reduce operational expenses and improve work efficiency.
---
Article tagged as:
---
---
Tuesday, October 13, 2020
Sign Up for the latest news
Looking for more content? We've got you covered
Learn more about Impinj and RAIN RFID in our resource library
Visit Library
Get the latest industry happenings delivered straight to your inbox