Streamline, Automate, and Optimize Supply Chain & Logistics with RAIN RFID
Impinj brings the Internet of Things to supply chains for smarter, simpler, more streamlined operations. RAIN RFID empowers all kinds of organizations to do more with less.
Bring IoT to industry supply chains with RAIN RFID
In today's dynamic world, businesses need to stay agile. Digital transformation brings an advantage for companies that are looking to gain both automation and visibility into their operations. With automated tracking of everything moving in a supply chain, organizations achieve a new level of visualization of the systems that run a business. The Impinj platform uses RAIN RFID, a low-cost, battery-free, wireless technology that extends the IoT to include every thing that supply chain and logistics organizations need to track and manage. Together with our partners, Impinj extends the capabilities of IoT solutions to transform business operations.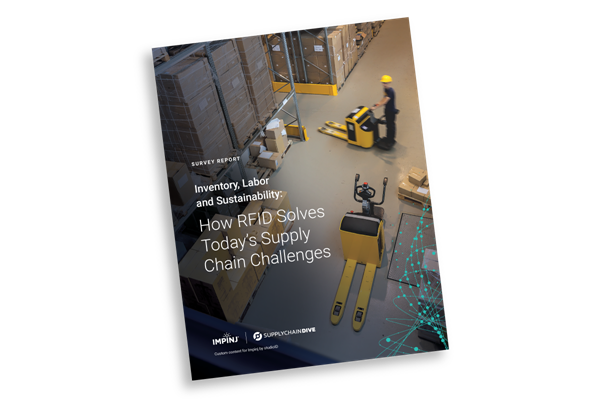 How RAIN RFID solves today's supply chain challenges 
With RAIN RFID, supply chain and logistics companies can turn a labor shortage into an opportunity to automate processes, simplify training, and streamline operations. They can get the granular data they need to reduce waste, cut CO2 emissions, and meet sustainability goals. They gain end-to-end visibility that makes it easier to see trends and build resilience for what's on the horizon.

These capabilities are why nearly all supply chain companies are turning to RFID solutions. That's according to a new report from Impinj and Supply Chain Dive, "Inventory, Labor and Sustainability: How RFID Solves Today's Supply Chain Challenges."
Shipment Verification
Gain real-time visibility of goods, improve efficiencies, and reduce shipping errors
Supply Chain Automation
Leverage accurate, automated, high-speed systems to enable full visibility and control
Product Authentication
Authenticate product automatically at every stage in supply chain to ensure brand trust
Pallet Build Verification
Automate verification to ensure that the right cartons are always on the right pallet
Food Supply Chain Management
Automate traceability for a smarter, safer food system