Gold Partner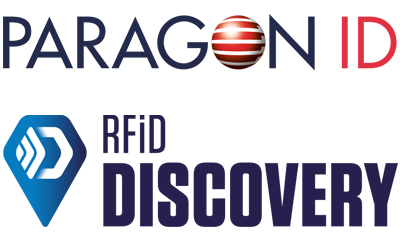 PARAGON ID
Paragon ID is a leader in identification solutions, in particular in the e-ID, Transport & Smart Cities, and Traceability & Brand Protection sectors.
Partner Types
Solutions
Products
About PARAGON ID
As the largest manufacturer of RFID labels in Europe, Paragon ID provides a complete range of radio frequency identification solutions that can be used on assets, inventory, and people for location tracking, security, and asset visibility purposes. Our systems help organizations in healthcare, logistics, manufacturing, and other sectors throughout the UK and worldwide to significantly drive down costs, increase efficiency and improve safety. Under the name of RFID Discovery, we specialize in fully integrated automation and tracking solutions combining relevant hardware and software technologies to meet the specific demands of our customers. Used in a growing number of hospitals across the UK for over 14 years, RFID discovery is the number one choice for active and passive RFID systems in the healthcare sector. Many companies also use it for asset tracking, production tracking, and inventory management applications across various sectors
Headquarters
Stockholm Road
Hull, East Riding of Yorkshire
United Kingdom HU7 0XY
Website
Industry Focus:Other
Impinj Products: Impinj Readers and Gateways Impinj Tag Chips
Partner Operates In: EMEA North America
Primary Impinj Partner Network Track: Reseller
Authorized Reseller: Yes
Training Badges Impinj Platform
Partner Solutions
Tracking returnable transport items
Manufacturing
Impinj Readers and Gateways
Tracks your returnable stillages, tote boxes, roll cages, pallets & trays through the supply chain to improve efficiency, save time and reduce losses.
Learn More
Sterile Services Tracking
Healthcare & Life Sciences
Impinj Readers and Gateways
Provides real-time location information on surgical equipment and endoscopes to improve the utilisation, management, and auditing of assets.
Learn More
Tracking for Managed Services
Other
Impinj Readers and Gateways
Providing visibility of items throughout the supply chain to save time, improve inventory accuracy, and reduce losses.
Learn More
Re-usable PPE Tracking
Healthcare & Life Sciences
Impinj Readers and Gateways
Using RFID to track reusable PPE reduces losses, saves time on manual stock checks and ensures there are always enough items ready for use.
Learn More
Asset tracking for Healthcare
Healthcare & Life Sciences
Impinj Readers and Gateways
Accurately tracks the location of mobile medical devices, cutting down valuable time spent by staff when locating equipment.
Learn More
Notice
: The Impinj Partner Directory includes third-party content and links that our partners provide. Impinj is not responsible for third-party content and makes no warranty, representation, or undertaking related to content, goods or services provided by any third party. Please refer to the Impinj.com terms of use, including Sections 4, 7 and 14. Your link to or use of a third-party website is at your own risk and subject to the third-party website policies, including those relating to confidentiality, data privacy and security.