Gold Partner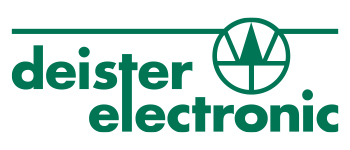 Deister Electronic GmbH
For nearly 40 years, Deister Electronic has been known for its innovative RFID products and solutions for identification, automation, and security. We develop, produce and sell our products worldwide and our local subsidiaries create solutions.
Partner Types
Products
Solutions
About Deister Electronic GmbH
Getting to the bottom of things At Deister Electronic, innovation doesn't start with an idea but with a deep understanding of the customer's needs. We make a point of understanding our customers in order to approach their requests in the best possible way. For more than 40 years, Deister Electronic has been an international and sustainably managed family business with headquarters in Barsinghausen. We develop secure automation solutions that enable our customers to automate processes, reduce operating costs, and increase security levels. We are proud that many of the world's leading companies are among our customers and appreciate our innovative spirit, outstanding product quality, and comprehensive service. With a worldwide staff of 250 employees and 5 international offices, we are able to serve our customers globally and respond to local conditions and customer requirements. Innovation and the customer are always the focus of our attention
Headquarters
Hermann-Bahlsen-Straße 11
Barsinghausen, Niedersachsen
Germany 30890
Website
Industry Focus:Manufacturing
Impinj Products: Impinj Readers and Gateways Impinj Reader Chips and Modules
Partner Operates In: APAC EMEA North America
Primary Impinj Partner Network Track: OEM
Authorized Reseller: Yes
Training Badges Impinj Platform
Partner Products
Reader
TSU200 rugged long range reader with integrated antenna
The TSU 200 is a compact and robust long-range reader for UHF transponders with an integrated antenna. The waterproof housing (IP66/67) allows use in both indoor and outdoor applications. With a range of up to 7m, the TSU200 is ideal for applications such as industry 4.0, access control, logistics and supply chain, waste management, vehicle/train identification, and much more. Several internal filters and autotune mode offer a fast and easy installation. Optionally the reader is available with ethernet and some industrial interfaces.
# of Antenna Ports4
ConnectivitySerial
EnvironmentRugged
Impinj Reader ChipImpinj R2000
Max Output Power (dBm)29
Power SourceIn-Vehicle; Power Adapter
Reader Form FactorFixed
Learn More
Partner Solutions
Textile and Laundry Management
Healthcare & Life Sciences
Impinj Reader Chips and Modules
Impinj Tag Chips
Decentralized and centralized management of laundry and uniforms Smart cabinets and room-based solutions The intelligent laundry management system teXtag® comprised of dispensing and return cabinets, which manage the issue and return of clothing and provide laundry at the locations where employees actually need it. This reduces the distances covered by employees in order to obtain fresh clothing and saves time.
Learn More
AVI automatic vehicle identification
Automotive Transportation
Impinj Reader Chips and Modules
Impinj Tag Chips
The fast and reliable long-range identification solution tranSpeed® automatically identifies drivers and vehicles in any weather conditions with RFID. Ideal for car parks, traffic management, and free-flowing vehicle access control (AVI).
Learn More
Notice
: The Impinj Partner Directory includes third-party content and links that our partners provide. Impinj is not responsible for third-party content and makes no warranty, representation, or undertaking related to content, goods or services provided by any third party. Please refer to the Impinj.com terms of use, including Sections 4, 7 and 14. Your link to or use of a third-party website is at your own risk and subject to the third-party website policies, including those relating to confidentiality, data privacy and security.