Quattro
Smart 4-port long-range RAIN RFID reader delivers long-range, high-performance reads with easy configuring and high flexibility. This powerful, slim form factor reader is easy to install even when limited space is available by leveraging PoE connectivity and built in USB port for easy attachment of peripherals.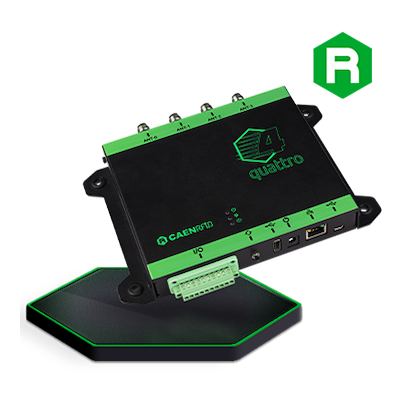 Category:

Fixed Readers

Purpose:

Inventory management, smart shelves, RAIN RFID tunnels, and gates for manufacturing, transport, and logistics.

Impinj Product:

Impinj R2000

# of Antenna Ports:

4

Max Power Output (dBm):

32

Connectivity:

GPIO;LAN;USB

Environment:

Non-Rugged

Power Source:

PoE;Power Adapter

Reader Form Factor:

Fixed

Additional Info:
---
---

CAEN RFID
CAEN RFID designs and manufactures RAIN RFID readers, from module to fixed and mobile. The offering is completed by dual frequency RAIN/NFC loggers.
---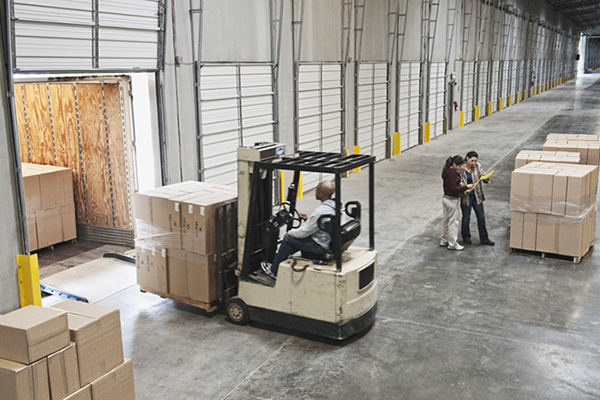 Long-range, 4-port Quattro RAIN RFID reader offers retail and warehousing solutions
The CAEN RFID Quattro reader, built on the Impinj R2000 RAIN RFID reader chip, with its optimal performance makes it ideal for RAIN RFID gates and tunnels in inventory management, transport and logistics, and manufacturing applications.
Compact, long-range RAIN RFID reader boasts POE for easy deployment

High output power and sensitivity
The CAEN RFID Quattro reader provides up to 31.5 dBm power for long-range reading.
Autonomous mode and Java engine
Companies can easily customize the reader to their own specifications and operate it autonomously.
USB host port for feature extensibility
Allows for the integration of peripherals from barcode scanners to keyboards.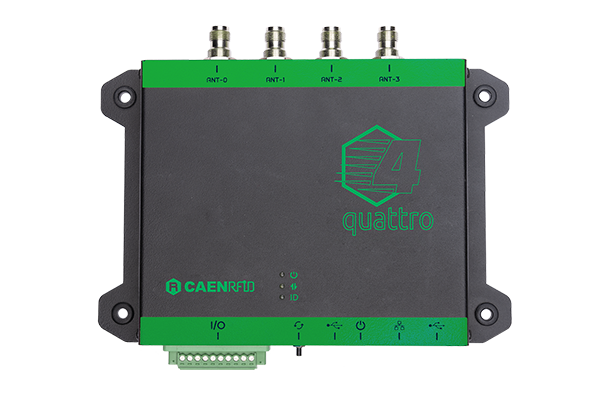 Compact, long-range RAIN RFID reader boasts PoE for easy deployment
The CAEN RFID Quattro reader is easy to use and install, with autonomous mode options that allow it to send data directly to a server. The Java engine permits users to customize reader configurations, and Power-over-Ethernet and USB interfaces enable simple installation for large and single-read-point solutions.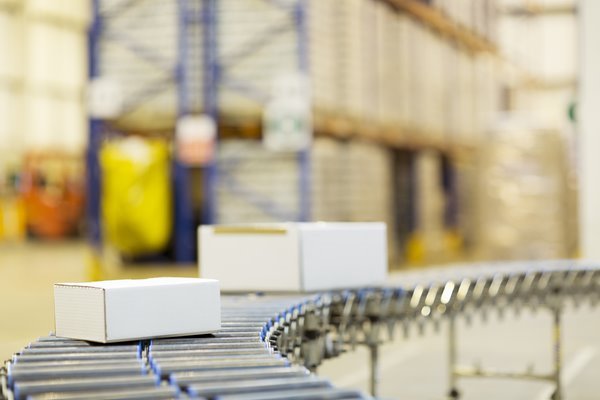 Partner-built fixed RAIN RFID readers use Impinj chips for performance and reliability
Efficiently use automation to improve visibility into inventory and enterprise assets by using a high-performing RAIN RFID reader built with an Impinj reader chip inside. Manufactured by Impinj partners, these fixed infrastructure readers deliver a range of performance, size, and power consumption designs. Fixed infrastructure RAIN RFID readers can augment systems that include RAIN RFID handheld readers.