Rovinj's RAIN RFID Intelligent Aviation Tool Management System
Rovinj, with Impinj, created a modern RAIN RFID aviation tool management solution using Impinj Monza 6 tag chips and Impinj Speedway R420 readers to make tracking tool assets easier.
RAIN RFID solves the growing problem of ineffective aviation tool management
Keeping planes in the air around the world requires thousands of maintenance workers, and they need to have access to hundreds of thousands of special tools to carry out their duties. These tools can be housed in a single maintenance hangar, ranging in size from heavy equipment that requires special handling to precision parts as small as a pea.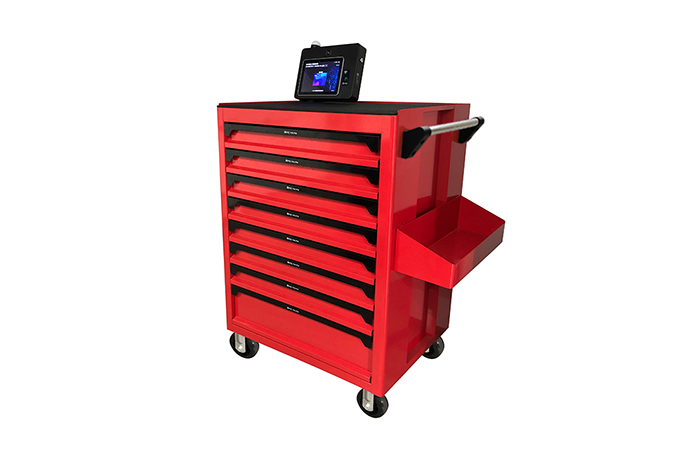 Airline safety and punctuality cannot be achieved without the support of maintenance on the ground. With the growing number of routes, aircrafts, airports, and flights - both domestic and international - new requirements have arisen for greater management and efficiency in maintenance operations. These new requirements also address the increase in awareness in the aviation industry of the dangers of foreign object debris and have led to a consensus in the industry that new methods was needed to improve informationization in aviation maintenance tool control.
Having undertaken to improve the way tools and other assets are tracked and managed in aviation maintenance, Impinj partner Rovinj Information Technology Co. Ltd. created a RAIN RFID tool control system built using Impinj RAIN RFID tag chips and readers.
The solution features an intelligent tool trolley that tracks each tool's use throughout a workday. By keeping tabs on the thousands of tools used throughout a commercial airplane maintenance hangar, the Intelligent Aviation Maintenance Tool Control solution eliminates time and money wasted when employees must search for tools. It also automatically generates daily records of tool usage, recording the name and role of the borrower, and the times tools were borrowed and returned.
---
Adapting the RFID intelligent tool management system helped us further improve our precision tool management practices. We've accomplished the transition from human management to intelligent management. All information is available in real-time on computers and mobile app devices, considerably enhancing our company's level and flat management.
---
Rovinj introduces the Intelligent Tool Trolley
Partnering with Impinj, Rovinj designed an asset-management system around a mobile RAIN RFID-enabled tool trolley that recognizes, tracks, and manages every maintenance tool in an aviation hangar, automatically and in real-time.
All tool assets are fitted with high-sensitivity RAIN RFID tags featuring Impinj RAIN RFID tag chips
Special oil- and acid-resistant adhesives are used to protect the tags from caustic workplace solutions
Tools are placed inside an intelligent tool trolley and the RAIN RFID reader housed inside it keeps a record of the tools as they are removed and returned throughout the day
Whenever a tool is moved, a record is generated, noting the name and position of the user, and the tool's maintenance history
RFID Enabled Comprehensive Digital Tool Control
Aviation tool management in the past primarily relied on visual inspection. A photo was taken when tools were checked out, and it was compared to a photo taken after tools were returned to see if anything was missing. There are obvious limitations to this. For example, it's easy to confuse tools that are similar in shape and size.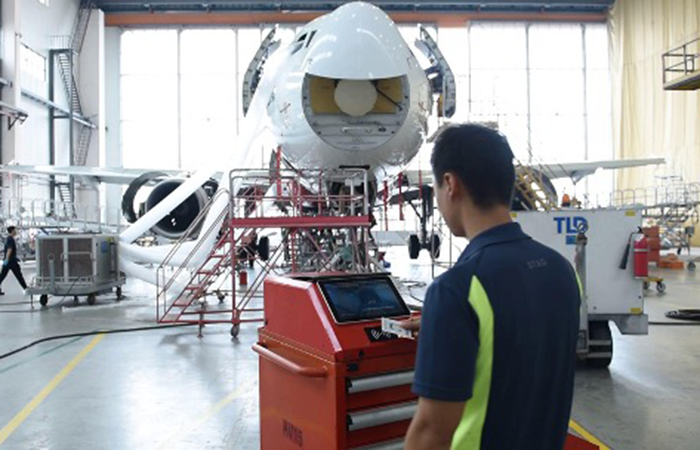 Aircraft maintenance tool management in airports has high-performance requirements for recognition distance, reading rate, and multi-target reading stability. Rovinj, working with Impinj, launched a complete RFID tool control solution with highly integrated hardware and software. The system consists of a moveable tool trolley, client-end terminals, tool shop data management, a client-end RFID tool search, a data management platform, and tool management applications.
The Rovinj Intelligent Aviation Maintenance Tool Control solution avoids any confusion by tracking tags on individual tools stored within the trolley. The trolley reader reads each tool as it is removed or returned. If a tool isn't returned, the record of the name and location of the person who last checked it out limits the search undertaken to locate it. Information about tool wear, use, and movement is uploaded to the cloud for processing and storage.
Total tool control means no more waiting around to work
If a tool is needed but is being used elsewhere, users can also access server-side data in real-time via the network and remotely query the status of tools. This also reduces the time workers are idle while waiting for needed tools to become available.
Keeping a record and taking notes
While the system is designed for quick daily tool checkouts and check-ins, it offers a wealth of other benefits as well. Daily tool inventory checks and inspection update messages are made automatically with the centralized, cloud-based data management system. The same tracking system enables quick inventory checks made on-the-fly when searching for missing tools, and as tools are cycled out of use do to wear and age, daily and monthly audits of the trolley contents gives operators insight into which missing items have been replaced or are on order.
---
Article tagged as:
---
---
Tuesday, February 28, 2023

Guangzhou Rovinj Information Technology Co., Ltd.
Focusing on RFID solutions for over 10 years and providing integrated RFID equipment including, a smart tool trolley, a tunnel machine, a hazardous chemicals cabinet, medical cabinets, and more.
---
Sign Up for the latest news
Impinj products deliver connectivity for this solution

Partner-Built. Impinj-Powered. Designed for You.
Our partners design solutions that are flexible, scalable, and built for your business.
Find a Partner
Get the latest industry happenings delivered straight to your inbox