Putting Healthcare Assets to Work with the Impinj Platform
Underutilized healthcare assets waste millions of dollars and labor hours per year. RFiD Discovery uses the Impinj platform to track assets for real-time savings.
In healthcare, an untracked asset is not just a wasted asset
Untracked assets can also waste uncountable hours. In a large or multi-story facility with up to 10,000 individual pieces of equipment, finding an unused and serviceable unit can waste critical time. Poor equipment utilization or uneven availability can lead to hoarding, or more devices than necessary in circulation, resulting in less oversight or irregular maintenance and waste. As a result, healthcare asset loss and underutilization wastes millions of dollars per year.

The right equipment, at the right time, in the right place
It takes a lot of different medical devices to ensure a patient receives the best possible care: beds, wheelchairs, infusion pumps, monitors, mattresses, and other assets are necessary to ensure the best possible outcome. If mis-managed, these assets can also be a source of waste.
Built on the Impinj platform, this solution from RFID Discovery:
tracks medical assets in real-time and fully integrates with the hospital management database for updated inventory in minutes
provides an accurate record of medical asset location and status, saving time for clinical and engineering staff when locating needed devices
ensures that inspection and maintenance is done regularly for improved patient safety and compliance
helps reserve capital expenditure for the most critical needs and not on redundant or missing equipment
---

Using RFID technology has improved our care and provided a return on investment by saving us hundreds of thousands of pounds and thousands of hours of nurses' time.

---

Saving hours and miles of employee effort
Instead of wasting time tracking down individual assets, each device to be tracked is fitted with an RFID tag and the unique ID is registered on the RFiD Discovery software. Impinj readers then detect the presence of the tags and send the location information to the central database. This can be done through a network of fixed readers or through a mobile trolley reader which is pushed through the hospital detecting the presence of assets within range. This means that employees can find assets quickly by checking the database without having to waste time by searching wards and corridors.
---

RFID tagging highlighted an excess of 98 infusion pumps, costing around £150,000. These have now been removed from circulation.

---

Improved patient safety and compliance through timely maintenance
With each asset tracked and logged in the hospital management database in real-time, scheduled maintenance is faster and easier than ever, ensuring that patients receive the best working devices and that out-of-order assets are replaced quickly. This solution is also GS1 compliant.
Scalable and transferable, no matter the department
This solution utilizes a wide range of Impinj readers and different RAIN RFID tags, making it both scalable and transferable across hospital departments. When fully integrated with a hospital management database, the RFID Discovery + Impinj solution creates a well-rounded solution to meet the needs of the entire hospital.
---
Article tagged as:
---
---
Tuesday, October 20, 2020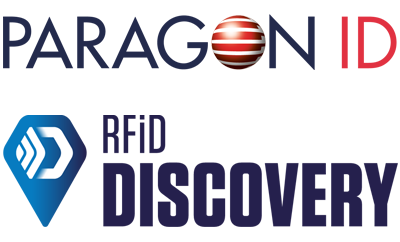 PARAGON ID
Paragon ID is a leader in identification solutions, in particular in the e-ID, Transport & Smart Cities, and Traceability & Brand Protection sectors.
---
Sign Up for the latest news
Impinj products deliver connectivity for this solution

Partner-Built. Impinj-Powered. Designed for You.
Our partners design solutions that are flexible, scalable, and built for your business.
Find a Partner
Get the latest industry happenings delivered straight to your inbox