Mobile Medical Device Tracking & Distribution
Automate the management, distribution and availability of mobile medical equipment with a RAIN RFID solution from Accruent and Impinj.
Automated mobile medical device tracking saves time and money
The Accruent solution uses Impinj RAIN RFID technology to transform how hospitals track the location and availability of mobile medical equipment. The way hospitals typically collect, clean and redistribute mobile medical equipment wastes staff time, delays equipment availability, and needlessly drives up costs.
With this automated solution, equipment tagged with Impinj RAIN RFID is tracked as it moves around the hospital. Impinj connectivity devices in key areas read the tags and notify the Accruent system to initiate service requests or communicate equipment availability. Because the hospital staff knows where and when equipment is available, they work more efficiently, which reduces costs and lets them spend more time caring for patients.
Reduce costs, increase efficiency, and improve patient care
Hospitals that automatically track the movement and availability of mobile medical equipment with the RAIN RFID solution from Accruent and Impinj can help staff locate ready-to-use devices more quickly, make better use of existing equipment, and reduce costly overstocking and delays.
Increase staff efficiency with automated work assignments and by making important assets available when and where needed
Reduce capital expenses and other costs through better use of existing equipment and improved workflow management
Gain transparency and accountability with visibility into tasks, assignments and status
Improve patient care by freeing staff time and reducing the wait for equipment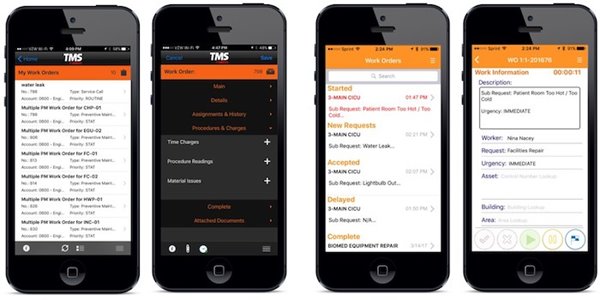 Alerts help keep track of equipment usage for improved efficiency.
Increase staff efficiency
With automated mobile medical equipment tracking and distribution, hospital staff members always know when and where to find medical devices that are ready to use, and which devices need to be cleaned and redistributed. The Accruent and Impinj solution increases staff efficiency and improves workflow management by automating work assignments, streamlining tasks, and reducing the time that staff must spend searching for equipment.
Reduce capital expenses and other costs
Because hospital staff can instantly determine the location and availability of medical devices, they no longer hide or hoard equipment. Devices stay in circulation, equipment utilization improves, overstocking is reduced and rental and replacement costs are lowered. Hospital leaders also have clear visibility into every aspect of equipment usage and all associated costs so they can make more informed purchasing decisions.
Gain transparency and accountability
With the automated solution from Accruent and Impinj, hospital supervisors and administrators have clear, real-time visibility into the status and location of all mobile medical devices, when and where they were last used, and who is responsible for collecting, cleaning and distributing them. With greater transparency comes greater accountability, which reduces the number of devices that are misplaced or left unattended.
Improve patient care
When hospitals increase efficiency and reduce costs by automating medical device tracking and distribution, they can refocus more of their spending and staff time on patient care. Making it easier for hospital staff to identify and locate available mobile medical devices also reduces wait times, gives staff more time to interact with patients, and improves the overall experience for both patients and clinicians.

---
A wheelchair costs about $150, but in a week a hospital's staff can spend up to $7,000 in clinical time just searching for one. Nearly 90% of all hospital patients will require an IV, but overstocking to compensate for lost or misplaced infusion pumps can cost the typical hospital $150,000 or more annually.
---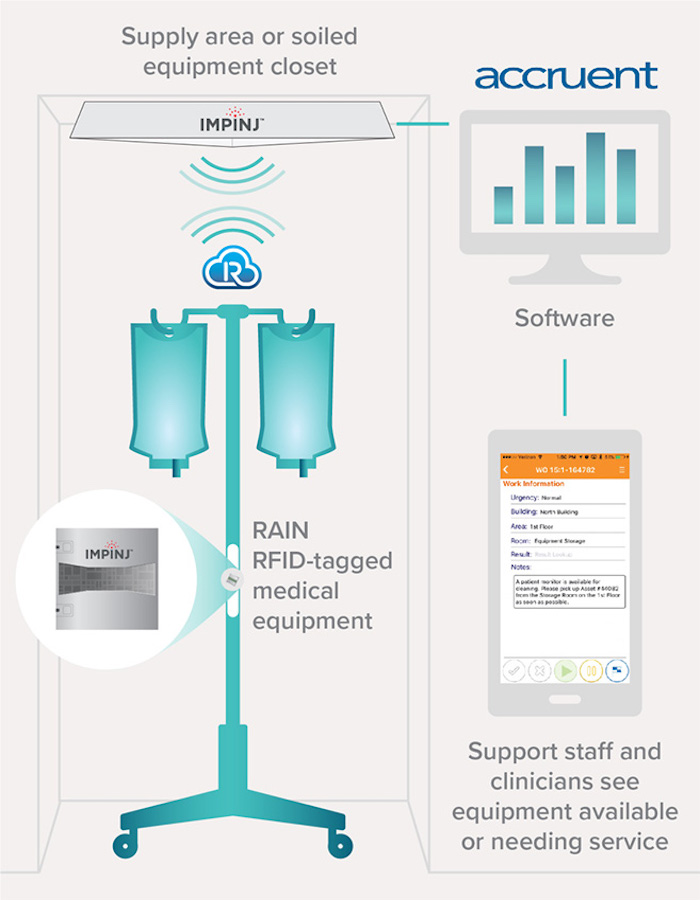 RAIN RFID chip tags and readers make it easy to track the use and location of expensive medical equipment.
---
Article tagged as:
---
---
Friday, June 24, 2016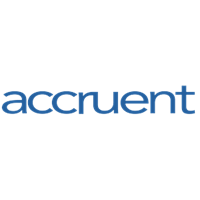 Accruent
Accruent helps real estate and facilities leaders deliver long-term, world-class operational and financial performance through industry-specific suites that deliver greater customer value. In the healthcare industry, more than 55 percent of U.S. hospitals use Accruent solutions to optimize healthcare operations through proven solutions.
---
Sign Up for the latest news
Impinj products deliver connectivity for this solution

Partner-Built. Impinj-Powered. Designed for You.
Our partners design solutions that are flexible, scalable, and built for your business.
Find a Partner
Get the latest industry happenings delivered straight to your inbox