Tracking Critical Medication with RAIN RFID
IntelliGuard® Anesthesia Station uses RAIN RFID to accurately and automatically track medications — including controlled substances — from the pharmacy to the operating room, ensuring regulatory compliance, patient safety, and real-time visibility.
Smarter automated medication inventory management
Medications and controlled substances must be available and ready for surgery in the operating room, but they must also be tightly controlled. Diversion events, when medication is unaccounted for, is an ongoing challenge in hospitals. The IntelliGuard Anesthesia Station, a RAIN RFID-enabled cabinet from Impinj partner, IntelliGuard® Intelligent Inventory Solutions, prevents diversion and automates medication inventory management, giving hospitals real-time insight into their inventory levels, warnings about recalls or upcoming expirations, and historical data and insight into usage trends. This data can be used to improve patient safety, operating workflows, regulatory compliance, hospital billing, and more.
The IntelliGuard solution:
Provides 99.99% accuracy of the contents of the Anesthesia Station's drawers
Tracks medication usage, dispensing, returns, and medication waste events automatically in real-time
Automates tracking of medications without the need to scan barcodes or manually document them
Provides hospital staff with notifications on expired or close-to-expiring medications
Ensures accurate charges for hospitals that bill on dispense
Prevents drug shortages, reduces out-of-stocks, and minimizes other errors caused by manual processes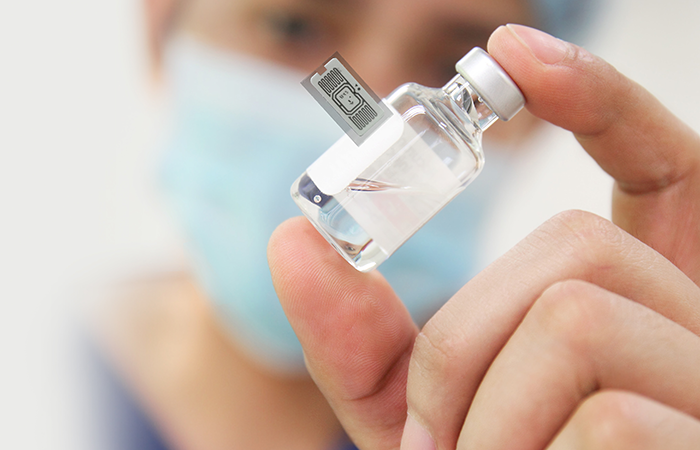 Automatic closed-loop accountability
When a hospital receives a delivery, each new medication is tagged with a RAIN RFID tag. Whether it's an ampule, syringe, IV bag, pills or more, all medications are tracked down to the item level, and information including the medication's name, National Drug Code, lot number, and expiration date are all stored on the RAIN RFID tag chip. Impinj RAIN RFID readers inside the Anesthesia Station's drawers automatically register when a tagged medication is placed inside or taken out. This station can be located in operating rooms and procedural areas, making it easily accessible to anesthesiologists for surgery, while pharmacists can remotely check-in on inventory levels and restock before anything runs out.
To gain access to the Anesthesia Station, a healthcare provider must provide two-factor authentication, through fingerprint, ID badge and/or PIN. Each transaction is captured, automatically providing closed-loop accountability — where everything is accounted for and nothing goes missing without a paper trail (or in this case, a digital trail).
Better patient experience
Automated inventory management for medication helps protect patients from human error or out-of-stocks, drug shortages, or expired or recalled medications that healthcare workers might not catch due to a lack of inventory accuracy or visibility. Automatic tracking helps ensure that patients receive the medications they need. Billing is also more accurate, with patients only being billed for the medication received.
Designed for the operating room
Designed for anesthesiologists to match busy operating room workflows, the Anesthesia Station is easy to use. It requires no barcode scanning, manual documentation, medication countbacks, or even a keyboard or mouse. The system seamlessly integrates with electronic medical records, helping healthcare workers easily view and manage their daily caseload directly on the Anesthesia Station. It can also automatically send notifications to the pharmacy when a medication is running low, so healthcare workers can focus on patients.
Improved security and compliance
To gain access, the Anesthesia Station requires two-factor authentication with fingerprint, ID badge and/or PIN ensuring that every time a drawer is opened, there's a record of who opened it and what was added or removed. Whether controlled substances were administered or wasted, it is easy to comply with state and regulatory audits— accessing medication records is as simple as downloading a report.
Real-time data for historical insight
RFID-enabled medication inventory data provides powerful insights. In addition to ongoing, real-time data on recalls, medication set to expire, or needed restocking, the pharmacy also has access to historical use data— to identify trends and anomalies, and uncover diversion events and any possible weak points for prevention.
---
---
Monday, January 24, 2022

IntelliGuard
IntelliGuard is a company of experienced healthcare veterans and technology pioneers who are dedicated to eradicating risks to patient safety—and to health system viability. They are often referred to as the guardians of medications, and patients.
---
Sign Up for the latest news
Impinj products deliver connectivity for this solution

Partner-Built. Impinj-Powered. Designed for You.
Our partners design solutions that are flexible, scalable, and built for your business.
Find a Partner
Get the latest industry happenings delivered straight to your inbox