World Cup Scores Big with RFID Crowd Management from HID
Event organizers needed a way to control movement through stadium gates. HID delivered a win with its custom-built solution featuring Impinj R700 RAIN RFID readers.
Managing crowds at the world's biggest sporting event
When soccer fans attend a match, they're there for the action on the field – but the fan experience continues after the last goal is scored. Exiting a large venue can be a slow and grueling experience, made worse by bottlenecks at exits. The bigger the event, the greater the potential for complications, frustrations, and unsafe conditions.
With more than 3 million fans attending 64 matches in five cities, the 2022 World Cup tournament in Qatar needed a crowd management solution that not only ensured fan safety, but also kept foot traffic flowing smoothly. At exit gates, poor management could create choke points and slowdowns, especially in an emergency evacuation. And without careful monitoring, unscrupulous ticket-holders could potentially pass their credentials to unticketed fans waiting outside the gates. Fan enjoyment and crowd efficiency had to be balanced with event security and safety.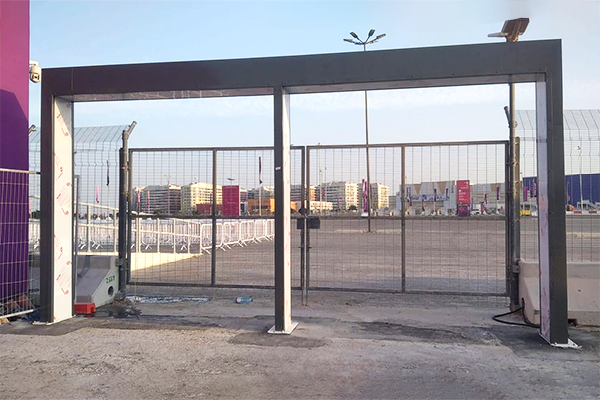 Seeing the challenge ahead, World Cup event organizers Qatar Ministry of Interior turned to Impinj gold partner HID – and the performance of the Impinj R700 RAIN RFID reader – to create exit (egress) gates that could monitor movement without slowing fans down. HID developed a proprietary, never-before-used RAIN RFID booster solution for each exit portal that:
Tracked fans exiting all stadiums through a total of 167 egress gates, each with a capacity of 6,000 fans per hour
Allowed each egress gate to require just a single Impinj RAIN RFID reader
Enabled real-time insight into crowd movement so resources could be deployed immediately
Worked perfectly both at night and during other times of poor visibility
Keeping millions of fans moving
HID was no stranger to the World Cup. The Texas-based identification technology provider supplied RAIN RFID "smart tickets" for the 2018 World Cup in Russia and 2014 games in Brazil. But creating a complete access control solution – which included an event management platform and handheld ticket readers – for anyone visiting the 45 World Cup facilities was a new request.

Part of HID's far-reaching contract for the 2022 World Cup in Qatar included adding a RAIN RFID-based movement-tracking solution at the stadiums' outer perimeter exit gates to address both crowd control and security. HID's solution included 167 exit portals, each featuring a fixed Impinj R700 RAIN RFID reader able to read the RAIN RFID tags attached to fans' and accredited members' credentials as they passed through the gates.

To keep the egress gates down to just one reader each, HID developed a custom-built booster to further enhance their tag-reading capacity. This proprietary technology increased the reading performance of the Impinj R700 readers by optimizing the signals and enabling the use of up to 12 antennas per reader – essentially doubling their performance.
Here's how the HID crowd management solution worked for the 2022 World Cup:
Fans arrived at stadiums with pre-issued identification cards called Hayya cards. Enabled with RAIN RFID, each card was associated with a fan's personal information and their game tickets when scanning in.
When fans exited the event perimeter, they passed through HID's exit gates, each featuring an Impinj R700 RAIN RFID reader and HID's booster technology. The readers read the fans' RAIN RFID-tagged Hayya cards triggering an "exit event" in the access control system, allowing event organizers to manage crowds and security in real time.
Because RAIN RFID doesn't require direct line-of-sight, fans didn't need to stop to scan their cards as they exited, speeding egress substantially.
The Impinj R700 readers integrated with HID's event management platform, which visualizes event data via a real-time dashboard, enabling on-the-fly staff and resource reallocation.
RAIN RFID delivers Qatar and fans a win
HID's booster technology and the full RAIN RFID solution at the 2022 World Cup benefited organizers and fans alike.
Built to handle the biggest crowds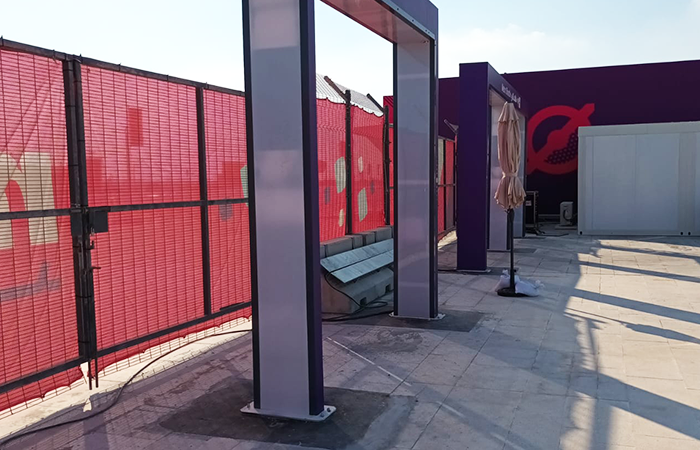 Considered the world's largest sporting event, the World Cup requires a solution meant for the masses. Traditional methods of scanning barcodes would slow down crowds. The RAIN RFID solution from HID and Impinj made it possible for organizers to track 6,000 fans per hour through each of 167 egress gates.
A near-perfect winning record
HID's booster technology was proven to perform at an accuracy rate of more than 98%, offering accurate, real-time intelligence to event organizers and crowd-control personnel during a world-famous sports tournament that draws more visitors than any other.
Less hardware means lower costs
HID's booster technology doubled the read range of each installed Impinj R700 RAIN RFID reader. This boost in performance meant only one reader was required at each egress gate, saving organizers considerable money on hardware.
Real-time insight means real-time response
HID's Event Management Platform offered event organizers insight into the ebb and flow of visitors through the gates via a real-time dashboard, allowing event organizers to shift crowd-control resources as situations changed.
Performance without direct line-of-sight
HID's booster technology made sure each Hayya card could be read as visitors passed through the gates, even at night when light was low. The solution could track fans even if crowds were especially dense.
HID and the Impinj Partner Network
HID is a leading RFID smart component supplier for systems integrators, application developers, and OEMs serving a variety of markets, including logistics, waste management, returnable transport items (RTI), asset tracking, automation, medical, laundry, and animal identification. You can check out HID on the Impinj Partner Directory, and learn more about the Impinj Partner Network.
---
Article tagged as:
---
---
Tuesday, June 6, 2023
Qatar Ministry of Interior
The Qatar Ministry of Interior is a governmental agency tasked with a number of duties, including maintaining security and public order for the State of Qatar.
---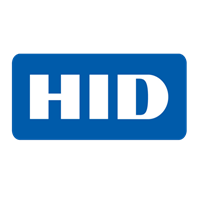 HID
HID powers the trusted identities of the world's people, places, and things, making it possible for people to transact safely, work productively, and travel freely. HID's identity solutions connect things that are accurately identified, verified, and tracked digitally. Billions of things are connected through HID technology. The company works with governments, hospitals, educational institutions, financial institutions, and industrial organizations. Headquartered in Austin, Texas. HID is part of the ASSA ABLOY group.
---
Sign Up for the latest news
Partner-Built. Impinj-Powered. Designed for You.
Our partners design solutions that are flexible, scalable, and built for your business.
Find a Partner
Get the latest industry happenings delivered straight to your inbox