How Rent-All Keeps Their Show on the Road with RAIN RFID
Rent-All manages over 260,000 pieces of stage equipment across Europe. Here's how they track everything automatically with a solution from Aucxis and Impinj.
Keeping track of 260,000 moving parts
The Dutch company Rent-All provides rigging, lighting, and audio and video equipment to theaters, studios, festivals, and fairs throughout Europe. Rent-All has approximately 260,000 rental items at five distribution centers in the Netherlands, Belgium, and Germany, so manually registering the movements of rentals was both time-consuming and prone to error.
The solution from Aucxis and Impinj:
Tracks hundreds of thousands of pieces of equipment, from lighting to rigging to screens.
Automatically updates data on each asset through its lifespan by attaching a unique ID number to each asset's description in the management software, Aucxis middleware HERTZ.
Saves money by preventing mistakes and re-shipments.
Automated asset management at dock doors and transition points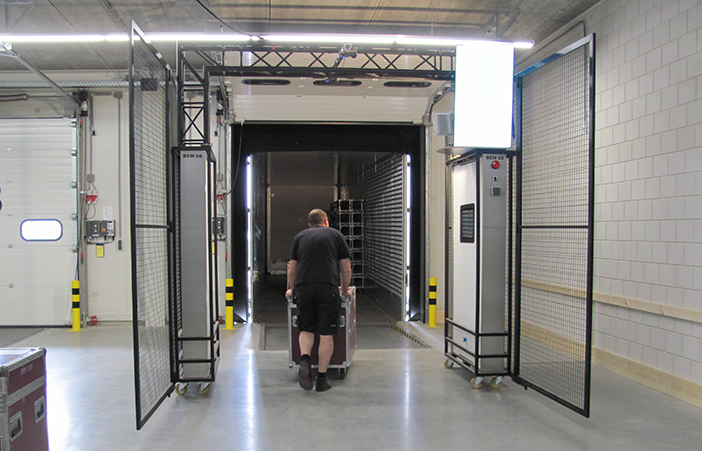 At each of Rent-All's distribution centers, the dock door is outfitted with a RAIN RFID reader gate containing an Impinj RAIN RFID Speedway reader, for a total of 26 gates across five locations. Each asset, whether it be a speaker, mixing console, or lighting truss, is tagged with a label containing a RAIN RFID tag chip, discretely mounted so the tag isn't visible on stage. Each item gets a unique ID number, which is connected to that asset's description in Aucxis middleware HERTZ software.
As rental items pass through the dock doors, the readers automatically record what assets were packed and software checks them against the order. If an error occurs, workers are alerted in time to correct it before shipping, reducing the need for expensive returns and re-shipments. This also creates an automatic record of what was shipped to each customer, and when. Upon return, a rental item's tag is read as it is checked in, and the asset is cleaned and inspected for damage before being recirculated.
Once Rent-All deployed the Aucxis solution, the company was able to easily track thousands of items as they entered and exited its distribution centers, as well as within the warehouses:
Each warehouse dock door and several transition points are outfitted with an Impinj RAIN RFID Speedway reader
Each asset and flight case is tagged with a label containing a RAIN RFID tag chip.
Every tag connects that item to a unique ID number, linked to the asset's description in the Aucxis middleware HERTZ software.
Theo Van Workum, CEO of Rent-All, explains how a RAIN RFID solution improved their operations

Adding efficiency to processes while automating work history
Saving money with fewer mistakes and happier customers
When a customer received incorrect equipment or didn't receive their entire order, correcting the mistake was expensive and time-consuming for Rent-All and a frustrating experience for the customer. Using RAIN RFID readers at the dock door sends an immediate notification of any packing errors, ensuring Rent-All gets more orders correct the first time and preventing expensive mistakes and bad customer experiences.
Tracking every asset throughout its lifespan
Each piece of equipment is labeled upon purchase with a RAIN RFID label or inlay. The Aucxis solution not only tracks the location and status of the equipment, it tracks the history and usage, giving Rent-All automatic updates on wear-and-tear and alerts when assets reach the end of their lifespan.
More accurate than the naked eye
Individually tracking each piece of equipment helps to reduce confusion between assets that look similar even to a trained eye. By automatically differentiating equipment with 25 centimeter trusses versus 27 centimeter trusses, for example, this solution can help prevent potentially expensive mix-ups at different transition points.
The right RAIN RFID tag for the right asset
Rent-All supplies diverse equipment, from TV screens to cables, to rigging and lighting, all of which have different tagging needs and challenges. Aucxis worked with various hard and soft label tags before determining the best options: Confidex's Ironside Slim long range, on-metal tag is optimal for assets of different shapes and sizes, and it provides excellent performance for reliable inventory.
About Confidex
Confidex is a Finnish provider of RAIN RFID tags and other wireless labels, specializing in public transportation, logistics, automotive, and manufacturing industries. Visit the Confidex website, and read more about the company's involvement with Rent-All.
---
Article tagged as:
---
---
Monday, March 28, 2022
Rent-All
Rent-All is a Dutch rental company of rigging, light, audio and video equipment. From their five offices in the Netherlands, Belgium, and Germany, they supply theater and television studios, fairs and festivals throughout Europe.
---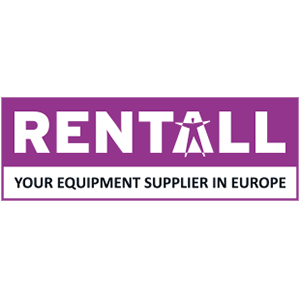 Aucxis
As an independent RFID supplier and integrator, we define, develop, and integrate the most suitable RFID solutions for your automation projects.
---
Sign Up for the latest news
Partner-Built. Impinj-Powered. Designed for You.
Our partners design solutions that are flexible, scalable, and built for your business.
Find a Partner
Get the latest industry happenings delivered straight to your inbox