Cuploop Makes Reusing Packages Faster and Easier with RAIN RFID
Using Confidex tags and Impinj tag chips, Cuploop is reinventing takeaway reusable packages through asset tracking, deposits, and instant reimbursement.
The takeaway foods industry generates an estimated 78 million tons of plastic packaging every year, according to National Geographic. Incredibly, only 14% of that finds its way into the recycling chain.
Cuploop is a startup with one mission in mind: stem the worldwide flow of plastic waste heading into landfills and waterways. The Estonian company is planning to do this through an inspired program involving what it calls a reverse vending machine, made possible by Confidex's RAIN RFID solution.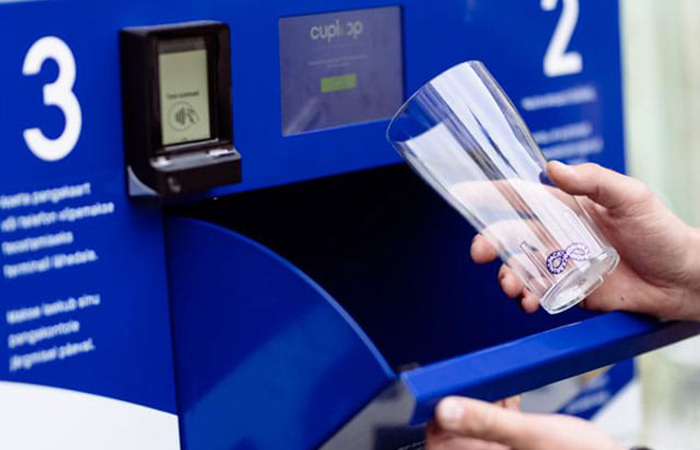 Cuploop makes full use of RAIN RFID capability
The Cuploop recycling process is simple. The company partners with restaurants that package prepared foods and drinks in Cuploop's sturdy, washable containers, which are fitted with RAIN RFID tags.
Customers pay a small deposit for their food packages at the time of purchase, once they finish eating, they can drop off their unwashed containers at any of Cuploop's conveniently placed reverse vending machines.
In the unit's hatch, RAIN RFID readers scan the tags fastened to each container, signaling Cuploop's system to register they've been returned. The customer then taps a contactless bank card or smartphone on the machine's payment terminal to receive a refund of their deposit. The entire operation takes seconds.
Thanks to RAIN RFID, the machines can monitor when they reach half of their 350-container capacity and automatically send an alert message to Cuploop, making emptying that unit a high priority. Messaged or not, Cuploop empties each collection terminal at least once a day. From there, Cuploop washes and redistributes the containers to food vendors, tracking their usage and monitoring them for wear.
The Confidex tags, powered by Impinj RAIN RFID tag chips, feature an adhesive that is optimized for washing processes and isn't weakened by changes in temperature, making Cuploop's wash-and-reuse model possible. Because each Cuploop package or cup can be reused hundreds of times, the cost is very little per customer over the lifetime of each item.
RAIN RFID is an integral part of Cuploop's process
RAIN RFID enables Cuploop to track tens of thousands of containers that are in use daily.
Cuploop can collect valuable usage data on each item at every step in the life of a cup or package.
Cuploop's RAIN RFID tracking makes the return of used items quick and easy, and the instant reimbursement of customers' deposits encourages repeat use.
The low setup cost increases the likelihood of future partnerships and business opportunities.
Recycling is made easier with Cuploop's smart, RAIN RFID-powered process.
Cuploop offers a fast and easy option for circulating reusables. Dropping off used packaging and reimbursing the customer's deposit takes only seconds.
Bringing recycling directly to the customer means a higher return rate for recyclables, saving more natural resources from landfills.
The reuse of RAIN RFID tags mean that the upfront investment in technology averages out over time to little cost per use.
By using RAIN RFID tags, Cuploop is able to track when and where each container is picked up and returned, the number of times it has been through the reuse cycle, the age of each item, and more.
A new era in RAIN RFID-led recycling lies ahead
With its forward-thinking take on food plastic usage and recycling, Cuploop is positioned for exponential growth following the European Union Parliament's 2021 ban on single-use plastics where alternatives are available. The company is working on advances such as:
Placing its collecting machines at public venues like sports arenas, amusement parks, and concert halls
Designing new return kiosks that will take the form of hatches in walls, like library book return slots
Creating modular machines to collect reusables just about anywhere
Introducing package collecting kiosks to grocery stores
Forging new business partnerships in Germany and the Netherlands.
Developing microwave-safe RAIN RFID tags
---
Article tagged as:
---
---
Thursday, March 24, 2022
Cuploop
Cuploop is a startup based in Tallinn, Estonia, founded to improve the way we recycle plastics. With business partners in the food and entertainment industries, Cuploop intends to make recycling easier than ever through the distribution of recycling stations and the use of RAIN RFID-tagged reusable food and drink packages.
---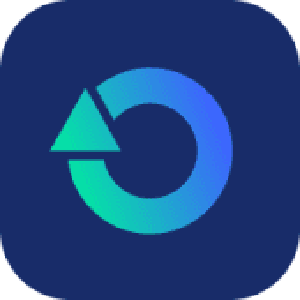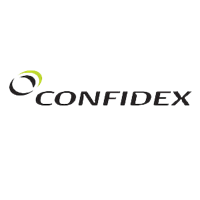 Confidex
Confidex designs industrial-grade wireless products for applications to optimize process flows and enable lean operations. Through the use of short-range wireless identification and sensing technologies, they strive towards a smarter and more secure tomorrow.
---
Sign Up for the latest news
Partner-Built. Impinj-Powered. Designed for You.
Our partners design solutions that are flexible, scalable, and built for your business.
Find a Partner
Get the latest industry happenings delivered straight to your inbox