AZ Sint-Maarten Hospital Tracks Medical Assets with RAIN RFID
With a RAIN RFID solution from Aucxis, AZ Sint-Maarten Hospital tracks more than 15,000 medical assets.
Hospital-wide RAIN RFID helps locate items the moment they are needed
In a hospital setting, every second is critical. Searching for assets necessary to perform medical examinations and procedures can waste time in moments when there is simply no time to spare. Items like beds, wheelchairs, or blood pressure devices can end up missing or misplaced, resulting in longer search times and lost materials, and affecting quality of care and the bottom line. It is vital for hospitals to have 100% accurate visibility of their assets at all times.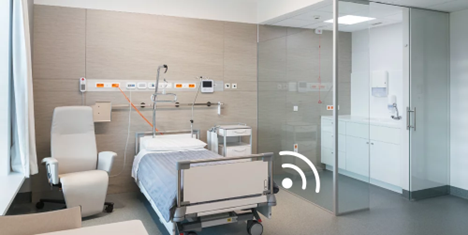 For AZ Sint-Maarten Hospital in Mechelen, Belgium, a move to a new facility created the opportunity to design a system that would provide dependable, real-time asset location information whenever needed. AZ Sint-Maarten collaborated with Impinj gold partner Aucxis on a RAIN RFID solution for asset tracking through their facility. Nearly 15,000 hospital assets — from stethoscopes and infusion pumps to walkers and leg braces — were outfitted with RAIN RFID tags. Aucxis identified the appropriate tags suitable for the range of different materials that make up hospital assets. In addition, over 6,500 hospital doorways were tagged to help track the location of the many assets.
Aucxis mounted Impinj RAIN RFID readers onto mobile pushcarts to gather data about the assets as staff push the trolleys through the facility during daily rounds. Powered by a battery mounted on the trolleys, the affixed readers automatically read tagged doorways and items to determine their location. The trolleys capture about 90% of the hospital's tagged assets, and a RAIN RFID reader attached to transport steps collect the remaining 10% while patrolling the hallways.
Enabled by the RFID Asset Tracking solution from Aucxis, AZ Sint-Maarten gained:
Real-time asset location of medical devices, healthcare furniture, and nursing supplies.
Optimized hospital operations with hospital staff using Impinj readers on pushcarts to efficiently gather asset data while performing their rounds.
Asset lifecycle management using RAIN RFID data to track item history, enabling timely maintenance and end-of-life replacement planning.
Substantial cost savings as fewer assets are lost or misplaced, reducing the need for replacement purchases.
Trouble-free system maintenance: RAIN RFID tags do not require batteries or upkeep.
---
We opted for passive RFID to track as many different types of materials as possible in a cost-efficient way."
---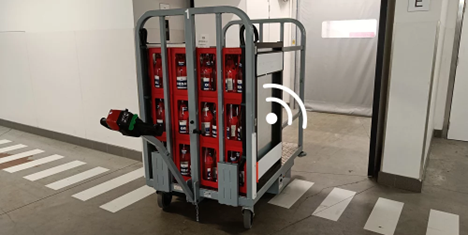 Administrators at AZ Sint-Maarten Hospital worked with Aucxis to implement the RFID Asset Tracking solution, bringing full transparency to what had previously been an opaque asset management system. There was a lot to track: With 643 hospital beds and 96 rooms in the hospital, AZ Sint-Maarten is the largest hospital in the region, with many thousands of assets on the move every day as staff care for patients.
Weighing their options, hospital administrators considered active RFID before rejecting the costs associated with licenses and maintenance for the tags, which would drastically limit the number of tags they would use. Ultimately, considering the scale of the project, AZ Sint-Maarten chose passive RAIN RFID. Passive tags do not require batteries or maintenance, and generally are less expensive than active RFID tags.
AZ Sint-Maarten affixed RAIN RFID tags to hospital assets and doorways, and used the pushcart-mounted Impinj RAIN RFID readers to gather data that tracks the items down to the room they're in. With near-real-time location data for every tagged asset, the hospital is able to account for everything at all times, no matter where it is in the facility.
RAIN RFID tags are attached to all assets to be tracked: equipment, devices, and furniture.
Doorways in treatment and storage rooms are equipped with RAIN RFID tags.
Impinj RAIN RFID readers and antennas are attached to pushcarts and read tagged items as staff move through the facility.
Aucxis' RFID Asset Tracking solution gathers RAIN data. POLARIS Asset Management software with HERTZ RFID middleware pulls the data into the hospital's ERP system.
The ERP system provides hospital management and staff with up-to-the-moment location information for all tagged materials and assets.
Reading a hospital like an X-ray with RAIN RFID
A place for everything and everything in its place
Once it implemented the solution, AZ Sint-Maarten was able to see the future benefits. Keeping track of assets saves time and money spent looking for and replacing missing assets — whether misplaced or collected somewhere in the hospital, mistakenly thrown away, or taken off the premises. With RAIN RFID asset tracking, the hospital can solve these challenges and help staff focus their time on patient care.
Nothing is missed with RAIN RFID
With a combination of RAIN RFID-tagged inventory and doorways, and Impinj readers mounted on trolleys, AZ Sint-Maarten has visibility of every asset under its roof. The solution from Aucxis records data on the whereabouts of items, enabling personnel to easily locate them.
Costs go down as efficiency goes up
With this hospital-wide RAIN RFID solution, AZ Sint-Maarten safeguards against loss and keeps tabs on the maintenance, wear, and expected end-of-life for every tagged asset in the facility. As devices age, they can plan for maintenance or replacement before there is a problem. Because staff can easily find items when they are needed, operational efficiency is greatly improved.
Learn more about Aucxis and the Impinj readers that make RAIN RFID asset tracking possible.
---
Article tagged as:
---
---
Friday, March 31, 2023

Aucxis
As an independent RFID supplier and integrator, we define, develop, and integrate the most suitable RFID solutions for your automation projects.
---
Sign Up for the latest news
Partner-Built. Impinj-Powered. Designed for You.
Our partners design solutions that are flexible, scalable, and built for your business.
Find a Partner
Get the latest industry happenings delivered straight to your inbox