Aertssen Logistics Picks Assets Faster with RAIN RFID Asset Management
Equipment transporter Aertssen Logistics can carefully choose which cherry picker is shipped thanks to automated asset management with RAIN RFID.
Improving asset management through automation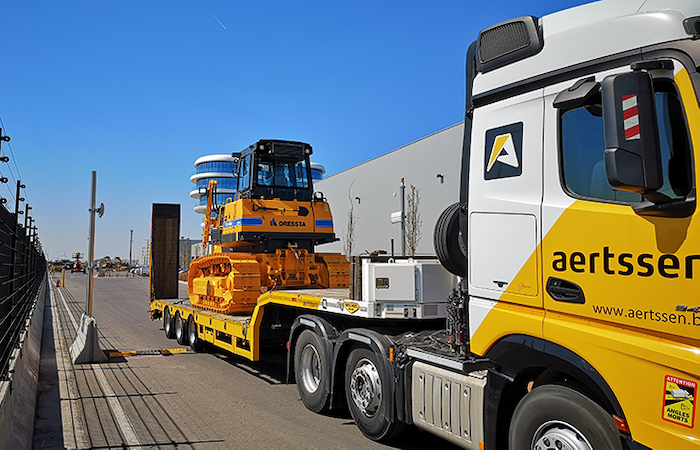 How do you move a cherry picker from one country to another? Aertssen Logistics is an expert in the transport of specialized machinery. Its distribution center near the Port of Antwerp in Belgium processes 10,000 machines every year, ranging from agricultural machinery to cherry pickers to scissor lifts. The Belgian company's manual, pen-and-paper inventory process was intensive and error prone — not just because of the high number of machines that needed to be processed, but also because the machines are so similar, making it difficult to accurately tell them apart. It became clear that Aertssen Logistics needed an automation solution. They chose the NOVA Asset Management solution from Aucxis with Impinj technology.
The NOVA Asset Management solution:
quickly, accurately, and automatically takes stock inventory
seamlessly integrates with Aertssen's existing systems
prevents human errors by automating manual processes
reduces expensive time-consuming corrections like secondary deliveries of mis-delivered goods
improves customer experience by improving accuracy
speeds up the inventory loading process by 50%
---
NOVA helps us to localise and make an inventory of the stored machines, with time savings of 50%.
---
An easy, efficient solution
Aertssen Logistics had two requests for a solution from Aucxis: First, the solution had to quickly and correctly perform stock registration, inventory, and localization. Second, it had to automate the registration of all outgoing machines. The Impinj platform using RAIN RFID was chosen for its accuracy and speed in automating these processes.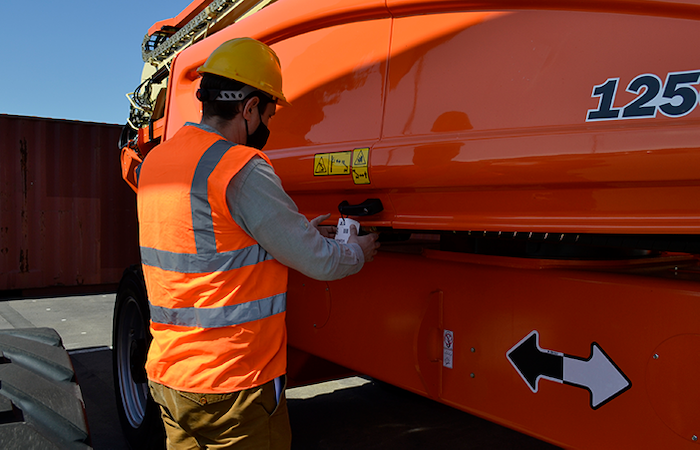 When a new machine arrives at Aertssen Logistics, it is tagged with a RAIN RFID label and a QR code.
Handheld RAIN RFID readers register, check in, and check out assets. Aucxis POLARIS RFID software saves, manages, and retrieves all of the registered data.
Two weather-resistant Impinj Speedway RAIN RFID readers are posted at the exit gates of the storage center to provide proof of shipment and supply real-time data about which machines are leaving the site via truck.
For machines leaving via metal shipping containers, a mobile RAIN RFID gate is set up at the opening of the container, allowing the system to generate a proof of shipment as machines to pass through.
Increased Accuracy and Efficiency
Finished in half the time
Thanks to the automatic detection of inventory as it leaves for shipment, a loading list is finished considerably faster, in 50% of the time it used to take. There are time savings in other areas, as well, such as in completing inventory on-site and in creating proof of shipment.
Preventing expensive asset losses in real-time
Aertssen Logistics relies on some important reusable materials that can't leave the site, such as charging cables. These items are equipped with RAIN RFID labels, as well. If a truck mistakenly drives through one of the outdoor gates with one of these items, Aertssen's ERP system receives a notification and the truck is stopped.
Improved accuracy for increased customer satisfaction
By using RAIN RFID readers at the exit gates to audit outgoing shipments, Aertssen prevents expensive mistakes that might require time-consuming corrections and secondary deliveries. These deliveries, accurate the first time, ensure satisfied customers with no surprises.
Easier, more efficient work
Automating different processes makes the job easier and less stressful. When a truck drives through a fixed gate, data about the load is sent to the Aucxis POLARIS RFID software, automatically creating a proof of shipment. The driver merely needs to pick up an official loading list in the office before departure. By automating specific tasks like inventory and transport notes, workers are able to focus on other tasks.
---
Article tagged as:
---
---
Thursday, September 30, 2021
Aertssen Logistics
Aertssen Logistics is an expert in the transport of machines ranging from agricultural machinery to cherry pickers, scissor lifts, and telescopic cherry pickers with tracks. Its distribution center near the port of Antwerp processes 10,000 machines for customers in Europe, Africa, and the Middle East every year.
---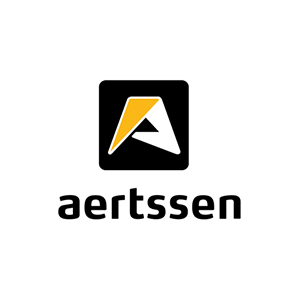 Aucxis
As an independent RFID supplier and integrator, we define, develop, and integrate the most suitable RFID solutions for your automation projects.
---
Sign Up for the latest news
Partner-Built. Impinj-Powered. Designed for You.
Our partners design solutions that are flexible, scalable, and built for your business.
Find a Partner
Get the latest industry happenings delivered straight to your inbox