Why Standards-Based Numbering Is Essential for RAIN RFID Encoding
Learn RAIN RFID encoding best practices, how to choose a numbering system, and when to use standards-based numbering.
Standards-based numbering systems are an essential part of RAIN RFID tag encoding, helping ensure successful deployments and minimize the reading of unwanted tags (tag clutter). To follow best practices, all RAIN RFID deployments should use a standardized numbering system. If you are currently using a proprietary or vendor-defined numbering system, please contact the RAIN Alliance ([email protected]) to learn if you can register your number to reduce tag clutter.
Why use standards-based numbering systems for RAIN RFID encoding
RAIN RFID systems use the identifier (or number) encoded into a tag to identify the item to which the tag is attached. Unique and properly encoded identification numbers are critical to the success of RAIN deployments. If RAIN RFID tag data is not uniquely and properly formatted, a few negative consequences arise:
Unwanted items (tag clutter) may be read, slowing system performance and adversely affecting results
The number on the tag may not be universally unique, meaning there could be other tags with the same number
Anyone looking for more information about tag data — for example, a consumer wanting to learn more about the tagged item — will not know where to go to learn more
Standards-based numbering systems offered by the
RAIN Alliance
,
GS1
, and the International Standards Organisation (ISO) ensure unique and proper RAIN RFID encoding. This enables the effective and efficient filtering of tags of interest for the success of a deployment, ensures the number on a tag is universally unique, and points to where you can learn more about the tag data.
What industries need standards-based RAIN RFID encoding?
Nearly 30 billion RAIN RFID tag chips were sold in 2021, but less than 70% of today's tags use standards-based numbering systems. This has caused some deployments to see "unwanted" items, or tag clutter.
Today, tag clutter scenarios are most common in tolling, baggage tracking, and race timing where tags from multiple solutions cross paths "in the wild" as they travel through supply chains. When those tags enter the field of view of a reader they may be accidentally read. As RAIN adoption continues to grow, we expect this issue to impact additional industries and applications.
Standards-based numbering is highly recommended for all deployments, and especially those susceptible to tag clutter whose deployments have:
Business-critical reading requirements, where tags must be read
Dynamic read zones, where unknown tags may quickly enter and exit zones
Mixed numbering systems, in which tags use different numbering systems
Quick time intervals, where tags must be read quickly, at high-speed
Re-identification, when a single tag must be read more than once
Here are a couple examples of where tag clutter is causing challenges for RAIN RFID deployments:
Without unique numbers: A postal service tracks packages traveling through its facility by tagging each box. If a box of apparel arrives with items that are tagged with a numbering system similar to that of the postal service, then there is potential for duplicate numbers to appear for each item.
Without proper encoding: A marathon clocks runners' times at the finish line using tagged race bibs. If a delivery truck full of tagged items is parked near the finish line, and those tags are not correctly encoded using a standards-based numbering system, then the marathon may not be able to read all of the runner's tags before they move past the finish line due to interference with tags in the delivery truck.
Choosing a RAIN RFID numbering system
Every deployment needs a numbering system. Standards-based numbering systems are strongly recommended, rather than proprietary and vendor-defined data formats, which are often used in closed systems but can cause tag clutter, among other issues.
The following decision tree from the RAIN Alliance can help you determine the numbering system that is right for you.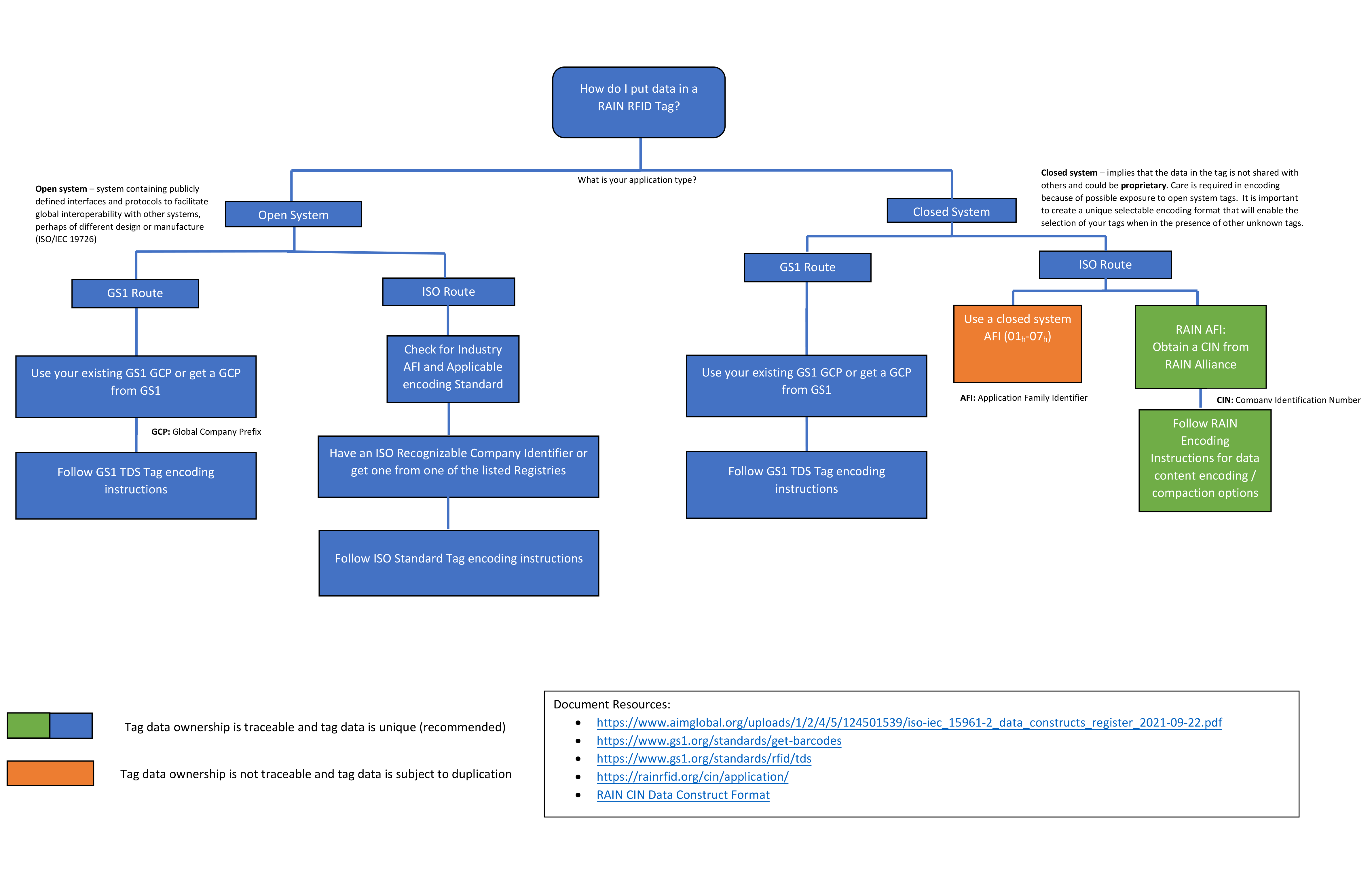 Some industries have established their own best practices for numbering. For instance, retailers around the world utilize the GS1 SGTIN-96 or SGTIN-128 numbering standards, and airlines and airports use ISO IATA standards.
Since its announcement in September 2021, some organizations are choosing to employ the new RAIN Alliance ISO numbering system — including AmerisourceBergen, an American drug wholesale company. If you are currently using a proprietary or vendor-defined numbering system, we strongly encourage you to consider switching to a standards-based numbering system, registering your existing numbering system as a RAIN Alliance ISO number, or using the ISO application family identifier for closed-systems. To learn if the RAIN Alliance numbering system is appropriate for your deployment, email
[email protected].
Who supports RAIN RFID encoding best practices
With the launch of its new numbering system, the RAIN Alliance called on its members and partners to commit to supporting encoding best practices — from adopting the new RAIN Alliance ISO numbering system, to providing education about the importance of proper tag encoding, to improving products to support standardized numbering systems.
At the March 2022 RAIN Alliance meeting, I was thrilled to announce meaningful actions that the following companies are taking to reduce tag clutter, ensure universal uniqueness, and observe best practices: Accendo, Agriscan, Arizon RFID Technology Co., Asurion, Asygn, Avery Dennison Smartrac, Boingtech, Brompton Technologies, CAEN RFID, Cardinal Health, Dipole Analyst, Ecartes, EM Micro, Impinj, Innotrack, Kit Check, LAB-ID, Metalcraft, RAIN Alliance Developers and Technical workgroups, RFLocus, Seagull, Sensormatic by Johnson Controls, Simply RFID, TatraLab, Teklynx, Temera, Terso, Times-7 Research, TSC Printronix AutoID, and Zebra.
The Impinj vision of boundless IoT — where every thing in our everyday world is connected to the internet — is a shared vision with our partner ecosystem and our industry. The vision takes all of us working together, ensuring best practices are established, being good stewards of our respective deployments, and driving standards that are compatible with other IoT technologies.
I'm heartened to see the momentum behind encoding best practices driven by the RAIN Alliance, and I look forward to continuing to share more technology advancements in the future.
---
Article tagged as:
---
---
Thursday, April 7, 2022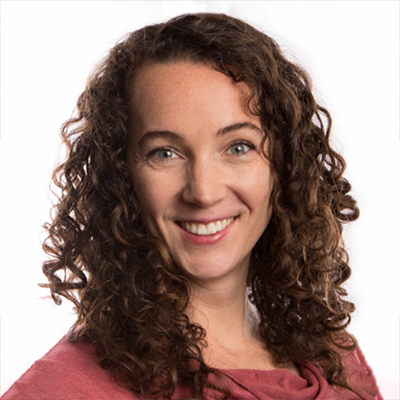 Megan Brewster
Vice President, Advanced Technology
Megan Brewster works to bring clarity and strategy to far-off points on Impinj's roadmap and grow the emergent market through technology and standards.
Sign Up for the latest news
Looking for more content? We've got you covered
Learn more about Impinj and RAIN RFID in our resource library
Visit Library
Get the latest industry happenings delivered straight to your inbox