Why Should the Focus of RFID be on the Supply Chain?
How can the Impinj platform transform your supply chain? This blog explores the ROI of applying RAIN RFID.
Why RFID for Supply Chain?
For real-time data for real-time decisions
In a global market, a supply chain can cause logistical challenges for an enterprise. In order to operate efficiently and effectively, businesses must know their inventory levels, inventory location, and intended destination. RAIN RFID helps track inventory, automates manual processes in the supply chain, and makes data on individual assets and inventory available in real-time.
What are Radio Frequency Identification Tags?
Radio frequency identification (RFID) is a form of wireless communication that uses radio waves to identify and track objects.The system consists of a tag chip and a reader: an RFID tag chip can either be battery-powered and send signals back to the reader (active) or rely on the reader for power to send and receive signals (passive). RFID tags can be adhered to or embedded into anything from clothing to medical supplies to luggage to tires.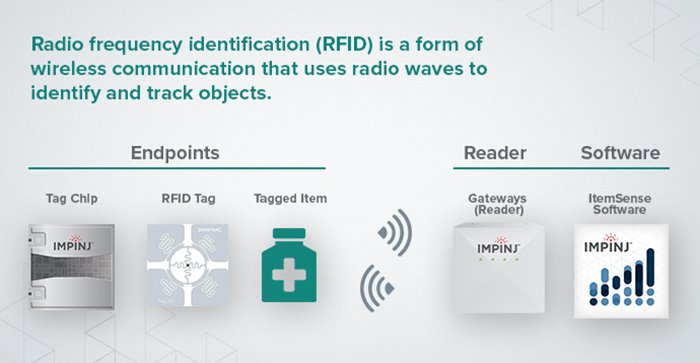 The Impinj platform uses RAIN RFID, a passive wireless technology, to empower businesses and consumers to locate and identify billions of individual items. Impinj has enabled over 40 billion items to be connected to the Internet of Things in industries such as healthcare, hospitality, air travel, and industrial manufacturing. RAIN RFID can be used in a wide variety of applications within these industries: this blog will outline why some of the most dramatic ROI is happening when RAIN RFID is used in the supply chain.
How can RFID be used to manage inventory?
To know where everything is, in real-time
IoT technology, particularly RAIN RFID, is gaining popularity as an inventory management tool. It's a logical transition: RAIN RFID takes some of the doubt and a lot of the work out of counting and monitoring inventory. By attaching or embedding tags into products and using RAIN RFID readers instead of barcode scanners, taking inventory becomes much faster and nearly 100% accurate. RAIN RFID can identify and locate up to 1,000 individual items per second. Taking inventory with a RAIN RFID handheld reader is 25X faster than with a barcode reader.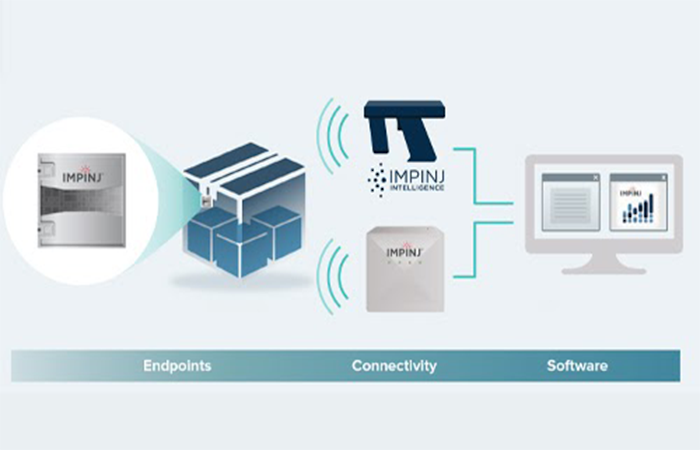 What does that look like in practice?
"Heilan Home increased inventory accuracy and efficiency with the ability to read 400 clothing labels in five seconds at 100% accuracy. By eliminating manual barcode scanning, Heilan Home estimated a labor cost reduction in the tens of millions of dollars per year."
The Benefits of Using RAIN RFID in Supply Chains
RAIN RFID saves time, money, and labor hours by automating and streamlining different parts of the supply chain process:
Automate verification of shipments
A RAIN RFID shipment verification solution can deliver real-time visibility, create confirmation or exception alerts, and initiate shipping and receiving workflows. RAIN RFID, provides visibility into a warehouse so goods can be tracked as they move in and out of a facility. When connected with internal systems that run shipping and receiving, businesses gain information that can automate even more aspects of the job.
Automate verification of pallet contents
A pallet contents verification solution that uses RAIN RFID can verify that the correct cartons have been loaded onto a pallet. Packers can receive alerts when items are missing. Further, the contents of a pallet can be automatically matched to the order documentation, so there's no more wasted time hand-scanning barcodes.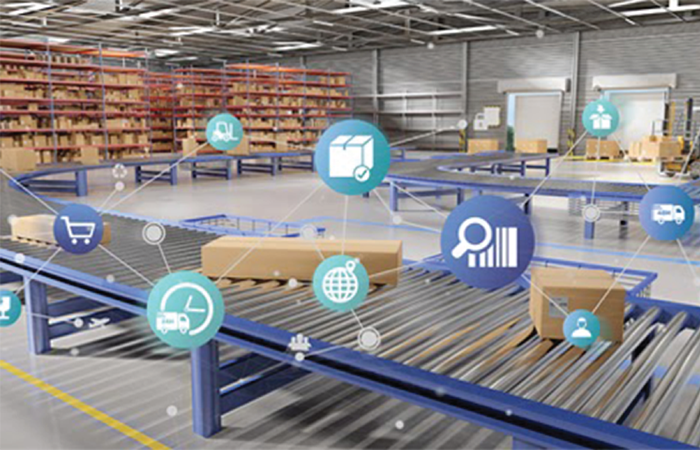 Atomate managing assets
Keeping a supply chain humming along requires more than just managing inventory. Expensive assets like returnable transit items (RTIs) need to be tracked and maintained. Automate the management of warehouse assets to lower costs, improve utilization, and reduce loss and logistics down-time.
How Impinj is Helping Supply Chains with RFID Technology
Impinj RAIN RFID tags provide real-time data on the location of pallets, packages, or individual items, such as parts or assets. The Impinj platform then connects that data to existing enterprise software systems, providing businesses with a flexible solution to automate and streamline different processes within their supply chain.
Companies around the world rely on Impinj to connect objects to applications, applying RAIN RFID to solve challenges in their supply chain with successful results:
In addition to saving time and labor, there are some unexpected benefits of adding RAIN RFID to your supply chain. Accurate real-time inventory frees companies from having to buy safety stock, which ties up US $24.2 billion per year for North American companies. Once China Outfitters no longer had to open and reopen boxes to verify contents, they were able to save time and money on everyday consumables like packing tape—which really adds up when you're supplying 850 retail outlets.
---
Article tagged as:
---
---
Tuesday, June 2, 2020
Sign Up for the latest news
Looking for more content? We've got you covered
Learn more about Impinj and RAIN RFID in our resource library
Visit Library
Get the latest industry happenings delivered straight to your inbox