What's It Like To Intern at Impinj? A Q+A
Impinj interns reflect on what they learned and the connections they made in their time at Impinj
Impinj's Internship Program offers hands-on experience to put students' learnings into action, give them insight into the real working world and business operations, and help groom and develop their skillset to make them more well-rounded, desirable candidates upon graduation. In this blog, Impinj interns, past and present, reflect on their experiences and the connections they made during their time at Impinj.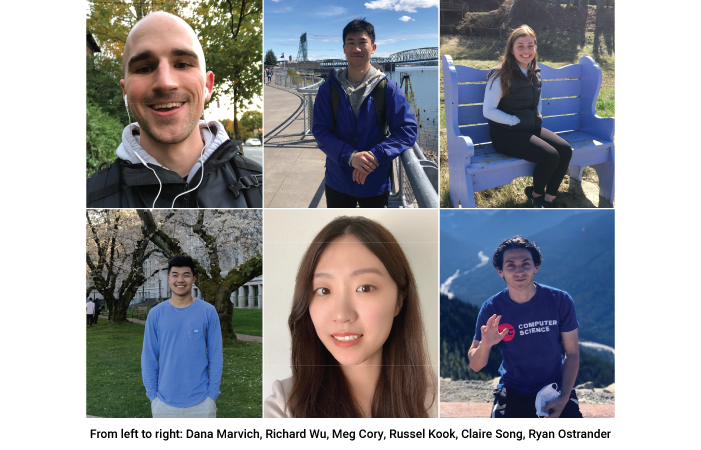 Get to know our interns
Meg Cory
I was born and raised in Seattle, a fifth generation Seattleite. I graduated from Washington State University in May of 2020 with a bachelor's in psychology and German and started at Impinj in July.
Russell Kook
I grew up in Seattle and attended the University of Washington, where I graduated with an electrical engineering degree. Now I am working at Impinj full time doing digital design work, along with writing Python scripts.
Dana Marvich
I grew up in Seattle and attended Nathan Hale High School, North Seattle Community College, and University of Colorado Denver for electrical engineering. I lived in Colorado for a while and now I'm back home in Seattle.
Ryan Ostrander
I am from Chicago, Illinois and went to school at the University of Illinois at Chicago. I graduated in December with a computer science degree, and now I work for Impinj on their software development team.
Claire Song
I am from Beijing, China. I went to the University of Texas at Dallas and got my master's degree in energy management there. I am now in Seattle, working at Impinj as a technical project manager.
Richard Wu
I'm from Vancouver, Washington and graduated with my bachelor's in electrical engineering from Washington State University Vancouver. I'm just starting my master's in electrical engineering at the University of Washington.
What kinds of things did you work on while at Impinj? What are some of the things you have learned and will take with you?
Meg: I am in Marketing and have worked on many different projects. Initially, I was focused on building the new Impinj website, building pages, working with the translation team for the localized sites, and learning the various tools used for effective digital engagement. My current priorities are on content creation, launching the Impinj Insight series, managing our preference center emails, and a variety of other projects. This experience has helped me understand the workings of a public tech company, especially areas involving marketing. I have learned how to manage projects, communicate professionally, and identify metrics to measure results.
Russell: While at Impinj, I worked on a project using the Impinj R700 reader and Python to characterize tag chips. Something that I learned and will take with me is the usage of Git, a powerful tool which I will be using more throughout my engineering career.
Dana: I am on the Hardware team. I get to test and debug circuits, and use tools like VNAs (Vector Network Analyzers) and Spectrum Analyzers. I also write some Python code on occasion. I gather data and try to make sense of it. I have learned a ton about circuits while at Impinj, and my general problem-solving skills have improved greatly. It's a great learning environment: it's challenging, but everyone here is very helpful.
Ryan: During my time as an intern, I learned a lot about how the software industry really works behind the scenes. I was able to see firsthand how so many people can contribute to a single project and rely on one another to help each other out. I also learned great industry practices for good code development, and useful technologies like Linux and Git. Most importantly, I learned how to be a meaningful member of a software development team and collaborate with experienced programmers. That is something I will always be able to take with me. Now, I work for Impinj on the Software Development team.
Claire: As a project management engineer intern, I led PAM (Project Analytics Management) tool development, and delivered PAM resource tracking and planning. I also created Power BI reports and dashboards for the Engineering team and developed risk management solutions. During my internship, I learned the importance of planning for both communication and risks in project management, and to not be afraid to ask questions. Sometimes asking questions can be the simplest and most effective way of learning. I also learned that being well organized can improve productivity—I'm still working on improving there!
Richard: I'm currently working on the readers and gateways part of the Systems Engineering team, and so far, I've learned a ton about RF transceivers. One of my biggest takeaways will be the scripting skills that this Internship has provided me.
What was your favorite part of your internship? Why?
Meg: My favorite part has been working with my team! Onboarding in COVID-19 was definitely not ideal, but having virtual workrooms, weekly intern calls, and daily virtual morning coffees has enabled me to be a part of the team without meeting anyone in-person. As part of the internship program, we met with Impinj executives to learn more about the market, our products, and various career paths. It was wonderful to be able to ask them questions to understand their Impinj world.
Russell: One of my favorite parts of the internship was working on my project. I really enjoyed the project, because it was very important to Impinj and they trusted me to get it done. I also enjoyed the intern meetings because they were very casual, and I was able to get to know each intern.
Dana: My favorite part of my internship is the feeling of accomplishment that I get after completing a task that was initially intimidating. Tasks that would have seemed impossible during my first week now seem routine. I have gained a lot of confidence from this internship.
Ryan: My favorite part of the internship had to be coming to Seattle during the summer. Even though we had to work remotely, it was still an incredible experience that I will never forget. During my time there, I was able to see the Space Needle, visit Mount Rainier, and do even more on top of having such a dream internship.
Claire: I was very lucky that my manager and the team I was working with were very supportive and positive. I got the opportunity to lead a real project, and I learned a lot by facing and solving real-world problems. Some of the problems were challenging, but they definitely helped me grow faster.
Richard: My favorite part of this internship is learning about the details that go into the design of some of the Impinj products. There are so many layers that all work together to produce a final product, and there is always something interesting.
How would you describe the Impinj internship program and the company culture?
Meg: The internship program at Impinj is a great opportunity to jumpstart a career. It provides opportunities to learn from company leaders, engage in a wide range of projects, understand many of the departments in a tech company, and feel very welcomed as part of the team contributing to the bigger picture. Interns gain valuable experience, and Impinj is a great brand to be part of!
Russell: The Impinj internship program was very fun. Even with COVID-19, I could tell that Impinj was trying their very best to create a good experience for the interns. The company culture of Impinj is exactly what I was looking for coming out of college: a culture where asking questions is not discouraged but encouraged, and a very friendly work environment where I find myself constantly sharing laughs with my coworkers.
Dana: The internship program is awesome. You learn a ton and get to work with great people. The culture here is great.
Ryan: The Impinj internship program was an incredibly valuable resource for furthering my professional growth right out of college. I was able to learn valuable skills and network with my fellow interns and Impinj leadership during group Zoom sessions. Impinj is such an incredible, organized, and friendly company to work in. I feel lucky to have completed an internship here.
Claire: My internship with Impinj was good; my manager is very helpful and supportive, and people at Impinj are really nice and friendly. The Internship forum where we met with Impinj leadership was amazing—especially during this tough COVID-19 period. I felt more engaged from talking with other interns and talking with guest speakers from the leadership team.
Richard: The Impinj Internship has been an amazing experience! Everyone at Impinj and especially the internship program coordinator have done an awesome job helping us come together and making this a lot of fun for us. All the people that I interact with here are just wonderful people and you can really see Impinj culture in everyone.
Impinj Interns can expect to gain professional connections, career skills, and an opportunity to apply those skills in a real-world environment. Our Internship Program runs year-round, however the majority of our opportunities are available during the summer months for approximately 10-12 weeks. We offer roles in areas such as Software Engineering, Hardware Engineering, Marketing, HR, and more. Visit our careers page to learn more and apply.
---
Article tagged as:
---
---
Tuesday, January 26, 2021
Sign Up for the latest news
Looking for more content? We've got you covered
Learn more about Impinj and RAIN RFID in our resource library
Visit Library
Get the latest industry happenings delivered straight to your inbox