What RAIN RFID Can Do to Boost Retail, per Gartner Report
Retailers must adapt to meet rapidly changing customer expectations and cost inefficiencies. Here's how RAIN RFID can help, according to the 2021 Gartner "Hype Cycle for Retail Technologies" report.
Retailers everywhere must adapt to meet rapidly changing customer expectations, growing labor constraints, and rising cost inefficiencies. One key way retailers can face these challenges is by undergoing a digital transformation, according to the 2021 Gartner "Hype Cycle for Retail Technologies" report.
"The disruptive events of the past year have driven retailers to fundamentally reassess how they do business, thus moving digital transformation forward at previously unknown speeds," Gartner states. "The importance of technology to the industry has also been underscored—particularly in areas related to unified commerce execution."
RFID is one technology quickly gaining recognition for its ability to support these key endeavors. As Gartner states, "Passive, ultra-high frequency (UHF) RFID solutions support a multitude of use cases, including but not limited to, inventory accuracy, cycle counts, efficient store fulfillment of online orders, faster replenishment, better loss prevention and increased customer engagement."
RAIN RFID, sometimes called UHF RFID, can be the spark that enables retailers to undertake their own digital transformation. By tagging individual products with a small RAIN RFID tag and tracking each product's movement with RAIN RFID readers, retailers can use the subsequent data to improve their omnichannel fulfillment options, boost customer satisfaction, and increase store operational efficiency—transforming the in-store and online shopping experience and paving the way for a retail evolution.
Read our takeaways on the benefits of RAIN RFID in the blog below.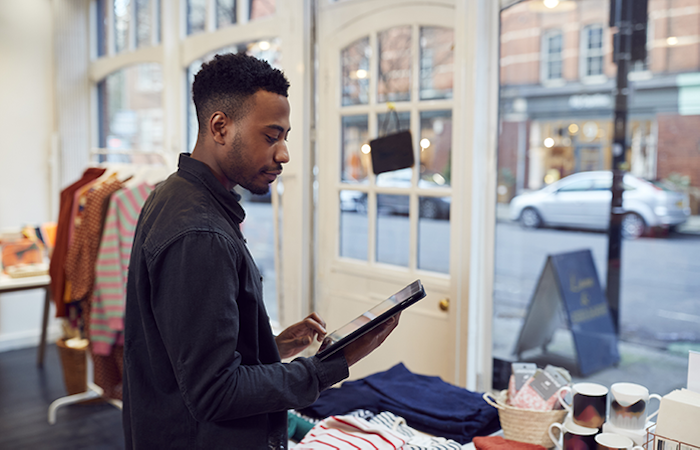 Omnichannel fulfillment
As Gartner states, citing Digital Commerce 360, "the number of retailers offering curbside pickup has increased by over 600% since January 2020."
Omnichannel fulfillment options increased during the COVID-19 pandemic, and they aren't going anywhere. This includes options like buy online, pick-up in store (BOPIS) and buy online, pick-up at curb (BOPAC), in addition to home shipping options. With some retailers fulfilling half of their online orders from stores, ensuring stock availability—and picking orders efficiently and accurately—is critical to customer satisfaction.
"Continued demand for store-based fulfillment will drive the need for efficiency of store picking processes, or as retailers add dark stores or micro fulfillment capabilities. RFID can enable the success of these strategies through efficient and accurate locationing of goods to be picked," Gartner states.
Inventory management
According to the Gartner report, "Studies have shown that traditional store inventory accuracy is typically below 70 percent." Given the fast rise of omnichannel fulfillment, with retailers treating their brick-and-mortar stores as extensions of their fulfillment centers, higher inventory accuracy is more essential than ever.
"For many retailers, over 50% of online orders are fulfilled from stores," Gartner states. "Ensuring stock availability and picking those orders efficiently and accurately is critical."
By improving inventory accuracy, a retailer can cut back on costs like overstocking. According to Gartner, "real-time visibility and effective management of store inventory, coupled with planning intelligence from inventory locations across the enterprise, leads to dramatic value creation across the retailer's channels."
"Item-level RFID can offer considerable business impact to retailer operations: significantly improve inventory accuracy, typically beyond 97%," Gartner states. RAIN RFID is also faster; retailers are able to run inventory cycle counts 25 times faster than previous manual methods.
Customer experience
By reducing the amount of time it takes to conduct store inventory, RAIN RFID ensures that store inventory counts can be performed more frequently, leading to even higher inventory accuracy. "It can also deliver an enhanced experience for store associates and improve the in-store consumer experience," Gartner states.
RAIN RFID helps employees work faster and more efficiently, which can lead to increased morale and better service. "[RFID] significantly improves the in-store experience of associates by reducing the time spent on time-consuming tasks and reallocating it to more value-added activities," Gartner states.
Inventory automation frees up employees from operational tasks so they are more available to assist customers, and provide an enhanced customer experience. Online shoppers can also benefit, through improved omnichannel fulfillment. "RFID capabilities provide easier facilitation of unified commerce processes and greater operational efficiency," Gartner's report states.
Smart self checkout
At the end of the day, a retailer's main goal is making customers happy. RAIN RFID empowers retailers to find new ways to make shopping more convenient and enjoyable.
One example, driven by demands for convenience and speed while shopping, along with the increased need for "touchless" shopping experiences, is the implementation of smart checkout technology. RAIN RFID-enabled smart checkout,, helps to reduce contact between store employees and customers without diminishing the customer experience.
Integrating smart checkout solutions is a more accessible way for many retailers to try RAIN RFID. "Retailer interest for smart check-out technology integrated within a shopping cart, basket or at the register has grown in the last 12 months, viewed as a cheaper alternative to entire store concepts," Gartner states.
Smart checkout can be a "gateway" for further RFID experimentation. "As item-level RFID adoption accelerates," Gartner states, "retailers are investigating further use cases for the technology to drive ROI."
While customers appreciate the increased convenience of smart self checkout, retailers also benefit greatly. According to Gartner's report, "the real-time insights captured through the computer vision and sensor fusion can help retailers improve actionable decisions in several operational areas including merchandising, inventory management, customer service, pricing and promotional execution, store maintenance and loss prevention."
Operational efficiency
Real-time inventory and sales data, enabled by RAIN RFID, helps retailers make data-driven decisions to improve store operations, both immediately and in the future. As Gartner states, "through RFID, real-time visibility of products, understanding product performance, and adjusting assortments and allocations can be done more quickly and accurately. This data is also highly sought out by suppliers and manufacturers, potentially becoming a revenue opportunity."
Real-time data can inform faster and smarter business decisions, improve omnichannel experiences, and help retailers stay on top of trends. "Retailers can also benefit from the data generated by tracking customers, identifying shopping behaviors and capturing individual preferences," Gartner states. "This data can be used for greater personalization and recommendations, as well as seeing trends across customers in a given market in real-time."
How RAIN RFID supports optimization
Gartner puts it best: "RFID supports optimization of a variety of tasks within the retail store, including inventory visibility and accuracy — a top area for cost optimization that retailers must address urgently."
RAIN RFID empowers retailers to improve a multitude of necessary operations—including inventory management, omnichannel fulfillment, and customer experience—all of which are key to surviving and thriving through the challenges in today's retail environment.
Gartner, Hype Cycle for Retail Technologies, 2021, Kelsie Marian, 14 July 2021
Gartner does not endorse any vendor, product or service depicted in its research publications, and does not advise technology users to select only those vendors with the highest ratings or other designation. Gartner research publications consist of the opinions of Gartner's research organization and should not be construed as statements of fact. Gartner disclaims all warranties, expressed or implied, with respect to this research, including any warranties of merchantability or fitness for a particular purpose.
Gartner and Magic Quadrant are registered trademarks of Gartner, Inc. and/or its affiliates in the U.S. and internationally and is used herein with permission. All rights reserved.
---
Article tagged as:
---
---
Tuesday, August 17, 2021
Sign Up for the latest news
Looking for more content? We've got you covered
Learn more about Impinj and RAIN RFID in our resource library
Visit Library
Get the latest industry happenings delivered straight to your inbox