What Item-Level RFID Can Do for Retailers, According to Gartner
RAIN RFID can transform retail store operations, improve inventory accuracy, prevent shrink, enable self-checkout, and more, according to a new Gartner report.
In a post-COVID retail environment, inventory accuracy and inventory visibility are more important than ever.
Over the course of the pandemic, customers have become accustomed to flexible fulfillment options, such as buy online, pick-up in-store (BOPIS), buy online, pick-up at-curb (BOPAC), and other forms of omnichannel fulfillment. Those preferences aren't going away.
Per Gartner, "Customers expect to search, transact, acquire and consume products anytime and anywhere," states a new Gartner report on RFID in retail. "Retailers must provide a fluid, consistent and comprehensive experience across all customer interaction touchpoints to successfully deliver unified retail commerce."
---
Item-level RFID technology also enables retailers to bridge the gap between online and offline to deliver a unified experience.
---
How can retailers digitally transform and provide customers with the experiences they demand? By adding RAIN RFID to individual products—otherwise known as Item-level RAIN RFID.
"Item-level RFID is transforming operational efficiencies in the retail store as it can achieve inventory accuracy rates of over 98%, enable real-time inventory visibility, increase labor savings, improve loss prevention as well as a myriad of other use cases," states the Gartner report, which is titled, "Innovation Insight for Item-Level RFID in the Transformation of the Retail Store."
RAIN RFID connects retail inventory to enterprise retail systems and enables these abilities. By attaching RAIN RFID tag chips to individual products, RAIN RFID readers can read each individual item as it travels through the supply chain, distribution centers, and stores.
Why item-level accuracy is important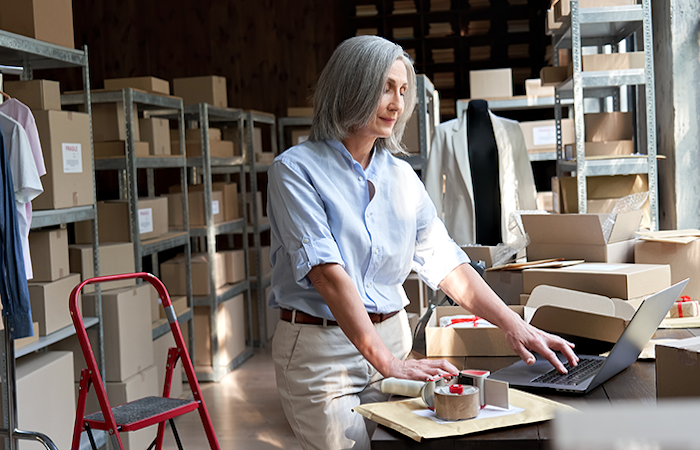 RAIN RFID can make store-based fulfillment more efficient and profitable for retailers, according to the report. Store associates can use RAIN RFID to quickly find out how many products are available and where they are located.
"RFID can be used to precisely identify where products are located within a store or in the stock room," Gartner states. "This enables the store associates to quickly find products within the store for a customer or replenish products from the stockroom."
Investment in RFID-powered inventory accuracy is already paying off for some of the world's top retailers. According to the report, "Numerous leading retailers worldwide such as Decathlon, H&M, Levi's, Lululemon, Macy's, Marks and Spencer, Nike, PVH, Under Armor and Zara have adopted RFID technology to successfully transform end-to-end visibility of inventory, increase sell-through and improve associate productivity."
In addition to inventory accuracy, item-level RFID offers other key benefits to retailers:
Loss prevention
RAIN RFID loss prevention solutions can be integrated with points of sale to support self-checkout or product returns. Like with traditional electronic article surveillance (EAS) solutions, an item tagged with RFID that leaves the store without being deactivated can sound an alarm. However, in addition to immediately alerting store employees of theft, RAIN RFID provides data that can help a retailer understand these loss events and prevent them in the future.


Automated self-checkout
Self-checkout solutions enabled by RAIN RFID can automatically read hundreds of items at once, no scanning needed. This removes the need for a customer to wait in a staffed checkout lane, which can improve the in-store shopping experience while cutting labor costs for the retailer.


Better customer engagement
RAIN RFID data enables personalized customer engagement. According to Gartner, "Retailers are looking to RFID as a means to connect with customers to improve loyalty and personalization. As customers look for increased service and exclusive perks for their continued loyalty, RFID can enable additional personalized experiences for the shopper." RAIN RFID-enabled fitting rooms, for example, allow shoppers to search for product suggestions that coordinate with what they have chosen.
New markets for RFID in retail
While specialty retailers in apparel, footwear, fashion, and luxury have so far led the way in RFID adoption, RFID offers some unique benefits to the grocery sector. Waste reduction, expiration management, and product traceability can all be enabled by RFID solutions. "RFID can provide greater visibility into the end-to-end supply chain enabling retailers to manage inventories more efficiently and reduce waste," Gartner states.
As RAIN RFID tag chips continue to become smaller and smaller, both in size and in price, cosmetics companies are also discovering the benefits of item-level tracking. "Segments such as beauty and cosmetics more recently are also gaining benefits of item-level inventory control, immersive store experiences, increased loyalty and customer retention," Gartner states.
RAIN RFID: A proven technology for retail
RFID is not a new technology in retail, but it is gaining more significance to retailers. RAIN RFID enables a wide range of solutions that can enhance retail stores and set up businesses for success in today's ever-changing market.
The ROI is proven, Gartner states: "Studies have indicated demonstrated benefits as a result of RFID deployments, including more than 25% improvements in inventory accuracy to overall accuracy levels greater than 98%, 1% to 3.5% increases in sell-through due to lower stock out and better stock management, 10% to 15% reductions in inventory-related labor hours, as well as reductions in shrinkage and theft raising revenue by up to 1.5%."
Gartner, Innovation Insight for Item-Level RFID in the Transformation of the Retail Store, 10 August 2021, By Sandeep Unni
GARTNER is a registered trademark and service mark of Gartner, Inc. and/or its affiliates in the U.S. and internationally and is used herein with permission. All rights reserved.
Gartner does not endorse any vendor, product or service depicted in its research publications and does not advise technology users to select only those vendors with the highest ratings or other designation. Gartner research publications consist of the opinions of Gartner's research organization and should not be construed as statements of fact. Gartner disclaims all warranties, expressed or implied, with respect to this research, including any warranties of merchantability or fitness for a particular purpose.
---
Article tagged as:
---
---
Thursday, January 13, 2022
Sign Up for the latest news
Looking for more content? We've got you covered
Learn more about Impinj and RAIN RFID in our resource library
Visit Library
Get the latest industry happenings delivered straight to your inbox