RAIN RFID Tag Evolution
What has changed in RAIN RFID? Take a look at technological changes through the evolution of RAIN RFID tags.
Having spent more than a decade focused exclusively on RFID, we often get asked, "What has changed in RFID?" There are, of course, many ways to answer that question. But one interesting perspective would be to answer the question through the evolution of tags.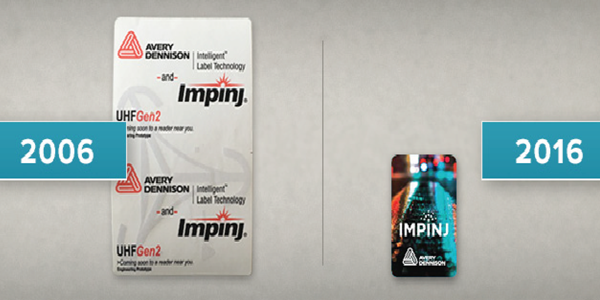 RFID has been around since World War II but what we know today as RAIN RFID really got jump-started in 2005 when Walmart rolled out an RFID system to track pallets and cases. Walmart's ultimate goal was to increase in-store availability and improve replenishment practices as items were purchased. According to the University of Arkansas, Walmart's choice to use the EPCglobal UHF Gen2 RFID standard was based on two factors: testing results and deployment costs. Walmart team's testing found RFID-enabled stores were 63 percent more effective at replenishing out-of-stocks, leading to a 16 percent reduction in products not being on the shelf. Back then, a wet inlay typically cost above 30 cents, but the promise of falling tag costs to "sub 10-cents" was a major factor in the decision to deploy Gen2 RFID.
Fast forward to 2016, retailers are deploying Gen2v2 UHF RFID, now known as RAIN RFID solutions. Tagging is happening at the item level in addition to the pallet or case level, which has led to more than 20 billion tags sold over the past 10 years. What has changed over this time period to enable the tagging of billions of items? Many things, but perhaps most importantly tag form factor, performance and cost.
In the picture above, you can see how tags have visually changed from 2006 to 2016. On the left is one of the first UHF Gen2 tags, which was designed for pallet level tracking. On the right is a current finished hangtag for retail apparel inventory and omnichannel applications.
Not only are tags in 2016 much smaller overall, they are also more powerful, offering longer read ranges and more capabilities like better memory, privacy protection and security features. Tags today have also beat the "sub 10-cent" promise. Stores can now afford to tag all items within a retail location, whether a dollar pair of socks or a thousand-dollar handbag. Tagging cost reductions have also made the technology more accessible to other industries, including healthcare, manufacturing and supply chain applications.
The rate of adoption of RAIN RFID is interesting when compared to other technology evolutions. Bluetooth, another type of radio technology, was founded in 1989 and hit 2.5 billion products shipped in 2013, a span of 24 years. Cellular technology, which enables every mobile device today, was first developed in the 1940s but wasn't widely available until the mid 1980s. According to the Pew Research Center, cellphone ownership hit 91% for adults in 2013. Along with being widely available, cell phones have also evolved from large handsets to sleek touchscreen devices like the iPhone. With a lifespan of just 10 years, which has already included many advancements, it will be exciting to see how RAIN RFID technology will continue to mature, enabling even better business solutions with higher ROIs.
---
Article tagged as:
---
---
Thursday, August 11, 2016
Sign Up for the latest news
Looking for more content? We've got you covered
Learn more about Impinj and RAIN RFID in our resource library
Visit Library
Get the latest industry happenings delivered straight to your inbox