The Tech We Saw at HIMSS 2018 that is Changing Healthcare
HIMSS 2018 showed us that technology, from Internet of Things solutions to machine learning, is a critical part of healthcare's trend towards "Connected Hospitals."
After an incredible week connecting with healthcare professionals in Las Vegas, I left HIMSS energized by what I heard. Everyone I spoke with agreed: Technology, from Internet of Things solutions to machine learning, is a critical part of healthcare's trend towards "Connected Healthcare"—a term which implies digital integration in every aspect of the patient experience and hospital operations. The energy for innovation in what's now the post-EHR era is nearly ubiquitous.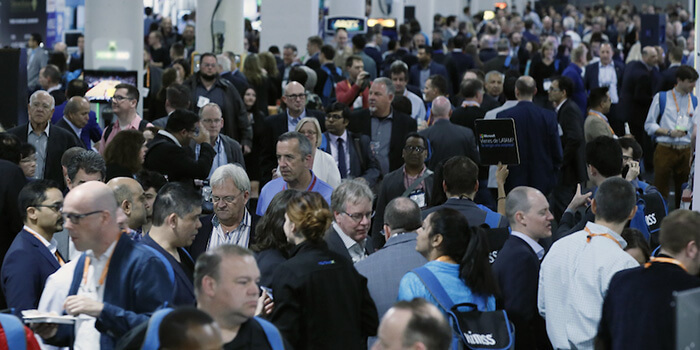 Image source: HIMSS
In fact Forbes recently reported that 94 percent of healthcare executives plan to implement "smart" tech in their hospitals. And while the underlying innovation for each organization may be different, the goal is the same: more efficient and effective patient care. Here are three ways I saw providers engaging with technology to achieve this.
AI will be everywhere
The topic of Artificial Intelligence (AI) came up in nearly every conversation. A recent Gartner report on this year's Top 10 Strategic Technology Trends showed that 41 percent of healthcare organizations are in the process of piloting or adopting AI solutions. The remaining 59 percent are in the information gathering phase. Clearly, AI is here to stay. And with good reason—it can filter through the huge amount of data that RAIN RFID and other technology solutions make available to identify trends and anomalies. This type of information will be critical in anticipating patient needs, and evolving care to meet them.
Medical devices are evolving fast
IV pumps and other equipment used to be static instruments whose readings clinicians would manually input into other systems. But as the surrounding systems have changed, so have these assets. Nowadays, they're more like mini computers, with powerful sensors and more advanced computing. These devices deliver a constant stream of data which enables more precise, and oftentimes more preventive care. Looking to the future, devices will continue to get smaller and deliver more valuable data streams. For instance, researchers at Cornell University have discovered a way to use passive RFID to monitor an individual's vital signs wirelessly. This kind of technology could lead to advancements in noninvasive, inexpensive patient monitoring unlike anything available today.
RTLS momentum is building
Real-Time Location Systems (RTLS) have been a topic of the show for the last few years, but this year the momentum is building. In the Impinj booth, we saw more nuanced discussions around how hospitals can best use RTLS solutions. In the short term, we saw providers focused on locating and using these assets more efficiently. But in the long term, we saw increased interest in how these same RAIN RFID enabled RTLS systems could deliver item-level data for AI or machine learning solutions.
Connected hospitals will drive improvements in patient care
This combination of data and insight will let medical facilities plan better, innovate better, and increasingly, improve patient experience. In a time of rising healthcare costs and growing needs, these advancements will be critical to meeting the demands of the future. HIMSS provided great insight into where the industry is headed, and I am excited to be a part of how we get there.
---
Article tagged as:
---
---
Wednesday, March 21, 2018

Wendy Werblin
Former Impinj Director of Industry Solutions
Sign Up for the latest news
Looking for more content? We've got you covered
Learn more about Impinj and RAIN RFID in our resource library
Visit Library
Get the latest industry happenings delivered straight to your inbox