Take Aim at Counterfeits with Impinj Authenticity Solution Engine
Impinj boosts brand protection with RAIN RFID and cryptographic authentication to help reduce counterfeit goods in the supply chain at enterprise speed and scale.
Brand owners and retailers now have a secure method for authenticating items at scale and at every point in their supply chain. Today, we announced the Impinj Authenticity solution engine which cryptographically authenticates everyday items – such as retail merchandise, automotive parts, and medications – to help prevent counterfeits, ensure product safety, and secure the supply chain. Using standards-based RAIN RFID and cryptographic methods, the Impinj Authenticity solution engine combines new tag chips and cloud services with readers and partner products to enable streamlined enterprise IoT solution development.
Counterfeits and brand protection are a global concern
Safety. Reliability. Value. Quality. These are just a few of the attributes consumers associate with their favorite brands. When selecting handbags, shoes, clothing, auto parts, electronics, and more, consumers want to trust that when they purchase a brand, it will meet their expectations. Brand owners invest heavily in building their brand and all of the associations that go along with it. For many brands, counterfeit items are a bane to their existence, tarnishing their good name and eroding hard-won reputation.
Counterfeiters infringe on brand owners' intellectual property rights and revenue and cheat governments out of tax revenue. In the Organisation of Economic Cooperation and Development's (OECD) 2021 report, it was estimated that the global economic damage from counterfeit goods was approximately USD $464 billion or 2.5% of global trade.
Due to their illicit nature, counterfeits are difficult to study and fully quantify. US Customs and Border Patrol seized an estimated $3.3 billion worth of counterfeit goods in 2021 and by August 2022 had already seized $2.4 billion worth of counterfeits. Europol's 2022 Intellectual Property Crime Threat Assessment report cited more than EUR 119 billion of imported counterfeit goods (representing 5.8% of imported goods) in 2019. These numbers represent only a small fraction of the total cost of counterfeit goods that move through the global marketplace.
Beyond the financial losses to governments and brand owners, there is a human toll. It is estimated that in 2021, trade in counterfeit goods cost the US more than 600,000 full-time jobs. Pain and suffering are often at the heart of these criminal operations which exploit forced labor, child labor, and human trafficking.

---
Counterfeit manufacturing often occurs in clandestine work places outside the reach of labor market regulations and inspection systems, which increases the vulnerability of workers to exploitative labor practices.
---
Fakes are dangerous: brand protection is consumer protection
In many cases, fraudulent goods pose public health or safety risks. Fake automotive parts such as airbags can fail to deploy, counterfeit lithium-ion batteries in computers have overheated and exploded, bogus cosmetics can contain high levels of bacteria leading to infections, and counterfeit pharmaceuticals are responsible for the death of hundreds of thousands of people each year.
Counterfeiters have become expert at their craft of creating near-perfect duplications of a brand's original products. They have mastered spoofing of anti-counterfeiting methods, sometimes within six months of a product hitting the market.
Impinj Authenticity solution engine: delivering at the scale and speed of business
The Impinj Authenticity solution engine enables cost-effective cryptographic authentication across the entirety of an enterprise's supply chain, from manufacturing through shipping, customs, store inventory, point-of-sale, and returns processing to inhibit counterfeits. Impinj Authenticity also supports single-item and bulk-item authentication, verifying the authenticity of individual items packed singly or in bulk without opening a box or the product packaging. Select Impinj partners can integrate the Impinj Authenticity solution engine with their current product offerings or quickly develop solutions to meet the most demanding needs of their enterprise customers.
The Impinj solution engine leverages the whole Impinj platform, including endpoint ICs, reader ICs, readers, cloud services, and partner ecosystem. Using standards-based RAIN RFID and cryptographic methods, the Impinj Authenticity solution engine enables streamlined enterprise IoT solution development:
Impinj M775 RAIN RFID tag chips connect individual items and enable partner services to quickly determine the connected item's authenticity in addition to its identity. A cryptographic computation engine, combined with a unique cryptographic key in each tag chip, enables secure authentications while defending against malicious attacks.
Impinj-based RAIN RFID readers scan hundreds of connected items simultaneously and send authentication requests to verify the connected items are genuine. Reader options include Impinj R700 readers and partner devices built with Impinj E family and Indy reader chips.
Impinj Authentication Service verifies each tag chip's authenticity in milliseconds. This cloud service uses standard, easy-to-use REST APIs to speed integration into partner and enterprise product authentication solutions.
Avery Dennison and select Impinj partners provide additional solution components, such as a product database that stores, retrieves, and verifies item data.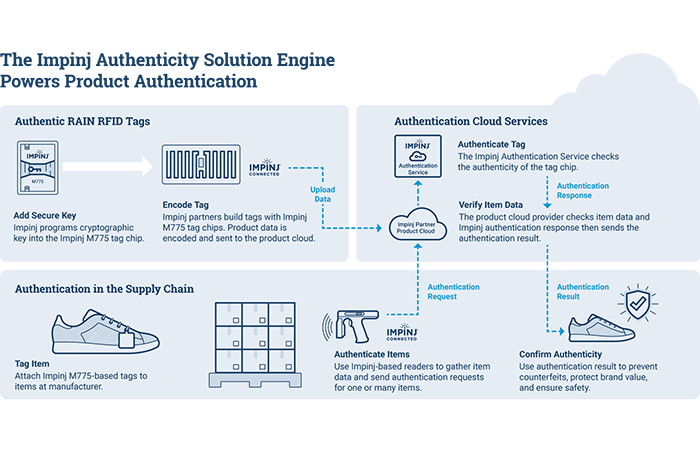 Impinj partners, such as Avery Dennison and Bluebird, have already developed products that integrate with the Impinj Authenticity solution engine. Avery Dennison's solution combines high-performance RAIN RFID inlays with the Impinj M775 chip and a robust and secure cloud platform through atma.io to properly retrieve, manage and verify unique item-level data. The new Bluebird RFR901 handheld reader, powered by the Impinj E710 RAIN RFID reader chip, is enabled for use with Impinj M775 based tags as part of a product authentication solution.
Read more about the Impinj Authenticity Solution Engine in our complimentary whitepaper:
Combat Counterfeits with a Secure, Scalable RAIN RFID Solution
.
---
Article tagged as:
---
---
Wednesday, September 28, 2022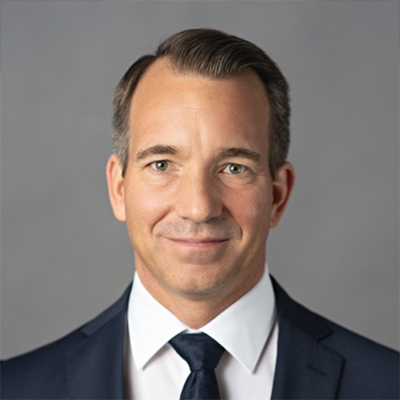 Martin Liebl
Senior Director, Product Management
Martin Liebl builds product roadmaps based on customer specifications and business-driven implementations and executes go-to-market strategies and product launches.
Sign Up for the latest news
Looking for more content? We've got you covered
Learn more about Impinj and RAIN RFID in our resource library
Visit Library
Get the latest industry happenings delivered straight to your inbox