Supply Chain and Logistics Efficiency: Keys for Success
Operational efficiency and accuracy are crucial for supply chain and logistics organizations. Find out how leaders are driving improvements in these categories.
When the Ever Given container ship got stuck in the Suez Canal in March 2021, more than 350 ships were blocked on either side, waiting to pass.
High-profile disruptions such as this have made it abundantly clear: Operational efficiency and accuracy are at the core of successful supply chain and logistics organizations.
By bringing the Internet of Things (IoT) to their supply chain, through the use of RAIN RFID technology, business leaders can improve efficiencies while driving increased shipment accuracy.
To unpack how efforts like these can improve supply chain operations, we'll explore contributing factors such as workforce limitations, and discuss how automated shipment verification and asset tracking can help providers thrive in a world of new challenges.
>> Download our Four Growing Supply Chain Concerns and How to Solve Them infographic
Labor constraints necessitate exceptional efficiency
As supply chain demand and shipment volumes increase, many warehouse managers expect to hire more workers in an already tight labor market.
The operational efficiencies enabled by RAIN RFID can help businesses pivot their existing workforce as needed. Trimming redundancies and streamlining workflows in the shipment process can enable warehouse managers to reassign workers instead of constantly finding and onboarding new talent.
A majority of warehouse labor resources are involved in order pick-pack-ship activity. RAIN RFID tags can be read automatically without a direct line of sight, erasing the need for workers to pause, locate a barcode, and scan it. Instead, items can remain in motion and shipments can be automatically tracked, improving operational efficiency with an automated system.
With the Impinj platform, warehouse managers are able to reduce manual tasks and automate processes, improving warehouse efficiencies by up to 25%. With those kinds of gains, supply chain and logistics operators have the chance to increase throughput and enhance margins, or reallocate labor to other crucial tasks in the facility.
Peak efficiency with real-time visibility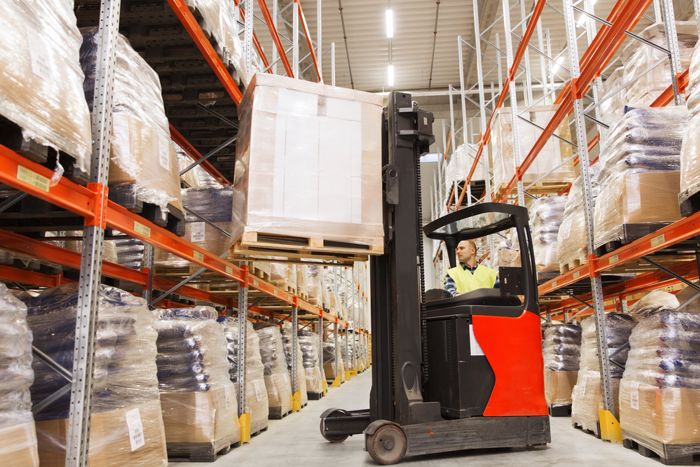 In a recent survey from Retail Systems Research, 76% of respondents reported that real-time visibility across the supply chain was their leading focus for improving supply chain performance.
Fueled by the growth of e-commerce shipments, today's warehouses and distribution centers have to facilitate the reach of global supply chains. Across the world, downstream business customers benefit from the expertise of operators who can leverage automated solutions to boost supply chain efficiency.
When supply chain managers lack information about the status of shipments moving into and out of warehouses, confidence and accuracy suffer. The Impinj platform, using RAIN RFID, automatically connects each shipment moving through the supply chain to the systems that manage them, providing supply chain operators with visibility into the identity, location, and authenticity of shipments and parcels at every stage of the journey.
Missing tools, found automatically
Misplaced assets and missing equipment pose two challenges to operational efficiency for supply chain and logistics providers:
Downtime: Staff members are unable to perform their duties if they don't have the tools they need to accomplish their tasks. Plus, spending minutes or hours searching for items means less time conducting essential work.
Expenses: If operators are unable to recover misplaced equipment, they may have to purchase new materials.
Oftentimes, missing assets are still within the yard or facility; they've simply been left at the wrong location. One solution for locating missing assets is RAIN RFID.
The Impinj platform helps supply chain leaders bring visibility to the yard and the warehouse. By deploying a RAIN RFID solution and tagging important assets, operators are able to determine the location of missing objects quickly and efficiently, leading to less downtime and lower replacement costs.
In fact, by tracking returnable transport items using RAIN RFID technology, supply chain and logistics operators may be able to reduce asset investments by 5.5%.
Unlocking operational efficiencies
RAIN RFID technology can improve accuracy in the supply chain, reducing the amount of time required to correct orders and enabling supply chain organizations to benefit from automation and visibility into their operations.
By bringing the Internet of Things to the supply chain, logistics leaders are able to improve organizational resilience during times of change, while driving efficiencies and positioning their businesses to take advantage of new growth opportunities when the climate is suitable.
Interested in learning more about how RAIN RFID can solve challenges in the supply chain? Download our Four Growing Supply Chain Concerns and How to Solve Them infographic.
---
Article tagged as:
---
---
Wednesday, June 23, 2021
Sign Up for the latest news
Looking for more content? We've got you covered
Learn more about Impinj and RAIN RFID in our resource library
Visit Library
Get the latest industry happenings delivered straight to your inbox