SML RFID Introduces Six Impinj M700 Series Based Tags for Retail
Impinj partner SML RFID adds new inlays to tag family built on Impinj M700 series chips.
Impinj partner SML RFID recently announced the launch of a new tag family based on the Impinj M700 series. This new tag family, designed for use in retail, reduces the size and cost of RAIN RFID tags.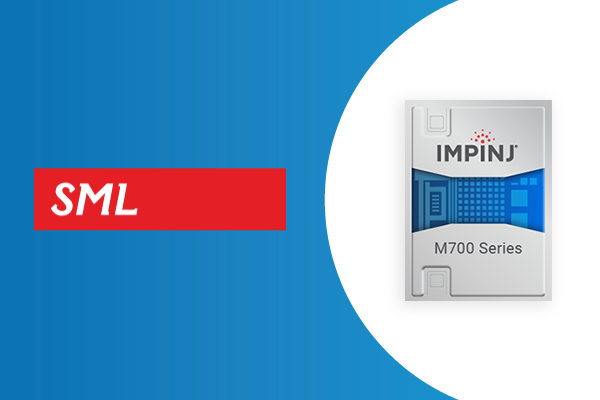 There are currently six tags with various size and performance options, including the GB3, GB4, GB5, Maze, GB25, and the GB18. These are a full upgrade for all SML current major inlays. All can be attached to or embedded in nearly any retail item, globally, to enable solutions for high-speed inventory counting and loss prevention, frictionless self-checkout, and seamless product returns.
Dean Frew, CTO and senior vice president of SML RFID Solutions, commented: "The introduction of the Impinj M700-based tag family is a significant step forward in RFID technology, and an unrivaled technological advancement. The reduced size, and enhanced cost effectiveness of this tag family will help retailers to maintain RFID effectiveness, making the most of the technology available to them."
Impinj M700 series tag chips are significantly smaller than previous chips, and SML says it will be able to offer a more cost-effective inlay product for customers. Their unique inlay design offers compact size, material robustness, high sensitivity, and a broad frequency bandwidth.
RAIN RFID brings clarity to retail by connecting inventory to enterprise retail systems—enabling visibility into every item across the supply chain, distribution centers, and stores. This in turn helps automate operations like inventory management, loss prevention, automated checkout, and more.
Impinj M700 series tag chips bring game-changing advancements to RAIN RFID. Ideal for large-scale, global deployments, Impinj M700 chips deliver high-performance, quality, and reliability, with improved tag readability.
>>Learn more on SML RFID's website
---
Article tagged as:
---
---
Friday, April 9, 2021
Sign Up for the latest news
Looking for more content? We've got you covered
Learn more about Impinj and RAIN RFID in our resource library
Visit Library
Get the latest industry happenings delivered straight to your inbox