Smart Robots, Impinj, and the Future of Retail Happening Now
Gartner predicts that by 2025, at least two of the top 10 global retailers will establish robot resource organizations to manage nonhuman workers. Here's how smart robots are already changing how we conduct inventory, checkout, and more.
While COVID-19 has drastically increased the rate at which retailers need to adopt automation into their store operations, it isn't a new concept: many retailers today are already using smart robots to optimize operations by providing inventory visibility or assisting with order picking. We wrote about Decathlon's smart robot Tally when they opened their first US stores in April 2019. This sports equipment behemoth made their American debut with a 47,000 square foot flagship store, featuring more than 10,000 products. With that many products circulating on the sales floor, Decathlon needed help maintaining an accurate inventory count. They chose Simbe Robotics' autonomous robot Tally, which has an Impinj RAIN RFID reader inside, to solve this challenge.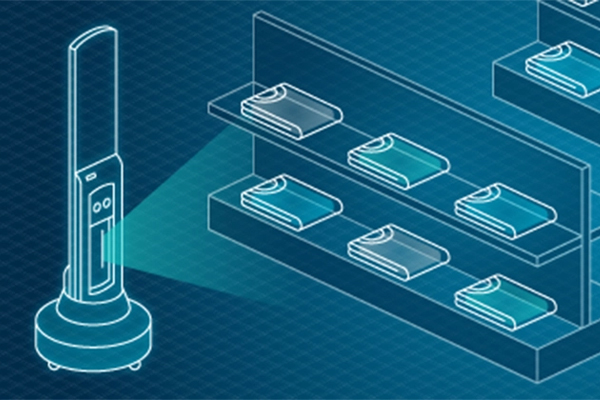 A new retail store with a new robot solution
Decathlon attaches a RAIN RFID tag chip with each item they sell. As Tally moves throughout the store, an Impinj Indy R2000-based reader scans hundreds of tagged items per second, continually monitoring inventory counts and returning actionable data to store associates. Once Tally collects this inventory data, it is available for sales associates to see misplaced or out-of-stock items, and inventory managers are better equipped with faster and more accurate data on how products move on the sales floor. With these valuable insights, managers can see trends over time and make more informed inventory decisions.
In addition to providing valuable inventory data and insight, the Tally robot gives sales associates more time to interact with customers. Rather than spending hours or even days counting inventory, Tally has allowed associates to remain on the sales floor serving the most critical part of any business: customers. But Tally isn't the only Robot freeing up employee time and attention for customers.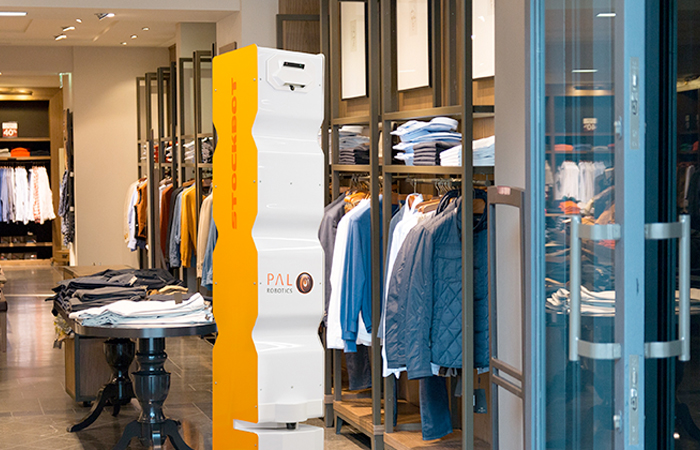 Automating stock for better customer service
Before Tally rolled into stores, Impinj was showcasing new retail robotics at NRF 2019. Similar to Tally is Stockbot by PAL Robotics, Stockbot is equipped with an Impinj Speedway reader to take stock in retail stores and warehouses. This autonomous robot can work without supervision, overnight or with customers around, eliminating human error by detecting items—and their spatial location—through a combination of robotics and RAIN RFID technology. Stockbot collects precise inventory count and location information, allowing retailers to analyze stock-flow and make smart decisions and intuitive predictions based on hard, accurate data. It's not just inventory being simplified by robots, however.
RAIN RFID-assisted checkout
Smartrac's Midas FlagTag was used as part of a trial of a robotic checkout system at a Lawson store in Japan. In this robotic cashier-less checkout system designed by Lawson and Panasonic, each item in the store was tagged with a RAIN RFID tag chip. Shoppers check out using a specially designed shopping basket and a cashier-less checkout system—it even bags the groceries!
This system, also in testing with popular convenience stores Family Mart and 7-Eleven, will help prevent food waste, provide more inventory visibility, and hopefully address a growing labor shortage. With approximately a billion products sold in their stores each year, Lawson plans to tag all products and introduce unattended stores, by 2025.
Changing retail, one robot at a time
This blog rounded up a few of the ways that robots are already changing retail—but there are more exciting technologies to keep an eye on. For more insight into the changing landscape of retail, you can check out why some retailers are turning to IoT, the long-term effects of COVID-19 on retail, and the seven ways RAIN RFID is bringing retail into the future.
Gartner does not endorse any vendor, product or service depicted in its research publications, and does not advise technology users to select only those vendors with the highest ratings or other designation. Gartner research publications consist of the opinions of Gartner's research organization and should not be construed as statements of fact. Gartner disclaims all warranties, express or implied, with respect to this research, including any warranties of merchantability or fitness for a particular purpose. Gartner Market Guide for Smart Robots in Retail, Kelsie Marian, Miriam Burt, 4 May 2020


---
Article tagged as:
---
---
Thursday, June 11, 2020
Sign Up for the latest news
Looking for more content? We've got you covered
Learn more about Impinj and RAIN RFID in our resource library
Visit Library
Get the latest industry happenings delivered straight to your inbox