RFID in Airports: Automated Check-in and RFID Bag Tags
Check how RAIN RFID technology changes the way we fly and airlines operate with streamlined check-ins, trackable luggage, and shorter security lines.
Flying, once a glamorous luxury, has become something where arriving three hours early to compensate for delays is the new normal. From checking bags, to boarding planes, to collecting luggage, it may seem like the standing in line will never end. For both airlines, and consumers, this is a serious problem.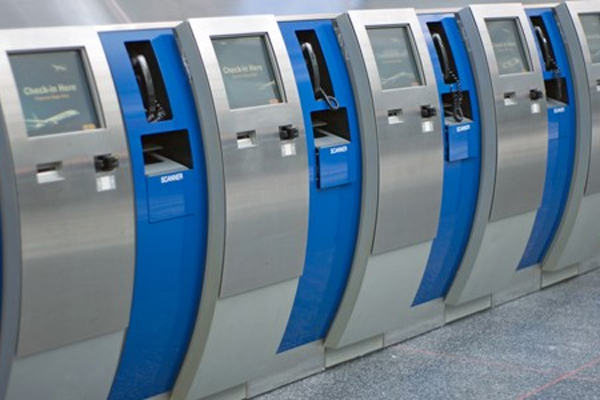 Airport officials recognize that long lines are often due to slow moving security lines, cuts in labor, and tasks relying on manual labor—all challenges that, in the past, have proven difficult to meet. These days, RAIN RFID can make travel smooth again.
From airlines in India to airports across the US, implementation of RAIN RFID is a growing trend. The technology at work is simple:
The information picked up by readers is sent through apps to those who need it -- from customers who want to track their bags, to airport workers who need to make decisions in real-time to get a bag to the right plane quickly.
Airports see shorter lines, better service
Since enhancing services with RAIN RFID technology, participating airports have seen shorter lines, simplified security checks, and reduced costs of operating:
Smartphone luggage tracking lets consumers fly with confidence
Airlines are using RAIN RFID-enabled luggage tags to give each item a unique identification code that is automatically scanned as it goes through checkpoints. This lets travelers track their luggage on their phone to ensure it's ready to meet them when they touch touchdown, making lost luggage a thing of the past.
Reduction of manual tasks reduces operating costs for airlines
RAIN RFID tags can be scanned by readers installed in doorways, thus removing the need for workers to manually scan each piece of luggage. Airlines can then better allocate their manual labor to service travelers more efficiently.
TSA operations are streamlined to reduce wait-times
Chips attached to TSA bins allow workers to easily process carry-on items. The RAIN RFID chips are scanned as bins pass into x-ray machines, and if their contents are flagged, bins are automatically redirected to a separate area. This streamlines the TSA process, removing bottlenecks, and reducing traveler wait times.
Based on the success of these initial programs, many airports and airlines are looking to introduce or expand existing RAIN RFID use, with the hopes that flying becomes less of a headache and more the exciting adventure it used to be.
---
The airline industry is at the brink of a revolution in baggage tracking. Deploying RFID globally will increase accuracy and reduce mishandling rates. This is a win-win situation—passengers will be happier, operations will run smoother, and airlines will save billions of dollars.
---
---
Article tagged as:
---
---
Saturday, December 24, 2016
Sign Up for the latest news
Looking for more content? We've got you covered
Learn more about Impinj and RAIN RFID in our resource library
Visit Library
Get the latest industry happenings delivered straight to your inbox