Retail Digital Transformation in 2022: Our Takeaways from an Industry 'Huddle'
Retail experts from Barcoding and Impinj weighed in on recent retail developments in an industry 'huddle' about digital transformation in 2022. Here are our highlights of the conversation.
Impinj joined our partner Barcoding, Inc for a webinar on the rapidly changing face of retail. In this industry 'huddle' entitled "Your 2022 Digital Transformation with RAIN RFID," Ashley Burkle, Impinj's Retail Industry Leader, discussed with other retail experts how RAIN RFID enables much-needed agility and accuracy—and how it will continue to benefit retailers in the future.
You can watch the entire webinar here, and we've summarized some key takeaways below:
Digital Transformation in 2022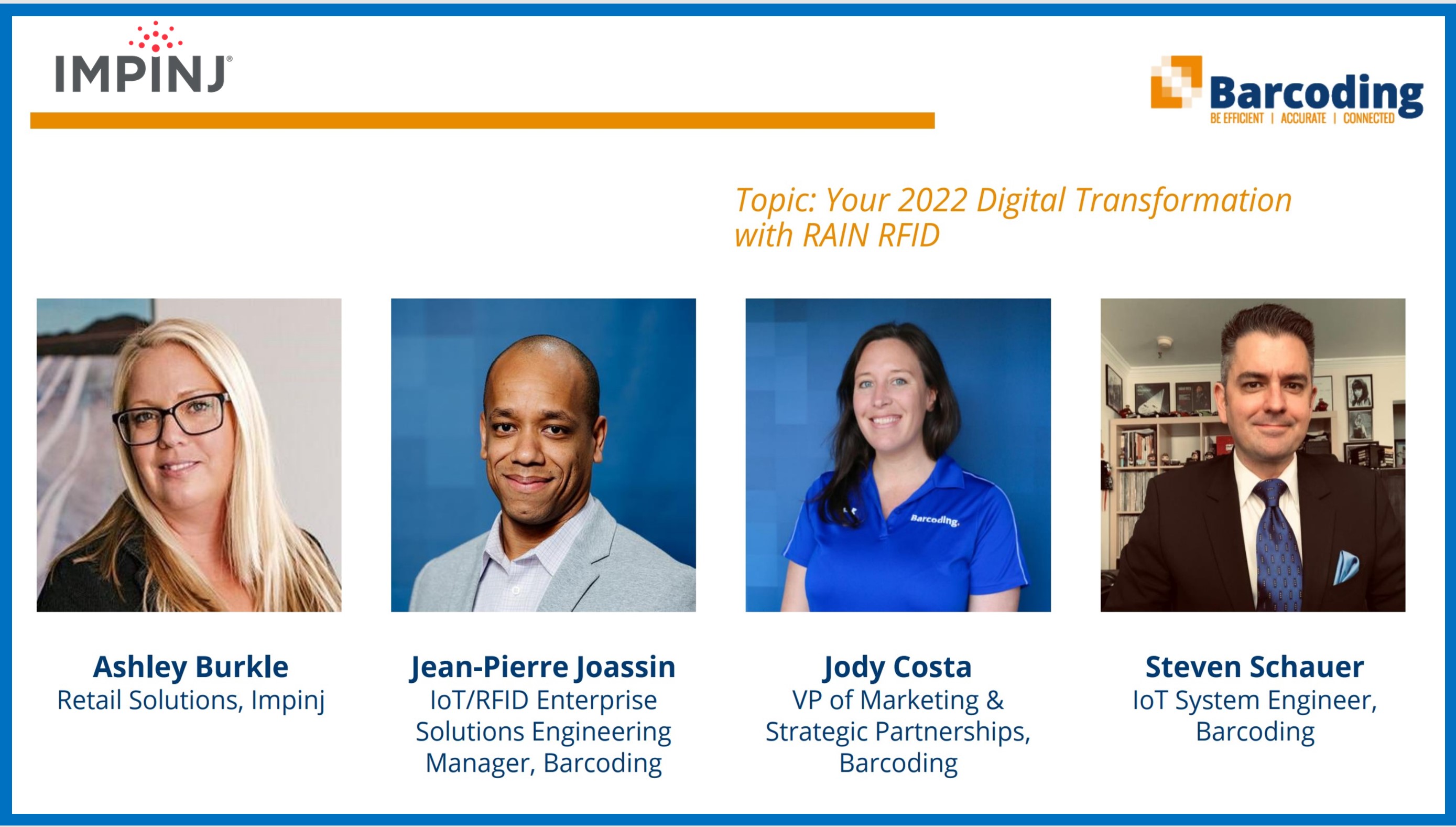 In 2022, retailers want their digital transformation to assist with:
Data-driven business decisions
Service-oriented experiential retailing
Building efficiency and agility through automation
With brick-and-mortar stores closing temporarily or limiting in-store capacity to enforce social distancing measures, retailers experienced unprecedented challenges with inventory visibility. Stagnant inventory was stuck in closed stores, or backed up distribution centers and warehouses further up the supply chain. These inventory visibility challenges have stayed top of mind as retailers consider their 2022 digital transformation.
---
The more RFID use cases you adopt, the more ROI you see.
---
Omnichannel operations
Post- COVID-19, customers are even more discerning about flexible fulfillment options. Shoppers expect what they want, when they want it, and how they want it— and savvy retailers are taking note.
In order to achieve these flexible fulfillment options, retailers need better accuracy, better visibility, and access to real-time data about location and status of inventory.
Retailers are running into complex operations, both in the stores and throughout their supply chains, trying to keep up with omnichannel fulfillment.
Inventory accuracy is fundamental to omnichannel operations—including fulfillment channels, replenishment, available-to-promise (ATP); and pick, pack, and ship. Retailers succeeding at this are using RAIN RFID to glean real-time data on inventory.
What retailers should know about RAIN RFID today
RAIN RFID isn't just for apparel. It is applicable across a wide spectrum of items, from small pharmaceuticals to luxury sports equipment.
Retailers may be surprised to learn that they already have RAIN RFID tagged items in their stores; more and more manufacturers and suppliers are tagging items for their operations.
Successful adoptions start small, but with a foundation for long-term expansion.
The industry experts recommended creating an adoption program with a foundation for scalability: by starting with a smaller subset of inventory to tag, choosing the best tagging process for different locations and use cases, and determining the kind of inlays for all use cases, retailers can create a successful long-term strategy at the outset.

---
Once an item is tagged, it's basically a smart device. You can read it as many times as needed at as many points throughout the supply chain as you want.
---
Industry expert predictions for the future
Retailers will start adopting RAIN RFID more quickly, including different types of retailers, such as beauty or electronics.
RAIN RFID at self-checkout will continue to grow in popularity and need.
Technological improvements, such as new antenna designs, and better inlays with smarter chips, will further drive adoption.
As other technologies advance, there will be more and more RAIN RFID-enabled products, making RAIN RFID an integral technology in the Internet of Things.
While RAIN RFID is currently popular for inventory management, omnichannel operations and satisfying customers, the applications of RAIN RFID are not limited: we are already seeing a second-generation of use cases emerging, including smart fitting rooms, shrink visibility for loss prevention, inventory visibility within the supply chain, and more.
RAIN RFID is a proven technology, with proven ROI in the retail space, and is the best technology to serve retailer's digital transformation and omnichannel needs— both now, and into the future.
---
Article tagged as:
---
---
Tuesday, October 12, 2021
Sign Up for the latest news
Looking for more content? We've got you covered
Learn more about Impinj and RAIN RFID in our resource library
Visit Library
Get the latest industry happenings delivered straight to your inbox