RAIN RFID-Enabled Tally Robot Automates Grocery Store Inventory
Tally 3.0, the RAIN RFID-enabled robot, is back with new skills: monitoring inventory levels and expiration dates in grocery stores thanks to RAIN RFID tags.
Do you remember us writing about Tally, Simbe Robotics' shelf inventory tracking robot? Tally is back—this time with expanded capabilities, scanning on-shelf inventory at grocery stores and food retailers, with a focus on tracking inventory levels of consumables and high-value perishables.
Simbe Robotics' Tally 3.0 is deployed at several grocery store locations globally, tracking the location, availability, and expiration dates of goods throughout the store. This accurate, real-time inventory data helps retailers maintain appropriate inventory levels, remain informed and proactive on upcoming expiration dates, and enable different forms of omnichannel fulfillment.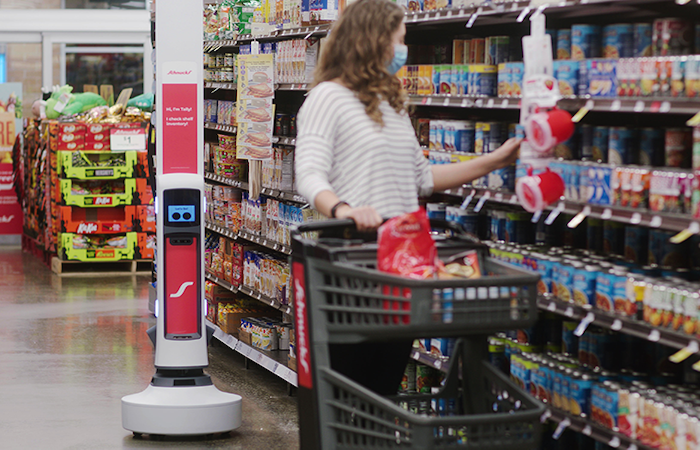 Automating inventory on wheels
Tally 3.0 travels store aisles autonomously, using a built-in RAIN RFID reader chip (the Impinj Indy R2000) and antenna array to pick up data from RAIN RFID-tagged products. Tally's mobility means retailers can get accurate inventory counts without using fixed or handheld readers—automatically, throughout the day, without employee intervention. Each RAIN RFID tag contains data not only on the type of product, but on specific sell-by or expiration dates for individual units, giving retailers information not only on how much stock they have available, but the data they need to make proactive decisions— like having a promotion or sale to ensure less food is wasted. This real-time inventory data has been especially helpful during COVID-19 as grocery stores step up their performance as fulfillment centers for buy online, pick-up in-store and buy online, pick up at curbside purchases.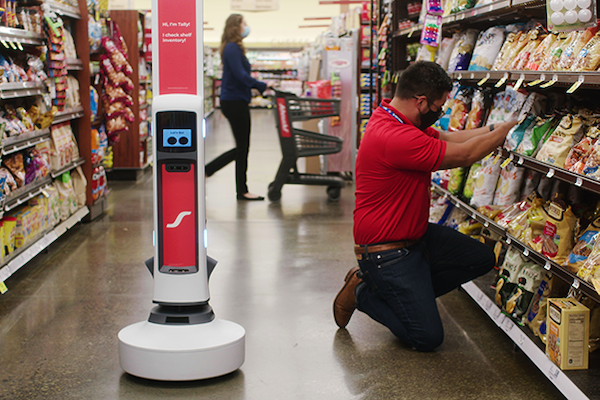 Tally 3.0
Simbe introduced the first iteration of an RFID-enabled Tally two years ago alongside a deployment in Decathlon, a sporting goods store. Tally 3.0 comes with several improvements and adjustments to its predecessors. In order to access higher shelves and overstock items, Tally 3.0 is taller than older units, and capable of reading products at a height of 10 to 15 feet. The read range is somewhat variable, depending on how products are situated on the shelf, but averages a read range of about 20 feet. Tally 3.0 includes an Impinj Indy R2000 reader chip, as well as four antennas designed by Simbe. The tag read rate is about 50 to 60% faster than previous incarnations. Owen Davies, Simbe Robotics' lead mechanical engineer, explains that "...given the greater range of the antennas, the robot is able to pick up tags from adjacent aisles, by using localization techniques, we are able to provide accurate estimates of where the tags are."
RAIN RFID, Retail, and the Supply Chain
While RAIN RFID has long had use in retail applications, COVID-19 has emphasized the value that RAIN RFID brings to use cases like omnichannel fulfillment. "In order to effectively enable services like delivery and buy online and pick up in store, retailers need access to frequent and accurate product location and inventory data. The increased interest in RFID is driven by this demand," according to Simbe CEO Brad Bogolea.
---
Traditionally, store teams must scan each product individually to check expiration dates, but with Tally, we can accomplish the same task with RAIN RFID tags, saving 30-100 hours a week for store teams to focus on other tasks, such as fulfilling orders or helping customers.
---
In addition to inventory management, loss prevention, and omnichannel fulfillment, RAIN RFID enables another use case for retailers specializing in consumables: food supply chain management. Tracking and monitoring product movement, storage conditions, and the temperature of perishable food helps ensure products are delivered at the peak of freshness and quality. Additionally, by automating traceability at the individual unit level, brands can better ensure product safety and build consumer trust. If an issue does arise, this level of visibility makes it easier to respond quickly, accurately, and appropriately.
This can help explain why this specific application for RAIN RFID is growing in popularity. As Bogolea says, "...the global pandemic has really highlighted the need for greater automation and better data within stores. We've seen a massive increase in our business in the grocery side."
---
Article tagged as:
---
---
Friday, February 5, 2021
Sign Up for the latest news
Looking for more content? We've got you covered
Learn more about Impinj and RAIN RFID in our resource library
Visit Library
Get the latest industry happenings delivered straight to your inbox