Part 2: Explore How Retailers Can Implement an IoT Strategy Using RFID
In the second of this two-part series, explore how retailers can implement an IoT strategy using RAIN RFID to create smarter physical stores.  
Retail is changing, and everyone wants to know how to survive the inevitable transformation. That's why we interviewed Kees Jacobs, vice president, Consumer Products and Retail from Capgemini and Retail Expert Ashley Burkle from Impinj to discuss Smart Digital Store strategies and RFID's role in connecting the business. In the second half of this two-part series, we sit down with these two retail industry experts to explore the Smart Digital Store and how RAIN RFID from Impinj is enabling new capabilities for brick-and-mortar stores.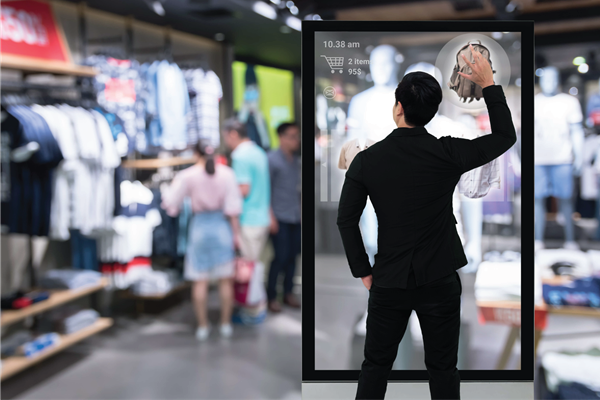 Kees, what are Capgemini's Smart Digital Store solutions for retail?
Our priority is to create measurable business value for retail clients. Using our integrated Smart Digital Store framework, we tailor solutions to specific retail needs. We connect expected outcomes to key ingredients that enable them – integrating the customer, the store employee, the product, and the physical store. Our partnerships with Impinj and Intel, and our broader ecosystem allow Capgemini to help retailers build and sustain competitive advantages through cutting-edge and scalable technology solutions that culminate in an immersive, frictionless, and responsive store environment.
Recently, we helped an international fashion retailer create a winning shopping experience via an RFID-based smart fitting room. The solution uses Impinj RAIN RFID technology to identify clothes brought in to a fitting room. The system includes interactive touch screens inside the fitting rooms and uses the Microsoft Azure cloud to connect all the elements and enable analytics and reporting. The solution connects store employees to the system so customers can get assistance, such as requesting different sizes or related products, without leaving the fitting room.
Ashley, what role does RAIN RFID play in Capgemini's Smart Digital Store?
The Impinj RAIN RFID system provides retailers with the inventory visibility in the Smart Digital Store that we highlighted in last week's blog. Inventory accuracy provided by accurate data from a RAIN RFID system transforms a retail business by streamlining store operations, increasing shopper engagement with items through interactive displays and providing frictionless check-out.
What are the benefits of RAIN RFID in the Smart Digital Store?
The Smart Digital Store using RAIN RFID leverages use case applications that help a retailer's top and bottom lines around these four key areas:
First, store operations. Accurate inventory provides retailers real-time insight into stores to:
Increase visibility to theft at the item level including when and where an item exited the store
Gain data on item interaction including fitting room conversions, abandoned items, and strategic merchandise such as high-turnover, high-value, and high-shrink items
Optimize inventory replenishment with recommendations and alerts
Augment cycle counts and shore up inventory data with continuous data from fixed readers tracking item movement throughout the day at strategic points in the store
​Second, item engagement. Many retailers invest in tracking the movement of shoppers. Using RAIN RFID for item tracking retailers can:
Understand where items move throughout the store
Track and analyze shopper baskets throughout their in-store journey
Alert associates of abandoned items that need to be restocked to their correct departments
Combine item movement data with shopper movement data for a comprehensive understanding of shopper behavior
Locate items more quickly by knowing what zone an item is currently in and using a handheld to find the exact location. This way, associates will know where to start looking from the get go.
Third, interactive displays. Capture customer attention when customers step foot in your store with seamless interactive experiences that respond as people interact with products:
Bring online shopping experiences into the store
Transform the fitting room with a new approach and experience
Gain in-store analytics
Help shoppers find and buy products they want
Reduce employee training costs while increasing product knowledge
Finally, automated checkout. Blend the best of both shopping worlds: online and brick and mortar with frictionless RAIN checkout:
Eliminate the tedious task of scanning each barcode one by one
Don't lose sales from shoppers abandoning a long checkout line
Reduce associate error or theft
Reduce associate hours
​With retailers already adopting an omnichannel strategy, and many heading towards unified commerce, what can RAIN RFID do to support continued digital transformation in retail?
We like to say you can "start anywhere, scale anytime." Once an item is tagged using RAIN RFID, a retailer can collect item data along the supply chain to identify identity, location, and authenticity at various points along the item's path, supporting applications such as loss prevention, replenishment, pick and pack accuracy, return verification.
Why is this important? Because retailers are having to fight to stay alive in the current competitive climate. More efficient operations are required to save money and heightened customer service and experience are needed to create loyalty and attract and retain retail shoppers. These areas are where RAIN RFID brings tremendous value.
One other major transformation on the horizon is unified commerce or channel-less retailing. Shoppers don't care what channel products come from, whether that is in their local store for pick-up or delivered to their door. Shoppers just want the item where they want it. RAIN RFID turns each item into a smart device allowing retailers to connect the item with the shopper seamlessly and regardless of the channel. A Smart Digital Store powered with RAIN RFID removes friction to delight customers.
Blog Part 1: Explore How Retailers Can Implement an IoT Strategy Using RFID
Attending NRF? Come see us to learn more about our solution:
Impinj Booth #3465: https://go.impinj.com/NRF
Capgemini Booth #2473: https://www.capgemini.com/events/nrf-2019/
For information about Capgemini/Impinj retail solutions, visit: https://www.impinj.com/library/solution-briefs/accurate-retail-inventory-data-capgemini/
For more information about RAIN RFID and Impinj Retail Solutions visit: https://www.impinj.com/industries/retail/
For more information about Capgemini Smart Digital Store solutions, visit: https://www.capgemini.com/service/the-smart-digital-store/
---
Article tagged as:
---
---
Wednesday, December 12, 2018
Sign Up for the latest news
Looking for more content? We've got you covered
Learn more about Impinj and RAIN RFID in our resource library
Visit Library
Get the latest industry happenings delivered straight to your inbox