Parkland Memorial Hospital Automates Asset Tracking in New Facility
Parkland Memorial Hospital, which serves one million outpatients annually, chose a RAIN RFID asset management solution for their new facility.
Nearly three years ago, Parkland Memorial Hospital opened a new 2.1 million-square-foot facility—nearly twice the size of the old hospital—to serve more patients in the fast-growing Dallas County in Texas. But doubling the size of the hospital also meant a drastic increase in the number of medical devices that needed to be tracked. So, Parkland turned to a RAIN RFID solution to increase asset tracking visibility and inventory management efficiency.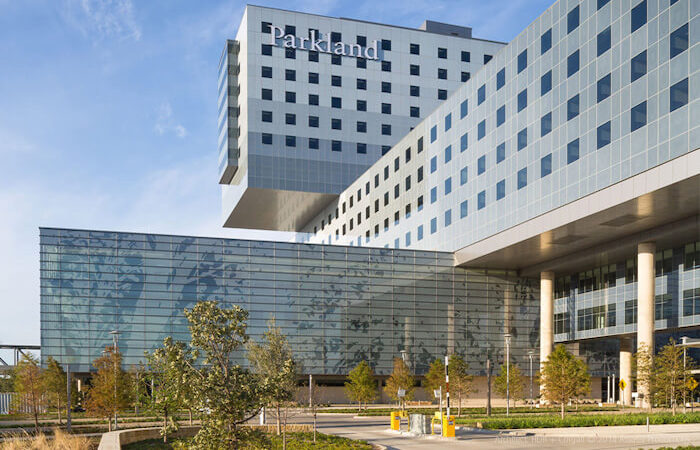 Parkland Memorial Hospital deploys RAIN RFID asset management solution
Prior to using an automated RAIN RFID solution, hospital staff managed inventory by scanning barcodes on assets with handheld devices. In order to reduce this manual labor, and better track and manage expensive assets, Impinj worked with partners Argo Wireless and Nuvolo to deploy an automated asset tracking solution at Parkland.
In total, 75 Impinj xArray RAIN RFID readers were installed to monitor over 60,000 RAIN RFID-tagged assets as they moved throughout the new facility, including shipping and receiving areas. With their automated RAIN RFID system, staff now has insight to where items are as they move between rooms or pass through doorways.
Parkland also deployed Impinj ItemSense software to provide seamless and continuous device health and management updates to the xArrays' firmware, in addition to providing business intelligence to hospital staff for more streamlined asset management.
To find out more about how the Impinj platform saves helps hospital staff protect and manage medical assets, visit our healthcare solutions. And be sure to visit Impinj booth 643 at HIMSS to discover other ways healthcare providers can cut costs without cutting quality.
---
Article tagged as:
---
---
Tuesday, March 6, 2018
Sign Up for the latest news
Looking for more content? We've got you covered
Learn more about Impinj and RAIN RFID in our resource library
Visit Library
Get the latest industry happenings delivered straight to your inbox