New RAIN RFID Tag Chips for Retail, Supply Chain, and Aviation
Introducing Impinj M730 and M750 tag chips which deliver high performance, fast inventory capability, and advanced features for the Internet of Things .
Today we announced the availability of the Impinj M730 and M750 tag chips. The first in the Impinj M700 endpoint IC family, the new chips provide high performance, fast inventory capability, and advanced features for next-generation, universal RAIN RFID tags that can be attached to, or embedded in, nearly any item, and operate worldwide.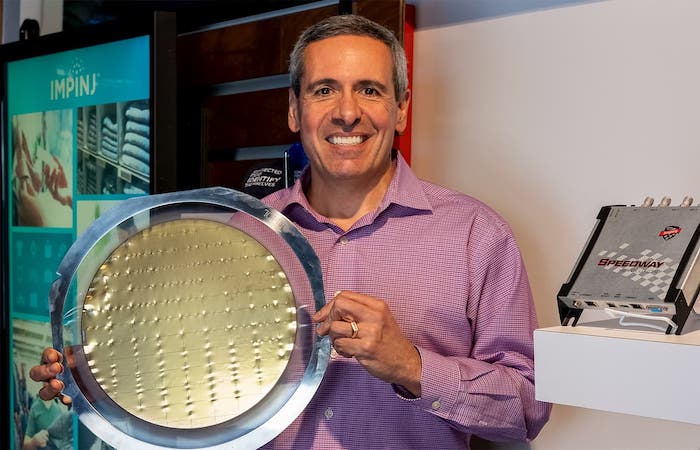 Bring IoT to Retail and Additional Markets with High-Performing Tag Chips
Impinj M730 and M750 tag chips expand RAIN deployments, powering small tags that enable solutions for high-speed inventory counting, loss prevention with frictionless self-checkout, and embedded tagging with seamless product returns. The new tag chips introduce a new Protected Mode which enables loss prevention while protecting consumer privacy by making a RAIN tag invisible to RAIN readers. The tag can be returned to normal operation, and made visible to RAIN readers, using a secure PIN.
---
With over 30 billion items connected, Impinj tag chips connect everyday items to the Internet and are the industry standard for RAIN RFID solutions for retail, air transportation, healthcare, and more.
---
Improve Reliability and Readability of RAIN RFID Tags
The Impinj M730 chip has 128-bit EPC memory while the Impinj M750 has 96-bit EPC memory and 32-bit user memory. The new chips allow users to operate their RAIN RFID readers faster than with other tag chips, reducing inventory time and improving productivity. They also
Optimize performance and improve tag readability with Impinj FastID high-speed reading and enhanced Impinj AutoTune adaptive RF tuning
Ensure accurate data and reliable tags with Impinj TagFocus read redundancy prevention, Impinj Enduro IC bonding technology, and enhanced Impinj Integra memory diagnostics
Impinj is taking orders now for the Impinj M730 and M750 chips and new products based on these chips are expected over the coming months from leading RAIN RFID inlay manufacturers.
---
Article tagged as:
---
---
Wednesday, December 4, 2019
Sign Up for the latest news
Looking for more content? We've got you covered
Learn more about Impinj and RAIN RFID in our resource library
Visit Library
Get the latest industry happenings delivered straight to your inbox