MODEX Recap: Building the Connected Supply Chain
At MODEX, we learned how businesses today are building the supply chains of the future and why RAIN RFID is an essential component.
MODEX brings together manufacturing and supply chain professionals from across the US and more than 110 countries.­­­­ In a previous article we touched on how RAIN RFID delivers the item-level data needed to enable Artificial Intelligence (AI) and the Internet of Things (IoT). Coming back from MODEX, where I hosted a panel on this very subject, it's clear this is something we should explore more.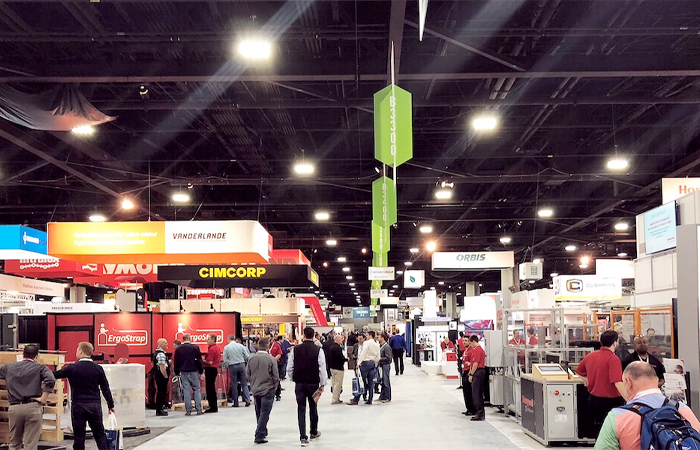 ​
High-tech supply chain solutions are appealing, but complicated
From my conversations with partners and supply chain operators on the show floor, it was clear that AI and IoT solutions really resonated with businesses looking to forward their digital transformation. Attendees truly understood the need to connect physical items to their digital applications.
But often times, these solutions are as appealing as they are mystifying, creating more questions than answers. Frequently in conversation I was asked "how will this work with my current system?" or "how does this scale?" Even the basic "how does this work?" would come up. Let's start with the easy stuff.
The value of the Internet of Things and AI in your warehouse
These solutions start small—with RAIN RFID tag chips to be exact. These tags are attached to individual items or assets—think a pallet or a box—which are then read by a handheld reader, or fixed readers located overhead or at dock doors. This allows for the continuous collection of item-level data about every item in your warehouse as it comes into, goes out of, or moves through the building.
That data can then be integrated into your ERP, WMS, and TMS systems, thereby connecting your physical items to your digital applications, and your business to the Internet of Things.
Now you have critical data about every item in your business, delivered in real-time. So what do you do with that information?
For many, the answer lies with AI, machine learning, and automation. Reliant on accurate, timely data, these solutions deliver the predictive analytics necessary to catch mistakes before they happen.
The connected supply chain isn't just a pipe dream
With products being made oceans away from where they're sold, it's essential to get shipments right the first time. Demands from consumers for ever tighter timelines, and the advancement of omnichannel retailing requires that businesses ensure the delivery of the right product, at the right quantity, to the right destination, and quickly. Anyone at MODEX would tell you—this is no simple task.
But the visibility enabled by RAIN RFID, IoT, AI, and automated solutions makes it a lot easier. And as businesses continue to engage with consumers in increasingly disruptive ways, our supply chains must continue to evolve to keep up.
Contact us to learn more.
---
Article tagged as:
---
---
Thursday, April 19, 2018

Jason Ivy
Former Impinj Sr. Manager of Supply Chain & Logistics Solutions
Sign Up for the latest news
Looking for more content? We've got you covered
Learn more about Impinj and RAIN RFID in our resource library
Visit Library
Get the latest industry happenings delivered straight to your inbox