Michelin Drives Automation and 'Makes Tires Talk' with RAIN RFID
Michelin and MESNAC use RAIN RFID from Impinj throughout the full tire manufacturing supply chain for a range of benefits.
Michelin wants to "make tires talk more." And they're doing it with RAIN RFID.
Pascal Zammit, director of connected mobility solutions for the Michelin Group, wants tires to become part of the Internet of Things, "just like connected objects can be found everywhere today." The convergence of rising technologies is leading to new and innovative services, he said in a recent news release, and data is an essential part of the equation.
Using RAIN RFID solutions based on Impinj technology, tire manufacturers have the opportunity to ensure that they are delivering full lifecycle visibility, from inventory to sales to maintenance.
The manufacturing landscape is competitive, and tire production is no exception. To continue thriving, leading companies need to leverage digital transformation initiatives that produce resilient, efficient, and robust automation. For some businesses, these efforts will coincide with a broader drive toward preparing for Industry 4.0 innovations. Downstream advantages for fleet managers are also enabled by these solutions. Among the influences that are driving companies in this space to adopt IoT technologies is the need to improve inventory visibility and asset tracking.
Michelin Says 2023 Is the Company's Target for Connecting All Tires Using RAIN RFID
A December 2020 article from Tire Technology International explained that, by 2023, tire manufacturer Michelin intends to equip all of the automotive tires it produces with RFID technology.
Michelin identified several reasons for this move, many of which may be applicable to other tire manufacturers as well, as these companies seek to improve their product offering for car manufacturers, fleet managers, and others. Vehicle manufacturers like Michelin are looking for:
Better tire management throughout the product's life span: By automating the task of tracking individual tires, manufacturers can streamline inventory management throughout the manufacturing process and through sales.
The ability to use predictive maintenance: By connecting data about tires into automated tire management systems, fleet managers and maintenance personnel can anticipate when retreading or other services will be needed.
Enhanced driver safety: Michelin noted in Tire Technology International that smart vehicle systems could eventually leverage information from the tire's unique identifier to determine the tire's features and adjust vehicle performance accordingly.
Building RAIN RFID into the Tire Manufacturing Supply Chain from the Beginning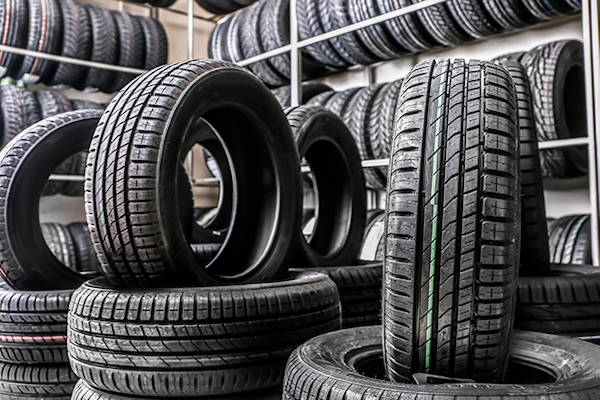 By enabling machine-to-machine communications in assembly and manufacturing processes, solutions built on the Impinj platform transform manufacturing and automotive assembly lines while streamlining even the most complex assembly processes. When equipment manufacturers realize the benefits of RAIN RFID, they're able to provide a distinct advantage for their customers. This comes in the form of full lifecycle visibility into the final products they produce and streamlined inventory management capabilities.
MESNAC is a global leader in tire-manufacturing equipment. By creating technology that makes efficient tire production possible, MESNAC supports its customers as they work to create high-quality tires that allow for visibility into the product's entire lifecycle.
How does MESNAC leverage the Impinj platform for its customers?
The equipment manufacturer incorporates the Impinj platform into its product offering, including readers built with the Impinj Indy R2000 reader chip and machinery that embeds tags based on Impinj RAIN RFID tag chips into tires.
Through this process, MESNAC has the opportunity to add value for its customers. With the equipment provided by MESNAC, tire manufacturers are able to embed RAIN RFID tags into tires during the beginning of the product's lifecycle, enabling enhanced inventory management and visibility.
The importance of durability for fleet managers
MESNAC's equipment allows tire manufacturers to embed tags containing durable Impinj tag chips into the tires they produce. These chips can operate for years without maintenance while handling wide-ranging stresses of the road and vehicle maintenance, from temperature variation to potholes and retreading.
Because of this durability, fleet managers are able to rely on Impinj tag chips to feed into intelligent tire management systems, enabling safer and more efficient tire management.
Further RAIN RFID Uses
By exploring how solutions built on the Impinj platform are able to support tire manufacturing throughout the supply chain, the benefits of RAIN RFID become clear.
Driving supply chain automation
RAIN RFID facilitates inventory traceability through the manufacturing process, to the store, and then to the consumer, as well as to service providers who maintain the asset. With accurate, automated, high-speed systems that leverage the Impinj platform, businesses are able to efficiently and accurately track goods across locations, streamline distribution center operations, and eliminate errors.
Enhancing fleet management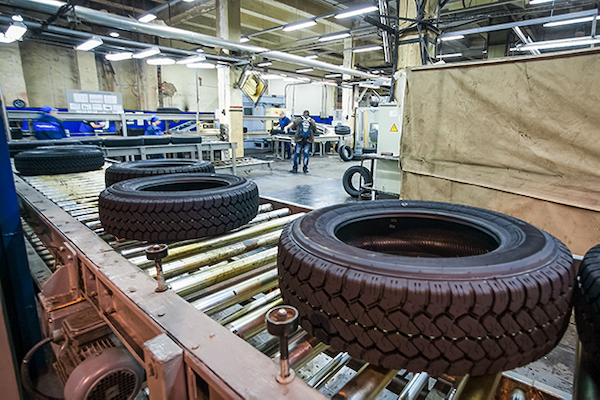 Using RAIN RFID and specialized software solutions, fleet managers can track mileage statistics, monitor safety, and analyze consumption to manage performance and tread wear. Given the benefits possible for fleet managers, it's easy to visualize the advantages of additional asset tracking systems made capable by the Impinj platform.
Providing RAIN RFID tag chips that are built to last
Since certain RAIN RFID tag chips are able to withstand the various hazards of the road, it's clear that these items can survive some very challenging conditions without any reduction in readability. The wireless technology is battery-free, lightweight, unobtrusive, and able to operate successfully for years without upkeep.
Importantly, smaller tags, which use smaller chips, like the Impinj M700, allow for new use cases that wouldn't be possible with larger tags.
Bring Boundless IoT to Your Operations
Gaining efficiencies while maintaining or improving accuracy throughout supply chain and logistics processes is at the heart of RAIN RFID adoption and expansion. By leveraging the Impinj platform, companies are able to improve inventory management and visibility, automate time-consuming manual processes, and better track assets like calibrated tools and trailers throughout their facilities.
The growing wave of industrial automation demands that businesses expand their use of IoT technology to improve efficiency and provide better products and services for all of their customers. Using RAIN RFID, the Impinj platform extends the IoT to every thing that supply chain organizations need to manage and track, bringing digital life to previously disconnected items, from tires and boxes to pallets and equipment.
---
Article tagged as:
---
---
Wednesday, March 31, 2021
Sign Up for the latest news
Looking for more content? We've got you covered
Learn more about Impinj and RAIN RFID in our resource library
Visit Library
Get the latest industry happenings delivered straight to your inbox