Looking Back on 20 Years of Connections
To mark our anniversary we're looking back on 20 years of building connections. Watch Chris Diorio, CEO and founder of Impinj, in this video retrospective.
For 20 years Impinj has designed, manufactured, and invented ways to connect everyday items to the internet, to further our goal of building a boundless Internet of Things. But items aren't the only thing we're working to connect. In this blog, we look back on our 20 year history and the connections we've built along the way.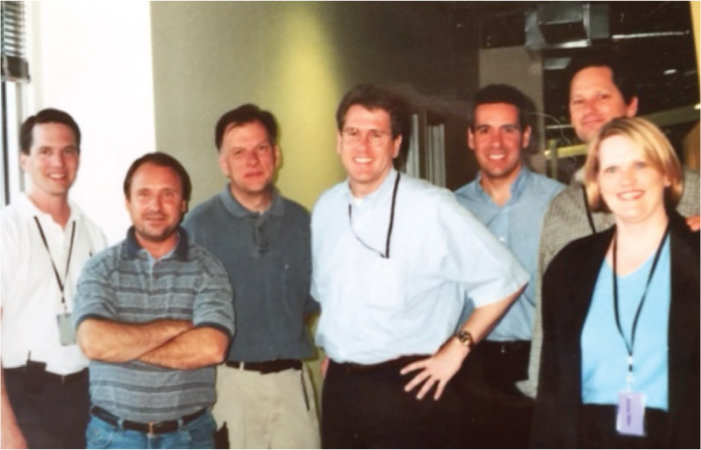 From the beginning
Chris Diorio founded Impinj while teaching at the University of Washington. His research led him to develop a self-adaptive silicon chip that could change and react to its environment after fabrication. This meant that chips could deliver dynamic information and responses in real-time. Dr. Diorio thought these inexpensive, tiny chips could be used to "tag" any physical item and connect it to the internet for unprecedented, unparalleled visibility into product movement. He brought this discovery to his mentor, friend, and legendary chip-developer, Dr. Carver Mead. Together, the two professors co-founded Impinj.
Setting the standard
In the years that followed, Impinj's approach to ultra-high frequency (UHF) RFID tag chips helped to set the industry standard. In 2014, Impinj joined a group of companies, many of whom are now Impinj partners, to establish the RAIN RFID Alliance. This organization focuses on promoting awareness, increasing education, and encouraging the adoption of UHF RFID technology, now called RAIN RFID.
Over the past few years, Impinj has continued to grow as the market-leading provider of RAIN RFID solutions and as a champion for a global RAIN RFID standard. This technology, deployed by the Impinj global partner ecosystem, has enabled digital transformation for businesses and consumers around the world.
Building connections
The most memorable connections are not between tag chips and readers, however. What differentiates Impinj are the connections built between people over the past 20-years.
Cathy Forinash, manager of sales operations, has been with Impinj from the start. She connected with Diorio through their kids when Chris's family was new to the area and eventually Diorio asked her to join Impinj. With fewer than 10 people at the time, the team became close-knit, often celebrating holidays together.
"Those people, that core group, I'm close to each and every one of them today."
One of her favorite Impinj memories was going to Nasdaq in New York in 2016 to ring the bell when Impinj went public. "Chris brought everyone who started in 2000 to celebrate. It was a rewarding moment to see the company go public… Some of those who started in 2000 have gone their different ways and live in different places, and I'd known them so long. Some of them, I'd watched their kids grow up. That was so rewarding for me, that I got to be a part of this."
While she's enjoyed watching Impinj grow and expand over the years, working with the people who comprise Impinj is still her favorite part of her job.
Extending connections
Impinj works with partners across the globe who act as an extension of the team to develop products and solutions built on the Impinj platform. Starting out with a handful of partners, the community has grown to serve customers in over 80 countries. Today, Impinj partners represent a vast range of services, geographies, solutions, and domain-expertise, delivering best-in-class RAIN RFID solutions.
"In my role, I work with Impinj partners in the Asia-Pacific region," says Joyce Zhou, manager field marketing, APAC region. "One of the things I love about our partner community is how innovative they are. They amplify Impinj's technology and bring solutions to our global customers."
Transforming the future
Impinj enables digital transformation by extending the Internet's reach from the cloud, through edge connectivity devices, all the way to physical items. Together with our partners, the Impinj platform delivers data that helps our customers analyze, optimize, and virtualize—providing industry-leading performance that helps organizations drive efficiency, increase profit, and delight the people they serve. Impinj is paving the way for a boundless future of the Internet of Things: one where we connect every thing.

See our founder and CEO Chris Diorio's share 20 years of making connections by watching the full Impinj 20th anniversary video.
---
Article tagged as:
---
---
Thursday, December 31, 2020
Sign Up for the latest news
Looking for more content? We've got you covered
Learn more about Impinj and RAIN RFID in our resource library
Visit Library
Get the latest industry happenings delivered straight to your inbox