Introducing New Impinj EU Upper Frequency Band RAIN RFID Readers
Today Impinj announced the release of new RAIN RFID readers with European Union upper frequency band compatibility.
Impinj is committed to facilitating RAIN RFID solution deployments across the globe. This commitment has led to exciting innovations, including most recently the release of our new enterprise-class reader and gateways compatible with European Union upper frequency band operations: the Impinj Speedway 4-Port fixed reader, Impinj xSpan gateway, and Impinj xArray gateway.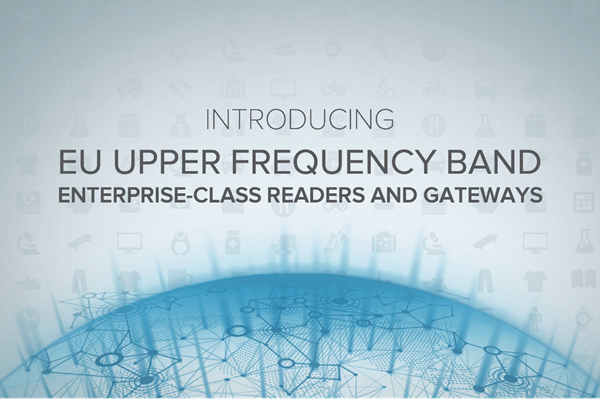 European Union regulatory changes
Current EU regulations allow RAIN RFID operation in the lower frequency band of 865-868 MHz using 2W e.r.p. radiated power and 200 kHz channels. Impinj has been actively advocating for regulatory changes to expand RAIN RFID operations into the upper frequency band of 915-921 MHz using 4W e.r.p radiated power and 400 kHz channels. Our new upper band-compatible reader and gateways match the anticipated regulation changes while providing the same reliable and trusted connectivity for RAIN RFID solutions of all kinds.
Reduced infrastructure costs
Upper frequency band operation provides 100% greater radiated power, 4W e.r.p. compared to the lower band's 2W e.r.p. As a result, our new Impinj upper band-compatible reader and gateways exhibit increased read range and coverage area, reducing the number of readers and antennas needed to cover the same area and, in turn, reducing infrastructure costs for solution deployments.
Faster item inventory
Upper frequency band operation is characterized by a channel bandwidth of 400kHz, compared to the lower band's 200kHz wide channels. The increased channel bandwidth doubles the read rate and accelerates the inventory process - halving the amount of time needed to read a population of tagged items.
Improved read-accuracy
High item-density and RF-unfriendly environments can make it difficult to accurately read tags. Items that are moving and are only in a reader's field-of-view for a short time are also difficult to read. Readers operating at greater power with higher bandwidth will expose hard-to-read tags and require less time to complete an inventory cycle – improving read accuracy.
Simplified global deployments
The EU upper frequency band closely resembles the FCC frequency band. This commonality facilitates easier development of global RAIN RFID solutions by enabling integration of tags and antennas that support multiple regions.
With improved performance, reduced infrastructure costs, and simplified global deployments, our new readers help expand opportunities for RAIN RFID partnerships in the EU and beyond.
Interested in learning more about Impinj readers and gateways? Check out our connectivity options: Impinj Speedway reader, Impinj xSpan gateway and Impinj xArray gateway or contact our sales team to learn more.
---
Article tagged as:
---
---
Wednesday, April 24, 2019
John Frederiksen
Former Impinj Vice President of Product Management
Sign Up for the latest news
Looking for more content? We've got you covered
Learn more about Impinj and RAIN RFID in our resource library
Visit Library
Get the latest industry happenings delivered straight to your inbox