Intern Insight on Working at Impinj
In this Q+A blog, our interns reflect on favorite moments, important lessons, and practical takeaways from their experience at Impinj.
The Impinj Internship Program is designed to equip university and graduate students with the necessary tools to accelerate their careers by providing meaningful, real-world experience in a dynamic and collaborative culture. In this blog, our engineering, finance, IT, and marketing interns reflect on favorite moments, important lessons, and practical takeaways from their experience at Impinj.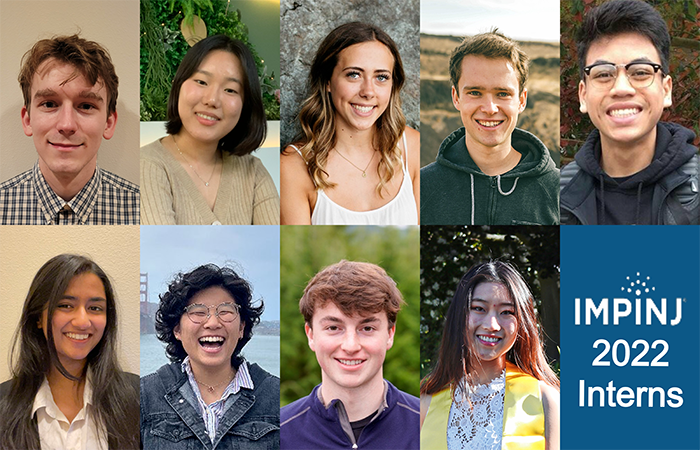 Meet Our 2022 Interns
Elizabeth Perenchio is a senior at the University of Washington, majoring in Information Systems & Marketing. This summer she was a Sales & Marketing Intern at the Impinj Seattle headquarters, and loved every second of it. From building a PowerBI dashboard, to organizing email campaigns, to implementing new team SharePoint sites, to presenting in front of the entire company at our weekly meeting, there was never a shortage of important & meaningful tasks for Elizabeth to accomplish.
Justin Leach grew up in the Seattle area and graduated from Gonzaga University in May 2022 with a degree in electrical engineering. He started at Impinj soon after and has been working with the Systems Engineering group ever since. Justin has been working on implementing new modem features and techniques.
Medha Nalamada was originally born in California but grew up in India. She is currently at UT Austin pursuing a B.A. in Economics with a minor in Finance. This summer, Medha worked as a Cost Analysis Intern and one of her primary projects was researching different advanced technology approaches to help reduce RAIN RFID costs.
Katrina Yang is a fourth-year Electrical & Computer Engineering student at the University of Washington, concentrating in embedded systems. At Impinj, Katrina was a Firmware Engineering Intern with the Software & Solutions team and her main project was to build a firmware platform to serve as a communication bridge between two reader chips.
Matthieu Blanchet is currently attending Georgia Tech and will be finishing his Master's in Electrical and Computer Engineering this December. He has lived in the greater Seattle area for 15 years. Matthieu interned with the Impinj Silicon Engineering team and worked on improving backend tools.
Yennie Jun is a Junior at Vanderbilt University studying computer science and mathematics. Although she attends school in Tennessee, she was born and raised in Issaquah, Washington. This summer Yennie worked as a Software Development Engineering Intern on an internal application that allows users to read and update values on an EEPROM chip for RAIN RFID readers and gateways.
Jack Barry grew up just outside of Seattle, went to high school in the Greater Toronto Area, and now studies Computer Science at the University of Notre Dame. This summer Jack worked with the Software & Solutions team on reader firmware test reporting improvements. He summarized test results from a GitHub feature testing workflows and created visualizations for testing trends in DataDog.
Daeun Shim grew up in South Korea and moved to the US in 10th grade. She recently graduated from the University of Washington with a Bachelor's in Electrical Engineering. Daeun has been working with the Impinj reader chip firmware team to build decoders for the reader chip analyzers.
Joey Chim was born and raised in Seattle. He studied at Seattle Central College for IT and received an Associate of Applied Science degree. Though he started out as an intern, he now works full-time for Impinj as an IT Support Analyst in the Information Technology department.
What was the most important thing you learned during your internship at Impinj?
Yennie: This was my first internship, and it has been extremely eye-opening and full of learning experiences. I learned technical skills like a new programming language and framework, became more familiar with Git, and applied topics I learned about in school to real-world problems. I also improved my communication skills, as I was expected to clearly explain my technical ideas in an easily digestible way.
Justin: During my time at Impinj, the most valuable thing I learned was how to take advantage of the resources provided to you. A couple months ago I had never touched python code, fast forward three months and now I feel that I'm a proficient scripter all because of asking coworkers questions and doing research on my own.
Elizabeth: One thing I learned during this internship was how to take initiative and ask for help when I needed it. This internship provided a perfect balance of independence and creative freedom, with teamwork and mentorship. Learning how to manage that balance in a professional setting is something I will take with me in my future endeavors.
Medha: One of the biggest things I learned was not to be afraid of tackling an unfamiliar challenge. Initially, I was intimidated by how much more I would have to learn outside of the field of finance to ensure my project was successful. However, towards the end, that learning experience was my most valuable takeaway and it prepared me to approach all opportunities head-on.
Matthieu: From a technical standpoint, I learned a lot about programming in a team-oriented environment, which is different from what they teach you in school. From a personal standpoint I learned how to manage working remotely, which strengthened my communication and collaboration skills.
What was your favorite part about interning at Impinj?
Elizabeth: Hands down, my favorite thing about Impinj is the people who work there. Everyone is on your team and genuinely wants you to succeed and feel empowered. They will help you discover your personal strengths, grow your professional toolbox, and support you unconditionally. My mentors, teammates, and even top executives always made sure I knew that I was a valuable member of the team and that the work I was doing was important.
Katrina: My favorite part is how respectful, collaborative, and positive the company culture is. Some summer highlights included getting to know the other interns during our bi-weekly meetings, learning about different departments from Impinj executives at our weekly forums, and spending time with my mentor, manager, and other coworkers at the annual company picnic.
Jack: My favorite part of the intern experience was that it wasn't a rigid program. At the beginning I was told what was needed for my project by my mentors, and from there I was able to make many personal implementation decisions as I saw fit. Though supported, I enjoyed how my project felt like my own.
Yennie: I have two favorite parts of interning at Impinj. For one, I am extremely grateful for the wonderful and supportive team I was a part of. They were always open to help and were amazing mentors. I also really enjoyed the fact that I felt like I was doing impactful work for the company.
Joey: I love how Impinj allows me to branch out and provide support to teams in various departments. It's always rewarding to connect with people whom you might not work with on a day-to-day basis, especially if you work in person at the Seattle headquarters five days a week like me.
What advice would you give to future Impinj interns?
Daeun: My advice for future interns is to never be afraid to ask questions. Everyone at Impinj is very supportive and encourages you to get the most out of the internship. They will be more than happy to share their insight with you.
Medha: The main advice I would give is to be prepared to be in charge. Impinj is a company that really provides freedom to its interns and lets them decide how they want to spend the duration of their internship. As an intern, I really felt responsible for my work and felt like my project added value.
Joey: I would advise future interns to network as much as possible and to meet often with their manager and/or mentor. It's really important to ask questions about your career journey and the roles you want to achieve in the near & distant future, and people at Impinj are always willing to help.
Katrina: I would encourage them to talk to people on teams other than your own. The best thing you can do as an intern is to learn about all the other departments, positions, and projects to figure out where your skills and interests fit best. Don't settle for anything less than what you think you are the most valuable for!
Justin: My advice for future interns would be to get into the office as much as possible. It may take extra effort to get there, but the people that you'll meet and interact with daily will more than make up for it. To sweeten the office experience, there are plenty of delicious snacks and they even provide lunch twice a week.
Impinj interns can expect to gain professional connections, career skills, and an opportunity to apply those skills in a real-world environment. Our internship program runs year-round, however the majority of our opportunities are available during the summer months for approximately 10-12 weeks. We offer roles in areas such as Software Engineering, Hardware Engineering, Marketing, HR, and more. Visit our careers page to learn more and apply.
---
Article tagged as:
---
---
Tuesday, October 4, 2022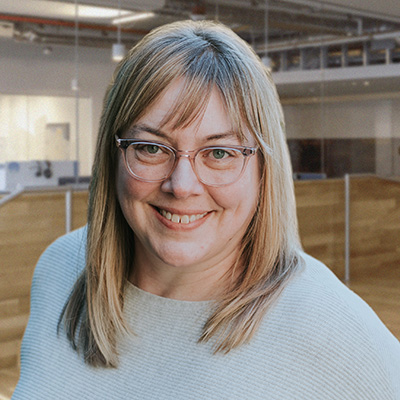 Jill West
Vice President, Strategic Communications
Jill West leads Impinj IoT technology adoption marketing initiatives across numerous markets including retail, healthcare, and supply chain and logistics.
Sign Up for the latest news
Looking for more content? We've got you covered
Learn more about Impinj and RAIN RFID in our resource library
Visit Library
Get the latest industry happenings delivered straight to your inbox