Impinj Showcases Array of RAIN RFID Solutions at NRF 2019
Transformative wireless retail solutions on display in booth #3465
Impinj will demonstrate new wireless technologies and IoT strategies retailers can use to create smarter physical stores, at the NRF 2019 Big Show & Expo. Driven significantly by retail demand for RAIN deployments, this year Impinj shipped its two millionth connectivity device, as well as its 25 billionth Monza endpoint IC, delivering on its vision to bring digital life to everyday items.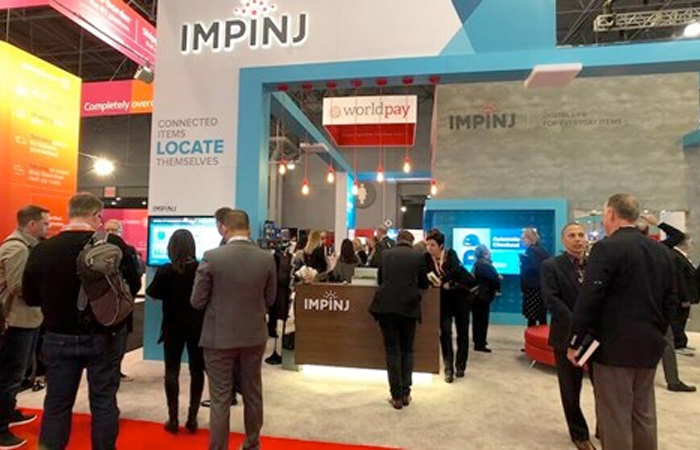 "Retailers are increasingly looking for transformative business value from RAIN, and they want real-time visibility into the movement of goods from the moment they arrive at the loading dock, all the way through to automated customer checkout," said Ashley Burkle, senior manager of retail solutions at Impinj. "Recent statistics from Apparel Magazine show that department stores already receive about 30% of their items tagged with RAIN RFID, and they get increasing value with every system that uses RAIN RFID information. Many businesses are now approaching a critical inflection point. Once a brand tags 35% of its merchandise at the source, it is usually most efficient to tag all merchandise rather than separating out individual SKUs for retailers with RAIN RFID programs."
To showcase RAIN deployment integration throughout the value chain, a number of transformative retail solutions built on the Impinj platform will be on display at NRF, including:
Robotic inventory solution
An autonomous robot from PAL Robotics takes daily inventory in retail stores and warehouses. It works every night without supervision and eliminates human error by detecting items – and their spatial location – through a combination of robotics and RAIN RFID technology.
Automated checkout
A simple, intuitive experience that instantly identifies items without the need to scan each one individually. Automated checkout reduces annoying lines by eliminating awkward barcode scanning, while also reducing expensive staffing at the point of sale.
Loss prevention
By identifying each item individually, retailers can go beyond an alarm at the door – they can know which specific item has left the premises. The same RAIN RFID tags used for inventory provide retailers with analytics that can reveal critical information to drive loss prevention with item-level intelligence.
Shipment verification
Retailers are under pressure to ship products more quickly while also ensuring accuracy. By using RAIN RFID retailers can automate shipping and receiving processes at the store (or distribution sites) while eliminating errors from manual tracking and data entry. Accurate, real-time data about shipments drives a more agile, smart business.
Store optimization analytics
RAIN RFID-tagged merchandise provides real-time, accurate data about the location, history, and identity of products, delivering strategic insights that drive intelligent business decisions about merchandising, shopper behavior, and more. Retailers can understand the operations of each store without stepping foot into it and leverage data-driven analytics to make confident store-level changes.
Smart fitting room
Smart fitting rooms deliver a better customer experience and uncover new insights, allowing retailers to blend the in-store and online experience and maximize every sale. Retailers gain data about shoppers' product interactions to uncover new insights while cross-selling and up-selling during every visit to the fitting room.
---
Article tagged as:
---
---
Monday, January 7, 2019
Sign Up for the latest news
Looking for more content? We've got you covered
Learn more about Impinj and RAIN RFID in our resource library
Visit Library
Get the latest industry happenings delivered straight to your inbox